These gluten free cheesecake brownies taste the best of rich chocolate brownies and creamy cheesecake, in a neat bar. A little swirl brings the flavors together in every single bite. Don't forget the miniature chocolate chips on top—and serve chilled!
Why this is the best gluten free cheesecake brownies recipe
To make out-of-this-world gluten free cheesecake brownies — also known as zebra brownies — you have to perfect two different recipes: the brownie batter and the cream cheese mixture. It took some time, but I totally did it.
And best of all, I did it using typical ingredients you'd find in the pantry. This means that when you suddenly find yourself in a brownie cheesecake kind of mood, you can head to the kitchen and indulge that craving whenever you want. Making cheesecake swirl brownies from scratch is easy thanks to my tried and true recipe.
Believe me when I say that the craving strikes this household quite often. These cream cheese brownies taste incredible! They're also so easy to store, thanks to their richness. I've never had these brownies go stale, whether I've popped them into the fridge or the freezer.
Gluten free brownie cheesecake bars shopping list
Gluten free all purpose flour
Cocoa powder (Dutch-processed works best, but natural will do)
Baking powder
Salt
Sugar
Butter
Eggs
Vanilla extract
Cream cheese
Miniature chocolate chips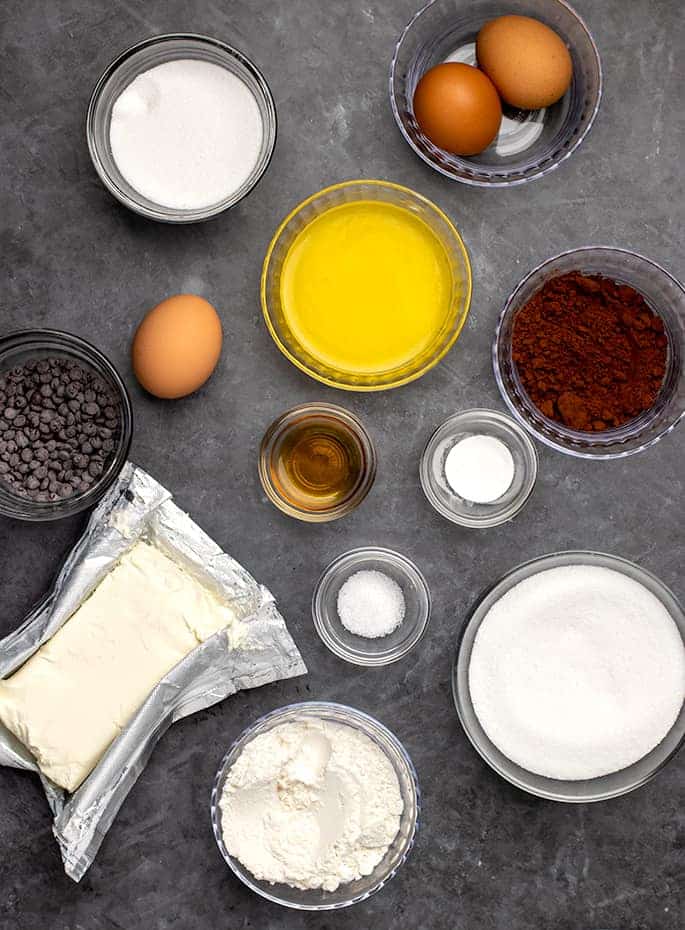 How to make gluten free cheesecake brownies
These are not your average cheesecake brownies. I just want that settled straight away up front and center.
There isn't quite a cheesecake layer like you see in other recipes. I also don't pour chocolate batter into the pan, add the cheesecake mixture, and then pour the remaining brownie batter on top.
Instead, the cheesecake portion is mixed into the brownie portion, but loosely, so that it is still swirled a little bit, but the brownie part is kind of, well, cheesecake flavored.
And then the brownies are not overwhelming and are even smoother than you've ever known brownies to be.
Sprinkle a few mini chips on top, and bake at 350°F just until the batter is baked but not overbaked. Like the perfect gluten free cheesecake, these bars will jiggle a bit when they're done baking, but in a controlled way, not loosely.
Tips for making the best gluten free cheesecake swirl brownies
Use room temperature ingredients for easier mixing
If you've ever tried to blend cold cream cheese, you know that it's quite a chore. For this reason, I insist that you use room temperature cream cheese and room temperature eggs for this gluten free cheesecake brownie recipe.
In addition to being easier to mix, ingredients warmed to room temperature will also ensure you don't end up with lumps in your cheesecake brownie batter. If your cream cheese is at the right temperature, but your eggs are cold, when you mix them, your cream cheese will be lumpy!
To achieve room temp cream cheese and eggs, just leave them out on the counter for an hour before starting. If you forget, you can chop your cream cheese into cubes and nuke them in the microwave in a couple of 15-second bursts but at reduced power (try 50%). For the eggs, carefully place them in a bowl of warm (not hot) water for about 15 minutes and they should be ready to go.
Mastering the brownie cheesecake swirl
Honestly, there's no special technique when it comes to swirling the cheesecake filling into the brownie batter. The only thing you want to avoid doing is vigorous mixing.
Using a mixing spoon, butter knife, toothpick, or even a chopstick, just drag your implement back and forth through the chocolate brownie batter to incorporate the two mixtures to your liking. I go for a such a gentle zigzag pattern that you'll find that the top still looks mostly like cheesecake.
Aim for undercooked, not overcooked, cheesecake brownies
If you find yourself unsure as to whether you should pull your gluten free zebra brownies from the oven or let them cook a few minutes longer, I suggest pulling them.
The nice thing about brownies is that they tend to be very forgiving if they've not quite cooked long enough. However, the opposite is true if you cook them too long. Overcooked cheesecake tends to be quite tough, so err on the side of caution when it comes to baking times.
How to store gluten free cheesecake brownies
For being such a decadent dessert, marbled gluten free cheesecake brownies are very easy to store.
Whether you intend to eat them quickly or enjoy them over a week's time, you'll want to store these in the refrigerator since cheesecake is best served chilled. Just be sure to wrap them tightly so nothing dries out.
Can I freeze gf cheesecake brownies?
Absolutely, you can wrap the individual bars tightly and freeze. Take great care when wrapping them to ensure they don't absorb any freezer smells or tastes.
You can also freeze them in a single layer, separate from one another, on a rimmed baking sheet, then pile them into a zip top bag or other airtight container and back in the freezer.
When you're ready to have a brownie, you can enjoy one straight from the freezer or leave it on the countertop to defrost for about 30 minutes to an hour.
Gluten free cheesecake brownies: substitution notes
Gluten free, dairy free cheesecake brownies
There is quite a bit of dairy in this gluten free cheesecake brownie swirl bars recipe on account of the butter, cream cheese, and chocolate topping. Switching out the butter and chocolate chips for vegan alternatives is easy enough, but unfortunately, that's not the case when it comes to the cream cheese.
I've tested various vegan cream cheese options, and while I find most of them palatable in small amounts, they just don't work for as much as you need in this recipe. There are always new ones on the market, though, and if you've found one you love the taste of, it might be worth trying here!
Gluten free, egg free cheesecake brownies
While I've not tried it myself, you may be able to get away with chia eggs in place of the traditional eggs in this recipe.
However, if you were hoping for vegan cheesecake brownies, I hate to say it, but this isn't the recipe for you. Having to switch out the eggs and all the dairy would alter this recipe so much that it wouldn't come out anything like it's supposed to.
Can I make cheesecake brownies with low fat cream cheese?
I've tried using low fat cream cheeses in other recipes, and while the overall texture stayed much the same, I was not a fan of the taste. For this gluten free brownie cheesecake recipe, I'd suggest that you stick with the full fat.
However, be sure to pick up bricks and not the cream cheese that comes in tubs. Those whipped or spreadable varieties are too soft for these brownies.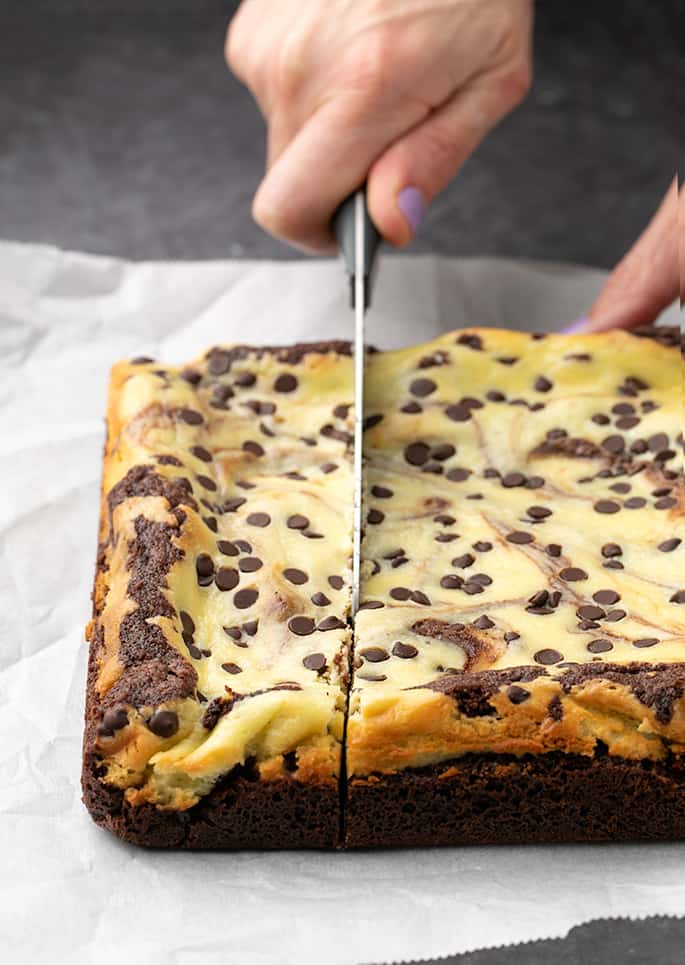 FAQs
Are gluten free brownies healthier?
I wish! Unfortunately, gluten free brownies are not any more or less healthy than traditional brownies because we use a lot of the same ingredients.
Can I use this recipe to make flourless cheesecake brownies?
As I've worked hard to perfect this cheesecake brownies recipe, I don't suggest that you make any changes you don't have to.
If you're out of gluten free flour or just in the mood for something richer, try my gluten free flourless brownies recipe instead.
Can I use this recipe to make brownies without the cheesecake swirl?
I developed this particular brownie recipe to go along with my cheesecake batter, so while it would probably be okay on its own, it wouldn't produce the best gluten free brownies.
Instead, I suggest you try my chewy gluten free brownies recipe. The ingredients are much the same, but the ratios are better suited for a fudgy chocolate brownie.
Can I make this recipe without cocoa powder for cheesecake blondies?
I'm afraid this recipe won't work without the cocoa powder, since the chemistry just won't work. But we do have a recipe for gluten free cheesecake blondies that I think you'll love!
Can I add nuts to this gluten free fudgy cheesecake brownies recipe?
Personally, I think the richness and texture of these cheesecake brownies are perfect. Of course, you're welcome to add chopped nuts if you'd like, but I would save them for another recipe.
Now if you're looking for something to add to make these brownies a little more special, may I suggest a few dollops of strawberry or raspberry jam? Incorporate the jam after the cream cheese mixture for a burst of fruity goodness.
Can I use a boxed gluten free brownie mix instead?
You could, but I wouldn't be able to tell you how these gluten free cream cheese brownies would turn out. That's because the quality and overall taste and texture of boxed mixes can vary dramatically from manufacturer to manufacturer.
If you are looking for a way to save time the next time you want to make these gf cheesecake brownies, may I suggest that you make your own "brownie mix" in advanced? Just mix all of the dry ingredients and store them in a labeled zip top bag in the pantry.
Can gf brownie cheesecake swirl bars be left out overnight?
Yes, because the cream cheese has been cooked, you can leave these gluten free cheesecake brownies on the counter overnight, but the cheesecake will soften. I like cheesecake best chilled.
Marbled Gluten Free Cheesecake Brownies | Fudgy with a Cream Cheese Swirl
Satisfy your cravings for brownies and cheesecake with this gluten free cheesecake brownies recipe. These gf cheesecake swirl brownies are sweet and fudgy.
Ingredients
For the cheesecake mixture
8

ounces

cream cheese

at room temperature

⅛

teaspoon

kosher salt

1

teaspoon

pure vanilla extract

½

cup

(

100

g

)

granulated sugar

1

(

50

g (weighed out of shell)

)

egg

at room temperature
For the brownie base
⅝

cup

(

88

g

) all purpose gluten free flour blend

(I used Better Batter; click thru for appropriate blend info)

¼

teaspoon

xanthan gum

(omit if your blend already contains it)

⅓

cup

(

27

g

)

Dutch-processed cocoa powder

½

teaspoon

baking powder

½

teaspoon

kosher salt

1

cup

(

200

g

)

granulated sugar

8

tablespoons

(

112

g

)

unsalted butter

melted and cooled

2

(

100

g (weighed out of shell)

)

eggs

at room temperature

1

teaspoon

pure vanilla extract

2

ounces

mini semi-sweet chocolate chips

(optional)
Instructions
Preheat your oven to 350°F.

Grease and line an 8-inch square baking pan with nonstick aluminum foil, regular aluminum foil greased with cooking oil spray, or parchment paper. Set the pan aside.
Make the cheesecake mixture.
In the bowl of a stand mixer fitted with the paddle attachment, or a large bowl with a handheld mixer, place the cream cheese, 1/8 teaspoon salt, 1 teaspoon vanilla, and 1/2 cup sugar, and beat until very smooth.

Add the egg, and beat again until smooth.

Transfer this mixture to a spouted 2 cup measuring cup, and set it aside.
Make the brownie base.
In a the same mixing bowl, place the flour, xanthan gum, cocoa powder, baking powder, 1/2 teaspoon kosher salt and 1 cup sugar, and whisk to combine well.

Add the melted butter, eggs, and vanilla, and beat until smooth.
Combine the batters.
Transfer the brownie mixture to the prepared pan and spread it into an even layer.

Pour the cheesecake mixture on top, and spread it into an even layer on top.

Using a chopstick, butter knife, or other small tool, swirl the batters together gently in a zigzag pattern. The top will look mostly like it's only cheesecake batter.

Scatter the optional mini chocolate chips on top in an even layer.
Bake the brownies.
Place the baking pan in the center of the preheated oven and bake, rotating once during baking, until the cheesecake layer jiggles but only in a controlled, not a loose, way and the top no longer glistens (about 40 minutes). It's better to underbake than to overbake.

Remove from the oven and allow to cool in the pan until no longer hot to the touch, at least 30 minutes.

Place the pan in the refrigerator for 1 hour or until firm.

Remove the brownies from pan, peel away the foil or parchment paper, and slice with a sharp, clean and wet knife into 9 equal pieces.
Notes
Originally published on the blog in 2012. In 2022, method changed, photos, video, and text all new.