These moist and tender gluten free pumpkin muffins are made with simple pumpkin puree, plenty of pumpkin pie spice, and a few chocolate chips.
What makes these pumpkin muffins special
I love making pumpkin recipes with pumpkin butter, which is just pumpkin puree with added juice and warm pumpkin spices, cooked down to reduce moisture and intensify flavors. But this recipe is different.
To bake with pumpkin butter, you have to have made some (recipe linked below) or bought some, and it takes a bit of time to make. I usually have pumpkin butter in my refrigerator around this time of year, but it feels like a commodity.
Pumpkin butter also has added sugar, even if it's unrefined pure maple syrup. And sugar is sugar.
This recipe for gluten free pumpkin muffins is made in one bowl, with no advance planning. They're not particularly high in sugar (3/4 cup in all 12 muffins), and they're dense but tender and incredibly moist and flavorful.
How to bake with pumpkin puree
I can't stop myself from baking with pumpkin, both from a can and from a whole roasted pumpkin (who doesn't love toasted pumpkin seeds?!), but it can be tricky.
Pumpkin puree has quite a lot of moisture, and its pumpkin flavor is not really as intense as you might think. My usual solution is to begin by making a batch of homemade pumpkin butter, and this time of year I always have some in the refrigerator.
But I wanted the ease of simple gluten free pumpkin chocolate chip muffins that require no advance prep, and still have bright pumpkin flavor. (I am now giving thanks to my family for enduring batch after batch after batch of this and that pumpkin muffin over the past couple weeks ?)
These gluten free pumpkin muffins have it all
Ease of preparation (30 minutes start to finish)
Intense pumpkin flavor (the right balance of ingredients + a bit more pumpkin pie spice)
moist and tender muffin lightly sweet muffin that's perfect for breakfast or a snack.
Check ✔️ check ✔️ check ✔️.
Ingredients and substitutions
Dairy
In place of the butter, I recommend trying vegan butter. My favorite brands are Melt and Miyoko's Kitchen. I don't recommend using Earth Balance buttery sticks, as they have too much moisture and may cause the muffins to rise and then sink.
In place of buttermilk, use half plain nondairy yogurt by volume and half nondairy milk by volume. You can also use those proportions if you can have dairy, but don't have buttermilk. It works really well.
If you're dairy-free, make sure your chocolate chips are dairy-free.
Eggs
There are two eggs in this recipe, and that is usually the upper limit for replacing eggs with one "chia egg" each. For each "chia egg," place 1 tablespoon of ground white chia seeds and 1 tablespoon lukewarm water in a small bowl, mix, and allow to gel.
Pumpkin puree
This recipe is created to be made with canned, single-ingredient pumpkin puree, not pumpkin butter, which is a more concentrated version that is cooked down with sweetener and spices. The extra moisture that pumpkin puree has, compared to pumpkin butter, is needed here.
If you would like to make your own pumpkin puree using a fresh pumpkin, you can click through in the link above and follow the instructions there—but stop short of making pumpkin butter.
Since much canned pumpkin puree is actually made from other types of squash, not actual pumpkins, you can try using another type of squash. Your muffins may end up being less orange in color, and taste a bit different, but the recipe would still work.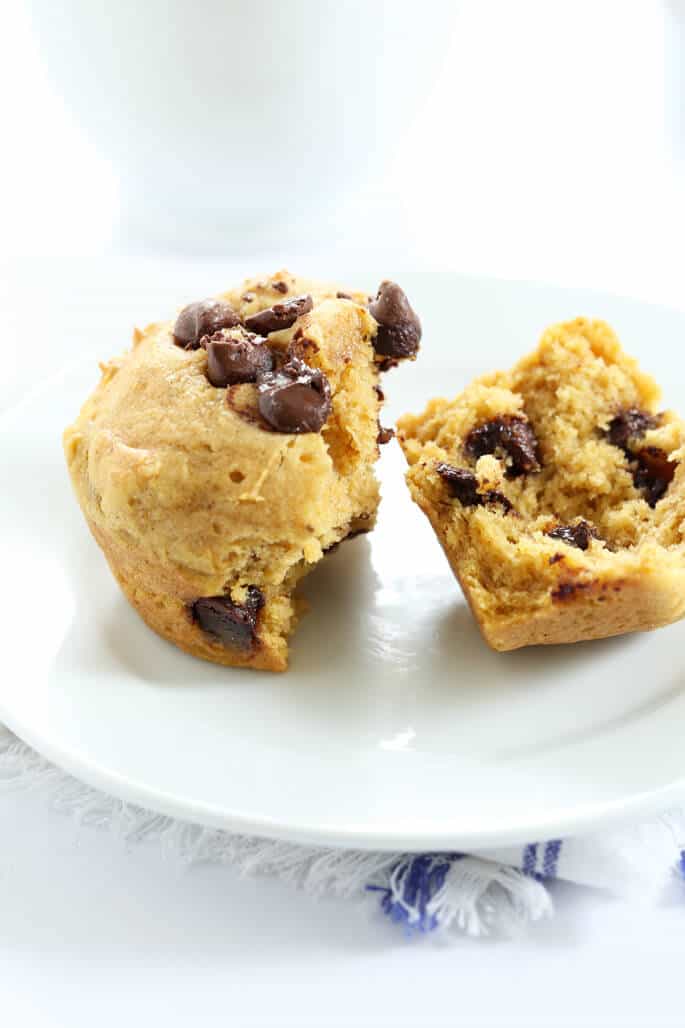 Gluten Free Pumpkin Chocolate Chip Muffins | Quick & Easy
Ingredients
2 cups (280 g) all purpose gluten free flour (I used Better Batter)
1 teaspoon xanthan gum (omit if your blend already contains it)
1 teaspoon baking powder
1/2 teaspoon baking soda
1/2 teaspoon kosher salt
2 teaspoons pumpkin pie spice (See Recipe Notes)
3/4 cup (150 g) granulated sugar
6 tablespoons (84 g) unsalted butter, at room temperature
2/3 cup (163 g) pure pumpkin puree, at room temperature
2 eggs (100 g, weighed out of shell) at room temperature, beaten
1/4 cup (2 fluid ounces) buttermilk, at room temperature
4 ounces semisweet chocolate chips
Notes
Make your own pumpkin pie spice
In a small bowl, place 2 teaspoons ground cinnamon, 1 teaspoon ground ginger, 1/2 teaspoon ground allspice, 1/2 teaspoon ground cloves and 1/4 teaspoon freshly grated nutmeg. Mix to combine.
Instructions
Preheat your oven to 350°F. Grease or line the wells of a standard 12-cup muffin tin and set it aside.

In a large bowl, place the flour, xanthan gum, baking powder, baking soda, salt, pumpkin pie spice, and granulated sugar, and whisk to combine well. Create a well in the center of the dry ingredients in the large bowl and add the butter, pumpkin puree, eggs, and buttermilk, mixing to until just combined after each addition. The batter will be thick but soft.

Add all but about 1 tablespoon of the chocolate chips to the batter, and mix until just evenly distributed throughout. Divide the batter among the prepared wells of the muffin tin and sprinkle the remaining few chips evenly over the tops of the batter in each well, pressing gently to help them adhere. Shake the pan back and forth to distribute the batter evenly in each well of the muffin tin.

Place the muffins in the center of the preheated oven and bake until a toothpick inserted in the center of a muffin comes out with no more than a few moist crumbs attached (about 20 minutes). Remove from the oven and allow to cool in the muffin tin for 5 minutes before transferring to a wire rack to cool completely.

Originally published on the blog in 2015. Video, some photos, and most text new; recipe mostly unchanged.