Crisp-tender pumpkin gluten free snickerdoodles made with pumpkin spice and butter are as perfect for fall baking as they are for Christmas plates everywhere!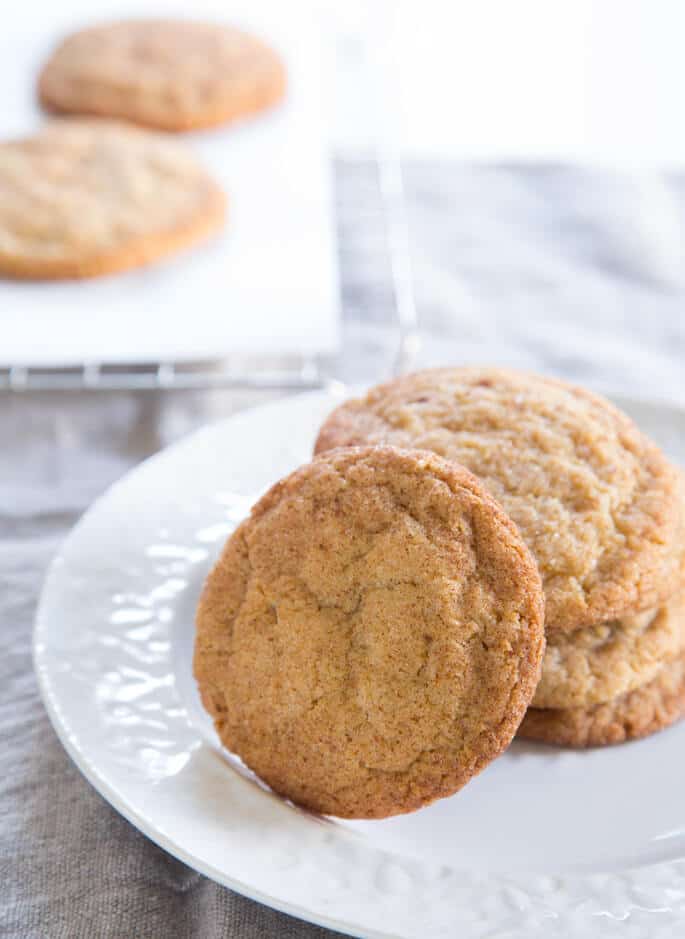 I fell in love with slice and bake cookies alongside my grandmother in the kitchen growing up. She was an avid cook, but not much of a baker. So she'd buy a refrigerated roll of Toll House Cookies and, well, you know the rest. Making your own slice and bake cookies isn't precisely as easy, of course, but it's not much more complicated.
All it takes is a well-suited recipe, like this one for slice and bake pumpkin gluten free snickerdoodles. Although growing up, I'd never even heard of snickerdoodles (still can't figure out why!), much less pumpkin butter.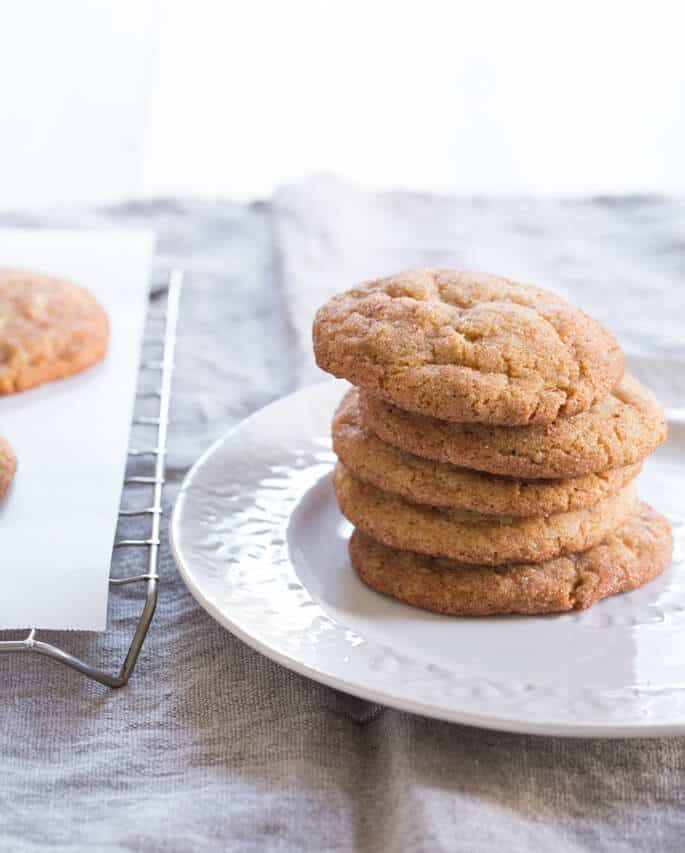 Snickerdoodles are a holiday favorite, although of course they're lovely any time of year. They're a staple of Christmas cookie tins everywhere, and are never without their cinnamon-sugar topping. So it wasn't much of a leap to make them with pumpkin pie spice and my favorite pumpkin butter.
Despite their simplicity and many common ingredients, in person you'd never really confuse them with plain drop sugar cookies. Snickerdoodles of all sorts are made perfect crisp on the outside, chewy and tender inside with lots of cream of tartar. Cream of tartar is easily found in the spice section of most grocery stores, and it's a must-have for snickerdoodle baking!
Making these cookies in the slice and bake style makes everything seem easier to me. You can make the dough ages ahead of time and store it in the refrigerator or even the freezer. Then slice off what you like, coat in sugar and spice, and bake. But if you'd prefer, you can simply roll the dough in heaping tablespoon-size pieces, flatten into disks, coat in the topping and bake.
The slice and bake cookies will be a bit flatter, the others a bit puffier—but not by much.
The concentrated flavor of the pumpkin butter makes these cookies smell and taste like the very best fall has to offer, but without all the moisture that plain pumpkin puree would bring. The topping calls for a ton of pumpkin pie spice, to flavor the cookies and ensure a slightly darker color. If you'd prefer, you can always dial it back. Happy fall baking to all, and to all a good night!