Crisp-tender pumpkin gluten free snickerdoodles made with pumpkin spice and butter are as perfect for fall baking as they are for Christmas plates everywhere!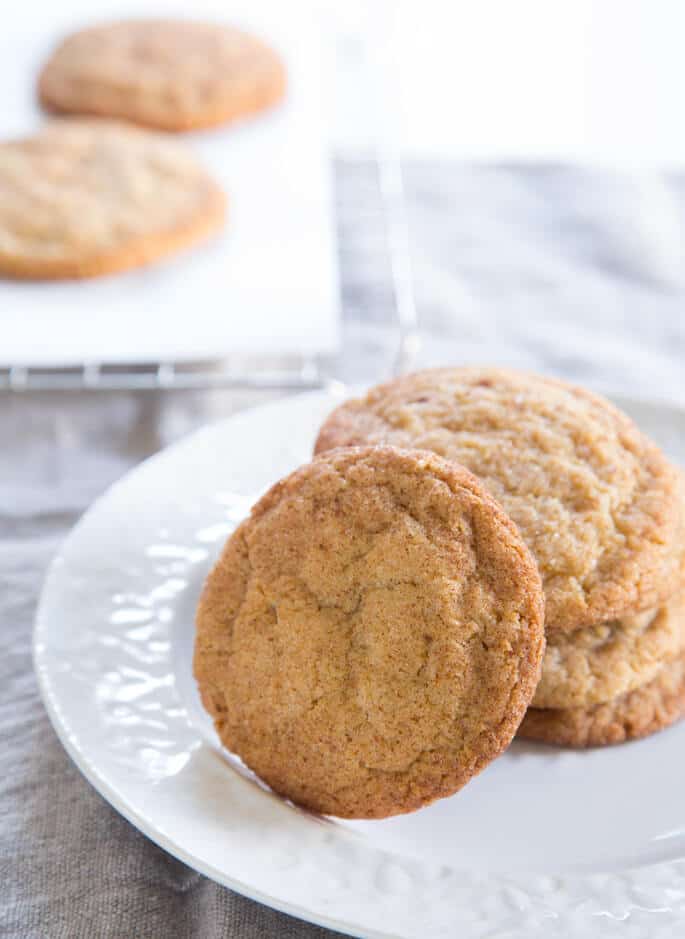 I fell in love with slice and bake cookies alongside my grandmother in the kitchen growing up. She was an avid cook, but not much of a baker. So she'd buy a refrigerated roll of Toll House Cookies and, well, you know the rest. Making your own slice and bake cookies isn't precisely as easy, of course, but it's not much more complicated.
All it takes is a well-suited recipe, like this one for slice and bake pumpkin gluten free snickerdoodles. Although growing up, I'd never even heard of snickerdoodles (still can't figure out why!), much less pumpkin butter.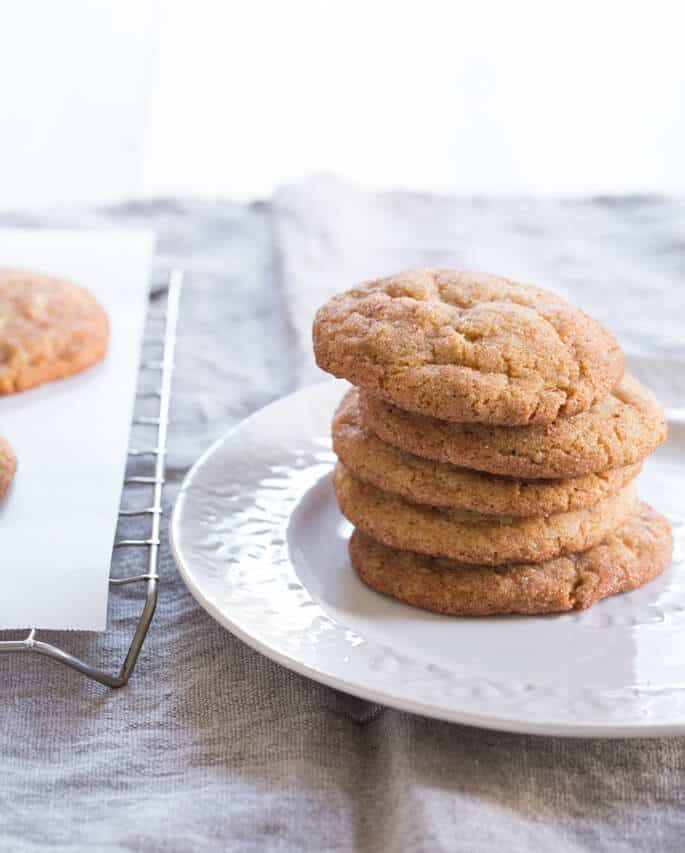 Snickerdoodles are a holiday favorite, although of course they're lovely any time of year. They're a staple of Christmas cookie tins everywhere, and are never without their cinnamon-sugar topping. So it wasn't much of a leap to make them with pumpkin pie spice and my favorite pumpkin butter.
Despite their simplicity and many common ingredients, in person you'd never really confuse them with plain drop sugar cookies. Snickerdoodles of all sorts are made perfect crisp on the outside, chewy and tender inside with lots of cream of tartar. Cream of tartar is easily found in the spice section of most grocery stores, and it's a must-have for snickerdoodle baking!
Making these cookies in the slice and bake style makes everything seem easier to me. You can make the dough ages ahead of time and store it in the refrigerator or even the freezer. Then slice off what you like, coat in sugar and spice, and bake. But if you'd prefer, you can simply roll the dough in heaping tablespoon-size pieces, flatten into disks, coat in the topping and bake.
The slice and bake cookies will be a bit flatter, the others a bit puffier—but not by much.
The concentrated flavor of the pumpkin butter makes these cookies smell and taste like the very best fall has to offer, but without all the moisture that plain pumpkin puree would bring. The topping calls for a ton of pumpkin pie spice, to flavor the cookies and ensure a slightly darker color. If you'd prefer, you can always dial it back. Happy fall baking to all, and to all a good night!
Pumpkin Gluten Free Snickerdoodles
Yield:
About 4 dozen cookies
Ingredients
For the cookies
2 1/2 cups (350 g) all purpose gluten free flour (I used Better Batter)
1 teaspoon xanthan gum (omit if your blend already contains it)
1/2 teaspoon kosher salt
1 teaspoon baking soda
2 teaspoons cream of tartar
1 1/2 teaspoons pumpkin pie spice*
1 1/2 cups (300 g) granulated sugar
12 tablespoons (168 g) unsalted butter, melted and cooled
4 ounces pumpkin butter (store-bought or homemade)
1 egg (50 g, weighed out of shell) + 1 egg yolk (25 g) at room temperature, beaten
For the topping
1/4 cup (50 g) granulated sugar
2 teaspoons pumpkin pie spice*
*To make your own pumpkin pie spice, combine 1 teaspoon ground cinnamon + 1/2 teaspoon ground ginger + 1/4 teaspoon ground allspice, 1/4 teaspoon ground cloves + 1/8 teaspoon ground nutmeg.
Instructions
Preheat your oven to 350°F. Line rimmed baking sheets with unbleached parchment paper and set them aside.

In a large bowl, place the flour, xanthan gum, salt, baking soda, cream of tartar, pumpkin pie spice and sugar, and whisk to combine well. Create a well in the center of the dry ingredients, and add the pumpkin butter, butter, egg and egg yolk, mixing to combine after each addition. The dough will be thick, but soft. Divide it equally among two large pieces of unbleached parchment paper or plastic wrap. Roll each piece in the paper or plastic into a cylinder about 1 ½-inches in diameter, and roll to wrap tightly, twisting the ends to seal. If the dough is too soft to shape properly, place on a baking sheet and in the freezer for about 10 minutes or until firm enough to shape and slice.

When you are ready to bake the cookies, in a small bowl, place the pumpkin pie spice and sugar for the topping in a shallow bowl, and whisk to combine well. Unwrap the cookie dough one roll at a time, and slice it in cross-section into about 24 pieces, each about ½ inch thick. Press each disk of dough into the topping mixture on both sides, and on the edges if you can manage. Place the disks of dough on the prepared baking sheets, about 2 ½-inches apart (the cookies will spread during baking).

Place the baking sheets, one at a time, in the center of the preheated oven and bake for 10 minutes, or until the cookies have spread to about double their original size, have a crackled appearance on top and appear set. Remove from the oven and allow to cool on the baking sheets until firm (about 5 minutes). Repeat with the remaining dough.

Adapted from my recipe for Brown Butter Gluten Free Snickerdoodles.