Craving Italian comfort food but avoiding grains and cheese? This low carb Paleo zucchini lasagna is for you. Zucchini slices are a healthier stand-in for lasagna noodles, and nut-based ricottas are perfect among all the other layers.
Please welcome back Becky Winkler of A Calculated Whisk, who will be sharing some of her favorite Paleo recipes from time to time on the blog.
There's nothing as comforting or convenient for weekday lunches and dinners as a big, healthy casserole. Bonus points if it can be made ahead of time.
A hearty lasagna is the queen of all casseroles. And this one's arguably even more delicious when you heat up the leftovers the next day.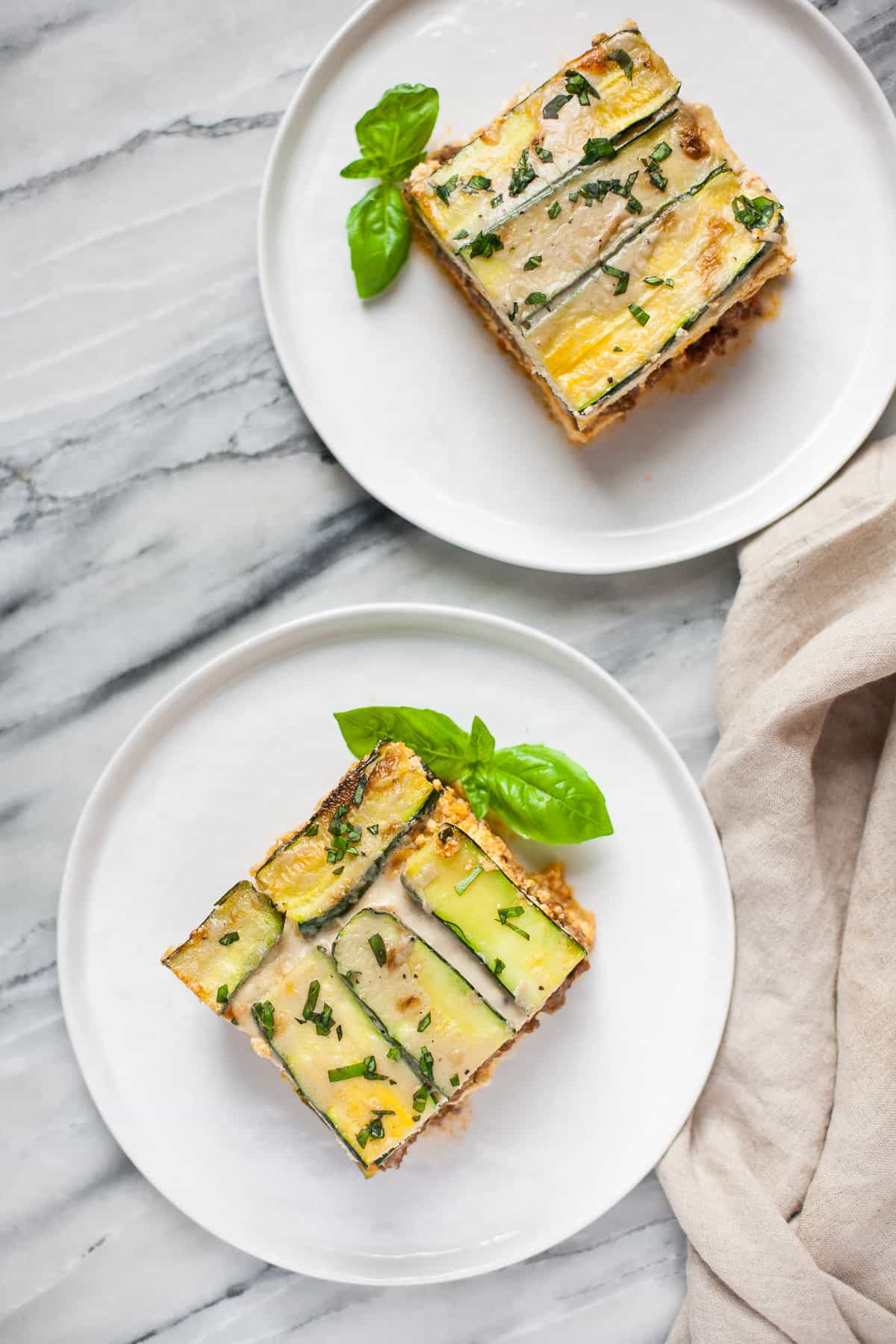 Why this recipe works
Any time you're cooking with zucchini, you have to be careful it doesn't end up being very watery. Zucchini release a lot of moisture, whereas traditional lasagna noodles actually do the opposite and soak up sauce as they bake.
To keep this lasagna moist but not watery, we're taking on the issue from two directions. First, we salt the zucchini slices, letting them sweat while we prepare the sauces, and then patting them dry.
Second, we baking the zucchini briefly on a wire rack before assembling the lasagna. That will dry them out even further, and they'll be ready to soak up all those amazing Italian flavors.
Dairy or no dairy?
To make this a true Paleo zucchini lasagna, you have to avoid cheese. Since the cheese is a big part of the flavor and texture of lasagna, that presents quite a challenge. For both flavor and texture, in this recipe we use two sauces, a tomato-based meat sauce and a creamy béchamel, plus layers of nut-based ricotta.
If you're willing to use dairy, keep the béchamel, replace the nut-based ricotta with dairy ricotta (my favorite!), and add some shredded mozzarella cheese between the layers and on top. It'll still be low carb and delicious.
Since this lasagna already requires several steps to put together, I like to use store-bought marinara sauce and almond ricotta. Of course, your favorite homemade tomato sauce and cashew (or macadamia) ricotta will only make this recipe more delicious. Top everything off with some chopped fresh basil and no one will be complaining about a lack of flavor!
The finished lasagna boasts tender slices of zucchini enveloping a layer of ground beef topped with silky béchamel and two layers of ricotta baked with a little egg for added richness and stability. It's perfect for a big family dinner or for days of hearty at-work lunches!
If you're looking for more Paleo main dishes, this Spaghetti Squash with Roasted Mushrooms from Perry's Palate looks delicious!
Paleo Zucchini Lasagna
Ingredients
For the zucchini
6 small zucchini (about 2 1/2 pounds)
2 teaspoons kosher salt
For the meat sauce
1 pound lean ground beef
1 cup tomato sauce
1/4 cup chopped fresh basil (optional), plus more for serving
For the béchamel
4 tablespoons (56 g) ghee or extra virgin olive oil
2 tablespoons (18 g) tapioca starch/flour
Pinch of freshly ground nutmeg (optional)
2 cups (16 fluid ounces) unsweetened almond milk
Kosher salt
Freshly ground black pepper
For the ricotta layer
1 pound (about 2 1/4 cups) cashew ricotta or store-bought almond ricotta (I use Kite Hill)*
3 eggs (150 g, weighed out of shell)
Fresh basil, for serving
*Note from Nicole: This looks like a good, simple recipe for homemade cashew ricotta cheese.
Instructions
Preheat the oven to 400°F. Trim the ends off the zucchini and cut them lengthwise into strips a little less than 1/4 of an inch thick. You don't need to worry about making all the slices perfectly even, but err on the side of making them too thin instead of too thick. Sprinkle the kosher salt on both sides of the zucchini slices and let them sit on top of paper towels while you make the meat sauce and béchamel.

To make the meat sauce, heat a large skillet over medium-high heat. Add the beef and cook, breaking up the meat with a spatula, until no longer pink. Stir in the marinara sauce and basil. If needed, add salt and pepper to taste (you may not need any if your sauce is already seasoned enough). Reduce the heat to medium-low so the sauce simmers, and allow it to continue to cook while you prepare the other components.

To make the béchamel, melt the ghee in a large skillet over medium heat. Add the tapioca flour and cook, whisking constantly, until smooth and beginning to brown just slightly (about 1 1/2 minutes). Whisking constantly, slowly pour in the almond milk and add the optional nutmeg. Cook, whisking almost constantly, for about 6 minutes, until the sauce has thickened enough to coat the back of a spoon. Season to taste with salt and pepper.

To make the ricotta layer, in a medium-size bowl, place the ricotta and eggs, and mix to combine. Set the bowl aside. Line two baking sheets with wire racks. Pat the zucchini dry and arrange the slices in a single layer on the racks. Bake for about 10 minutes. The zucchini should appear very dry on top. After taking the zucchini out, reduce the oven temperature to 375°F.

In a 9-inch x 13-inch casserole baking dish, pour about 1/3 of the béchamel sauce. Top with a single layer of zucchini slices, then spread on half the ricotta mixture. Add another layer of zucchini, top with all of the meat sauce, and pour on another 1/3 of the béchamel sauce. Top with a third layer of zucchini and spread on the remaining half of the ricotta mixture. Add a final layer of zucchini and pour the rest of the béchamel sauce on top.

Cover the lasagna with a piece of greased aluminum foil, place in the center of the preheated oven and bake for 30 minutes. Remove the foil and continue to bake until sizzling and browned in spots, about another 15 minutes. If desired, set the oven to broil and cook a few minutes extra to brown the top even more. Garnish with fresh basil, slice, and serve hot.

Becky is a food photographer, recipe developer, and cookbook author who shares creative Paleo and gluten-free recipes on her blog, A Calculated Whisk. Her first cookbook, Paleo Planet, includes internationally inspired Paleo meals, desserts, sauces, spice blends, and more. Becky enjoys searing short ribs, chopping chocolate, photographing citrus fruit, and salting desserts. She lives in Chattanooga with her fiancé and his cat.