These authentic-tasting Paleo bagels have no gluten, grains or dairy, but you'd never know it wasn't the "real thing." Just a few ingredients, including almond and tapioca flours, are all it takes!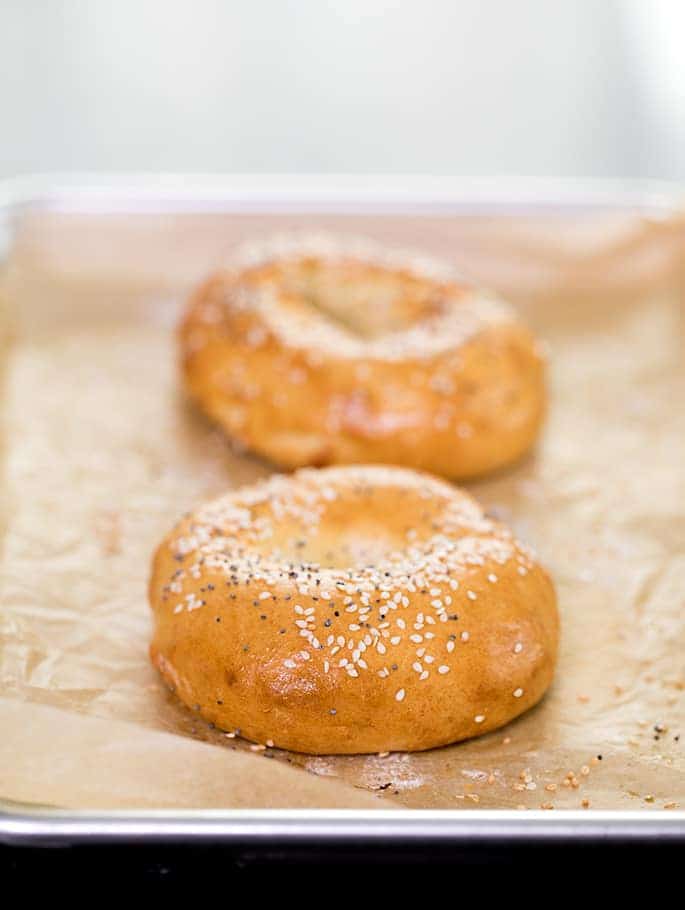 No rise bagels
I do happen to have a recipe for no rise gluten free bagels, and it's long been a favorite of mine. It doesn't take any advance planning, and the bagels rise beautifully in the oven alone. It's called "oven-spring," the rise that happens when yeast bread dough hits the heat of the oven. It's all you need sometimes.
This Paleo bagel dough not only doesn't need to rise outside the oven, but it shouldn't! I've made this recipe many, many times and I've found that if the dough is allowed to rise for more than 30 minutes before being shaped, boiled and baked, it loses its shape during baking. Instead of a bagel, it looks more like an explosion.
This recipe is based on our recipe for Paleo Pizza here on the blog, which is one of my favorite Paleo baking recipes. The balance of almond flour and tapioca flour is somewhat different in this recipe than it is in pizza, and there are more eggs. When I used a higher percentage of almond flour in the bagels, they were super difficult to handle and way too soft to hold their shape.
A more forgiving yeast bread recipe
The good news about shaping these bagels using tapioca starch/flour (note: tapioca starch and tapioca flour are different names for the same thing!) is that you don't have to worry about using too much. Use as much tapioca starch as you need to shape the bagels easily, and they'll still rise in the oven.
In fact, if you don't use extra flour to shape the bagels, they're more likely to fall apart during boiling. And don't skimp on the boiling! Boiling the raw dough makes bagels more chewy than other bread by forcing the dough into a more definitely shape before baking. That way, the bread doesn't rise as much and the crumb stays tighter.
These taste like New York bagels to me, since they're really nice and chewy inside. And the crust outside is almost a little crackly, but never hard to bite or tough. The tapioca does its job of creating that amazing texture, and the almond flour provides some richness and depth of flavor.
If you need to swap out this ingredient or that, please read all about ingredients and substitutions below. Simple recipes like this should really be made as written, if at all possible, but of course you're always free to experiment!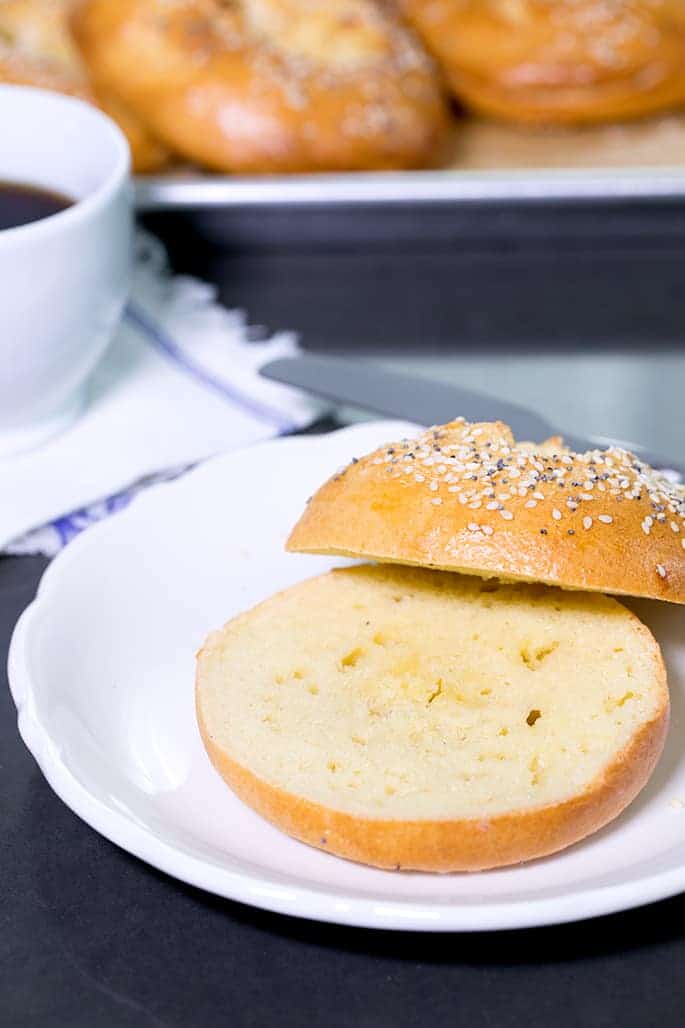 Ingredients and Substitutions
Egg-Free: This is a really hard one, as there's one egg per every two bagels in this recipe. They do quite a lot of work in both binding the recipe and in helping the bagels rise.
You can try one "chia egg" per whole egg in this recipe, but I'm not terribly hopeful it would turn out. A "chia egg" is one tablespoon ground chia seeds + one tablespoon lukewarm water, mixed and allowed to gel. For the egg wash that's brushed on top after boiling and before baking, you can try just using nondairy milk. The bagels just won't brown as well.
Yeast-Free: I don't know of any way to replace the yeast in this recipe without changing the recipe completely. This is a yeast bread recipe. For a yeast-free Paleo bread recipe, try my Paleo rolls.
Nut-Free: Finely ground blanched almond flour is a key component of this recipe. Be sure to use only the finely ground flour, and not almond meal or the recipe won't work. If you'd like to try to make these nut-free, you can try using sunflower seed flour, but I honestly don't know if it will work.
Tapioca-Free: Tapioca starch/flour simply has absolutely no true equal in baking. It's an amazing finely ground starch that's low in calories and incredibly soft and stretchy. If you can't have tapioca, I'm afraid you simply can't make this recipe.
Be sure to use good quality tapioca flour, as it varies quite a bit from brand to brand. I really like Authentic Foods tapioca flour, but like all their products it's pricey. I usually buy tapioca flour from nuts.com.
Click play ▶️ to watch me make these Paleo Bagels
Then, it's your turn to make your own!
Authentic Paleo Bagels
Ingredients
1 1/2 cups (180 g) blanched almond flour
3 1/2 cups (420 g) tapioca starch/flour, plus more for dusting
1 teaspoon (6 g) kosher salt
2 teaspoons (6 g) instant yeast
3 eggs (150 g, weighed out of shell) at room temperature, beaten
1 tablespoon (21 g) honey
2 tablespoons (28 g) extra virgin olive oil
1/2 cup + 2 tablespoons (5 ounces) cool water
Boiling bath (4 cups water + 1 tablespoon coconut palm sugar + 1/2 teapsoon kosher salt, brought to a boil)
Egg wash (1 egg + 1 tablespoon nondairy milk, beaten)
Sesame and poppy seeds, for sprinkling (optional)
Instructions
Preheat your oven to 375°F. Line a rimmed baking sheet with parchment paper, sprinkle it with a thin layer of tapioca starch or spray with cooking oil spray. Set the baking sheet aside.

In a large bowl or the bowl of a stand mixer fitted with the paddle attachment, place the almond flour, tapioca starch/flour and salt, and whisk to combine. Add the yeast, and whisk again to combine. Create a well in the center of the dry ingredients and add the eggs, honey, oil, and water, and mix until well-combined. The mixture will be very soft at first, but will become more firm as it sits. Cover the bowl with plastic wrap and place it in the refrigerator for only about 10 minutes. While the bagel dough is chilling, bring the boiling bath to a boil in a medium-size stockpot over medium-high heat.

Sprinkle a flat surface generously with tapioca flour, and place about 1/3 of the slightly chilled bagel dough in the center. With well-floured hands, turn the dough over to coat it and press it into a disk. Using a bench scraper or sharp knife, divide the dough into two equal portions. In between well-floured and cupped palms, shape each piece of dough into a thick round and place on the prepared baking sheet. Work quickly, to avoid allowing the dough to rise or get very warm. Repeat with the remaining dough, placing the pieces about 2 inches apart on the baking sheet. Poke a floured forefinger into the center of each piece of dough and wiggle around to create a hole.

Place the shaped bagels in the boiling water bath no more than two at a time to prevent crowding and sticking, and boil for about 1 minute per side. Try to prevent the dough from sticking to the bottom of the pot by swirling the water around. The bagel will float once it's been boiling for about a minute. Using a strainer, remove the bagel from the boiling water and return to the baking sheet. Repeat with the remaining shaped pieces of dough. Brush each bagel generously with the egg wash, and sprinkle with the seeds, if using. 

Place the baking sheet in the center of the preheated oven and bake until the bagels are uniformly golden brown all over, and firm to the touch (about 25 minutes). Remove from the oven and allow to cool at least slightly before slicing and serving. Freeze any leftovers by first slicing each bagel the placing in a freezer-safe bag, eliminating as much air as possible and sealing tightly. Defrost at room temperature. They freeze amazingly well.