These are the 9 best Paleo recipes I've created over the years. The diversity of textures and flavors will amaze and delight!
When I first began learning how to bake Paleo recipes, it was like starting all over again with baking. Working with almond flour and coconut flour was so unfamiliar, and my failures were legendary.
Like all purpose gluten free flour blends and ingredients, the Paleo baking ingredients and flours are not all created equal. The most common Paleo baking ingredient is almonds, usually ground into flour.
Almond Flour
Almond flour is made from blanched almonds, which means their skins have been removed, and is finely ground. Almond meal is more coarsely ground, and you'll find flecks of the almond skins. Like rice flour, when you use an almond flour that isn't finely ground, even a proper recipe often won't turn out proper results.
Almond flour has a high fat content, so it tends to become rancid more quickly than rice flours. I store most of my almond flour in the freezer, and a smaller amount in the refrigerator. It clumps when it's cold, so before baking just leave it on the kitchen counter to thaw.
I have had success baking with almond flour from Honeyville and from nuts.com. There are certainly other reliable brands of almond flour, but I simply haven't tried them. I recommend you avoid almond flour from Bob's Red Mill, as it is of inconsistent quality and is coarsely ground.
Coconut Flour
Coconut flour is a very tricky thing indeed. Made from coconut meat that is dried and ground into a fine powder, it's extremely fibrous. A little goes a long, long way, and it expands during baking as it must be paired with a significant amount of moisture.
I often use coconut flour in small amounts to add structure to a recipe made primarily with almond flour. I have tried a few brands of coconut flour, and don't have a particular preference for one over another.
Baking Paleo
I know there are some schools of Paleo thought that say that substitute baked goods are just not what this way of life is meant to be. And I totally get that.
Muffins and brownies are not everyday healthy fare, whether they're Paleo-compliant or not. But my family and I are always going to enjoy treats. I don't really want to imagine a life entirely without muffins.
My best Paleo recipes taste delicious, and simply don't kick up carbohydrate cravings the way traditional baked goods can. Sometimes, they taste even better than their traditional counterparts do.
With that in mind, here are my favorite Paleo recipes for basic baked goods, so far. I love every one of them, and my kids beg for them (seriously). What could be bad? (don't answer that)
Super fudgy Paleo brownies, made with plenty of chopped chocolate, almond flour and a touch of coconut flour. They'll be your new favorite—whether you're Paleo or not!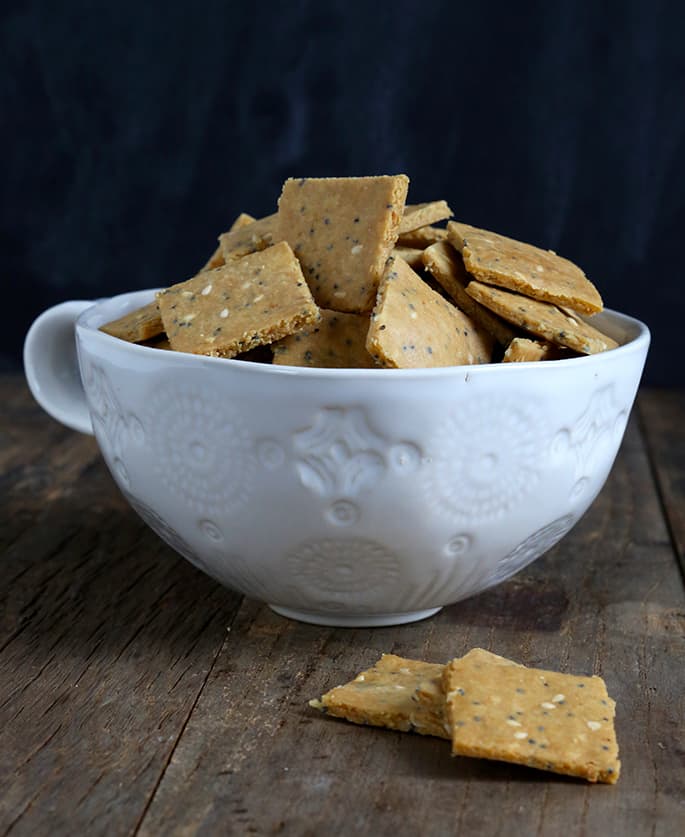 Paleo crackers, made with almond flour and a touch of tapioca flour, baked low and slow, make for a truly crispy, crunchy cracker.
Paleo banana bread, made with the perfect combination of almond flour and coconut flour, three bananas and just a touch of honey for added sweetness. Make this easy quick bread batter in the blender!
Coconut flour pancakes that are light and fluffy, and made with just a few basic ingredients. A quick and easy, low carb gluten free breakfast.
Click through and read the comments from readers who have made these pancakes, and can attest to their lightness and fluffiness first hand! 
Perfect Paleo chocolate chip cookies, made with almond flour and a bit of coconut flour for structure. They'll satisfy your sweet tooth and your appetite, too!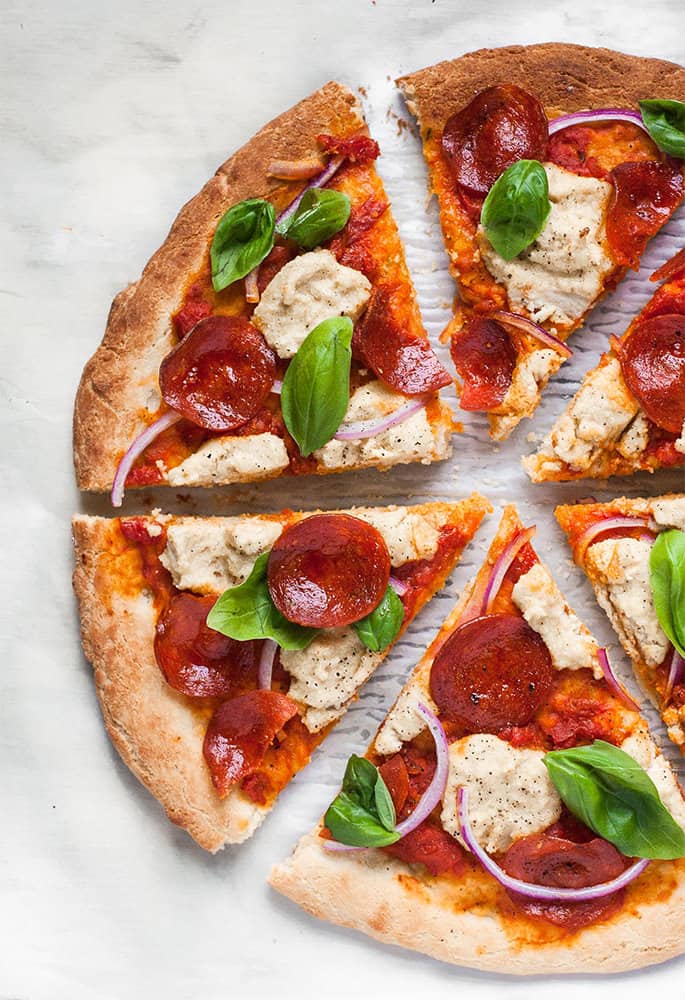 This paleo pizza crust tastes just like the real thing, but is made without gluten, grains, or dairy. It's the perfect primal canvas for all your favorite toppings.
I'm kind of desperate for you to try this recipe, so I created this how to video. Won't you go for it? Just read the comments on that post and tell me you don't want to try it at least once!
These Paleo blueberry muffins are the healthy, low-carb gluten free breakfast solution you've been looking for. Made with coconut flour, but they're not eggy, like baked goods made with coconut flour can tend to be.
These Paleo rolls are crusty on the outside, chewy on the inside. I've tried plenty of recipes for Paleo bread, and this is the only one I've ever tried (whether my recipe or not) that actually tastes like real bread—not an eggy sponge. (ew) That's a real crust you see, and a real crust you'll taste.
Finally, these very lightly sweet Paleo breakfast cookies are packed with healthy fats and protein. Send your family off for the day the right way (with or without the chocolate chips)!