These lower fat, healthy protein pancakes are made without any refined sugars or grains, and they're naturally dairy free. They're also made without banana!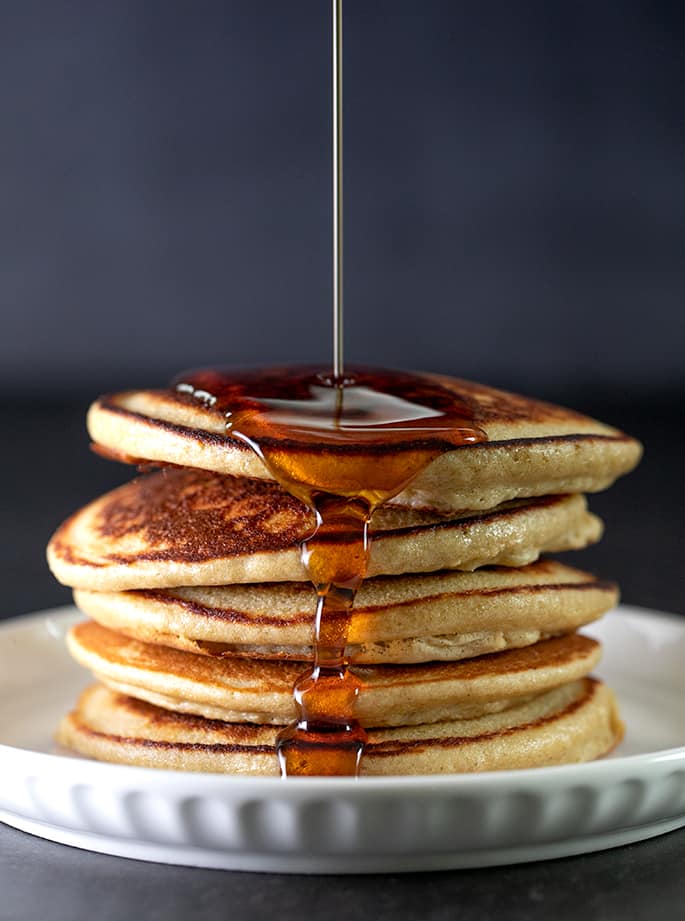 On appetites and snacks
My recipe for homemade protein bars is currently one of the most popular posts on this entire food blog. It's a really comprehensive post with tons of variations (although each variation has oats—no way I know of around that), and it makes sense. It's complete without being needlessly complicated, and it fills a snacking need.
There are three growing children in my house, and they eat a ton. When they were really little, I was super careful about their not "ruining" their appetites for each meal, so snacks happened two times a day, and they were limited.
I wanted to be sure they knew what it was like to be hungry (if you snack all day long, you honestly might not know!), and to be able to judge when they were full. I was brought up with all sorts of food baggage ? and I was determined not to do the same to my kids.
So good news! I think it worked. I mean, they may have issues (too soon to tell!) but my kids all three love food and although I may comfort them on a tough day with a favorite meal, it's just food.
But the older they get, the more I feel the need to make each item of food really count. Protein bars and protein pancakes are one way to make each bite count.
Baking with protein powder for my family
Each meal I make has protein, fat, and starch, for sure, but sometimes I just don't have their attention at the table like I used to. And they're nearly always hungry.
Before they take off in the morning, they often only have just a few minutes to grab something. School starts way too early in the morning (why do we have teenagers starting their days at 7:45 am?) so I don't want to pressure them to wake up even earlier to make themselves an elaborate breakfast.
Why we love these protein pancakes
These protein pancakes are pretty much the perfect solution. The recipe only has eggs as a binder and a bit of maple syrup and applesauce for sweetness—and no banana unlike most protein pancakes.
They're still light and fluffy, and super tender. And there's not even any added fat at all, but they're still really satisfying.
Oh, and if the cook happens to follow Weight Watchers, each generous pancake has only 2 SmartPoints since they're so low in sugar and fat. In fact, most of the points come from the oats.
Ingredients and substitutions
As always, unless I specifically indicate otherwise, I haven't made these pancakes with any substitutions. These are just my best-educated guesses:
Eggs
Since there are only two eggs in this recipe, you can try replacing each with a "chia egg" (1 tablespoon ground chia seeds + 1 tablespoon lukewarm water, mixed and allowed to gel).
Oats
Ground oats are a very important part of this recipe, but I have a sneaking suspicion (totally anecdotal and unconfirmed) that you might be able to replace them in this recipe with buckwheat flour. Otherwise, based on our knowledge of substituting oats in gluten free baking, I'd go with quinoa flakes.
Sugar
There is naturally-occurring sugar in the applesauce, and I'm not sure how you'd go about eliminating that. But if you'd like to use sugar-free maple syrup in place of the pure maple syrup, it might work!
Protein powder
I've been adding Vital Proteins Collagen Peptides (affiliate link, but of course feel free to shop around) to my coffee and a few other things lately. I really like how tasteless it is and that it's dairy-free.
I think it helps my skin and hair, and sometimes add it to a drink for my oldest because it's great for teenage skin, too. It's not cheap, but it takes me a long time to go through even a small container, and I'm afraid none of the protein powders seem to be very inexpensive.
I've also recently started using Perfect Hydrolyzed Collagen Peptides (affiliate link). I first tried it in my new protein granola and I think I might just like it better than Vital Proteins. Plus, it's less expensive. Three cheers for that!
I haven't tried using a more traditional protein powder, like the Vega protein powder I use in my protein bars, but I think it would work just fine in the vanilla flavor. Don't measure by the scoop, though, but rather by weight as collagen protein and whey protein isolate are suuuuper light.
Nuts
In place of unsweetened almond milk, you can really use any unsweetened natural milk you like (even dairy milk is fine).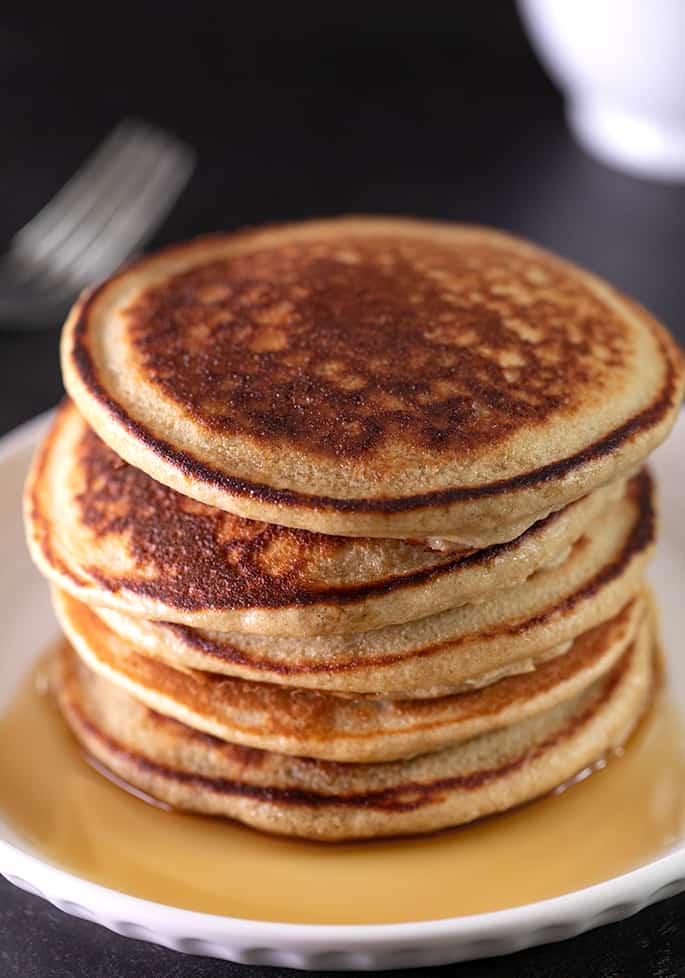 Healthy Protein Pancakes | No Banana
Ingredients
2 eggs (100 g, weighed out of shell), at room temperature
1/4 cup unsweetened almond milk, at room temperature
2 tablespoons (42 g) pure maple syrup, at room temperature
1/2 cup (122 g) smooth unsweetened applesauce, at room temperature
1 1/2 cups (150 g) old-fashioned certified gluten free rolled oats (if gluten free isn't necessary, use any oats)
2 scoops (20 g) unflavored collagen peptides (or try a protein isolate, like rice or whey, which is mostly protein)
2 teaspoons baking powder
1/4 teaspoon kosher salt
1/2 teaspoon pure vanilla extract
Cooking oil spray, for greasing
Fresh fruit, for serving (optional)
Instructions
In a blender or food processor, place the eggs, milk, syrup, applesauce, then the oats, protein powder, baking powder, salt and vanilla, and blend or process until as smooth as possible. Allow the pancake batter to sit for 3 to 5 minutes to thicken.

Heat a griddle or nonstick or cast iron skillet over medium heat. Grease it lightly, and pour portions of about ¼ cup of batter onto the hot griddle at least 1 inch apart from one another. Allow the pancakes to cook until large bubbles begin to break through the top of the batter in each pancake and the edges are set (about 2 minutes). With a wide, flat spatula, carefully flip over each pancake, and continue to cook until set (about another 30 seconds). Remove from the skillet, and repeat with the remaining batter.

The cooked pancakes can be kept warm in a single layer on a lined baking sheet in a 200°F before serving, then topped with fresh fruit before serving warm. They can also be cooled completely, stacked, wrapped tightly and frozen until ready to use. Defrost in a warm toaster oven before serving.