These gluten free pancakes made in a sheet pan are the easiest way to make pancakes for a crowd in minutes. Use our homemade pancakes mix, or your favorite store-bought blend.
Why make gluten free pancakes in a sheet pan?
It's not hard to make pancakes, but I don't make them nearly as much as I would like. And that's for one simple reason.
I find it hard to motivate myself to stand at a hot griddle pouring, waiting, flipping and waiting. Pancakes can be made ahead of time and kept warm, but they're best fresh, of course.
If you want to make gluten free pancakes on the spur of a moment, try making them in a sheet pan. Preheat your oven, line a sheet pan with parchment paper, make the batter in one bowl, and pour. About 15 minutes later, all the pancakes are done at once.
How to use a store-bought gluten free pancakes mix here
There are 8 brands of gluten free pancake mixes that I've personally used and recommend trying. If you'd like to use one of those mixes, or your own favorite gluten free mix, to make pancakes in a sheet pan, here's how I recommend doing it.
One full recipe of our homemade gluten free pancake mix contains weighs about 230 grams. If you'd like to use another brand of mix, simply weigh out 230 grams of that mix, and follow the remaining recipe instructions.
If the brand of gluten free pancake mix you're using contains xanthan or guar gum in the blend, you'll follow the recipe instructions below precisely. If it doesn't contain any gums, you'll use 1/4 cup less milk as described in the ingredient list below.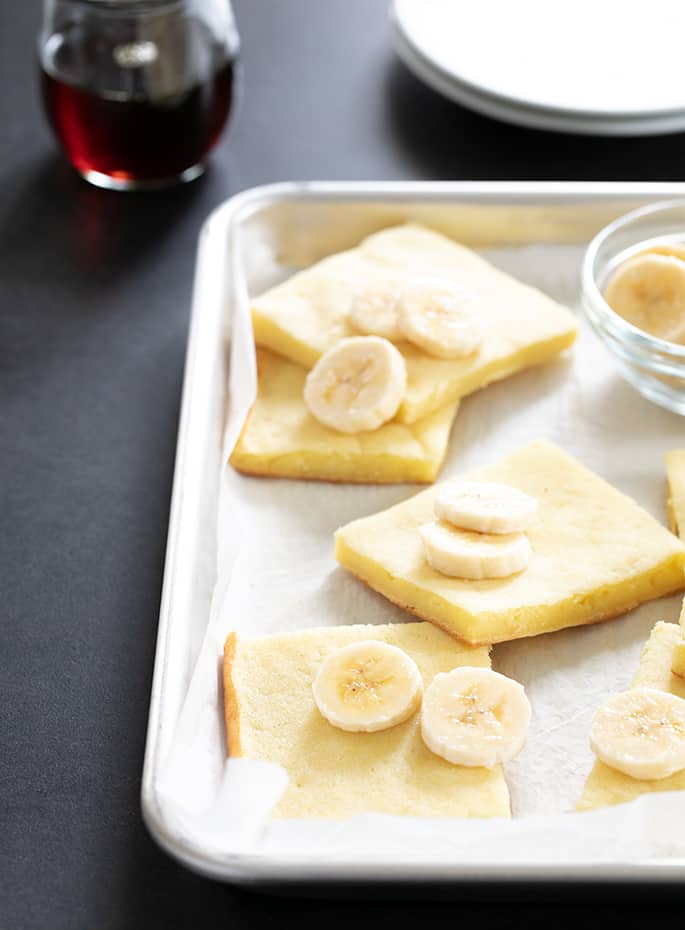 Ingredients and substitutions
Dairy: There's dairy in the milk in this recipe and the butter. Any nondairy milk will work in place of the cow's milk, but my favorite is unsweetened almond milk.
The melted butter is just as easy to replace. Melted and cooled Earth Balance buttery sticks, Spectrum brand butter-flavored nonhydrogenated vegetable shortening, or virgin coconut oil should each work well.
Eggs: The dry pancake mix is egg-free, but adding the two eggs to the batter is essential in this recipe. Are you feeling adventuresome, though?
Similar to the way in which we made vegan gluten free pancakes recipe, you may be able to use a combination of applesauce and additional xanthan gum. It would require some trial and error, I'm afraid.