I'm not one to shy away from using a candy thermometer. But … I know sometimes you are. These fudge truffles are super super easy. No candy thermometer. When you have a second, though, could we talk about that candy thermometer thing? It's so easy! But this time, you can leave it in the drawer. We're making the easiest fudge around, and we're making it into truffles.
Now before you go and tell me that they're not really truffles (like these gluten free cookie dough truffles aren't really truffles), I would like to submit … that they kind of are. Traditionally, truffles are just little balls of chilled chocolate ganache. And chocolate ganache is really just melted chocolate mixed with heavy cream. These fudge truffles are almost, well, that. Except that you start by melting unsweetened chocolate with some butter, and then sweeten it and change its texture with confectioners' sugar before adding (you guessed it) heavy cream.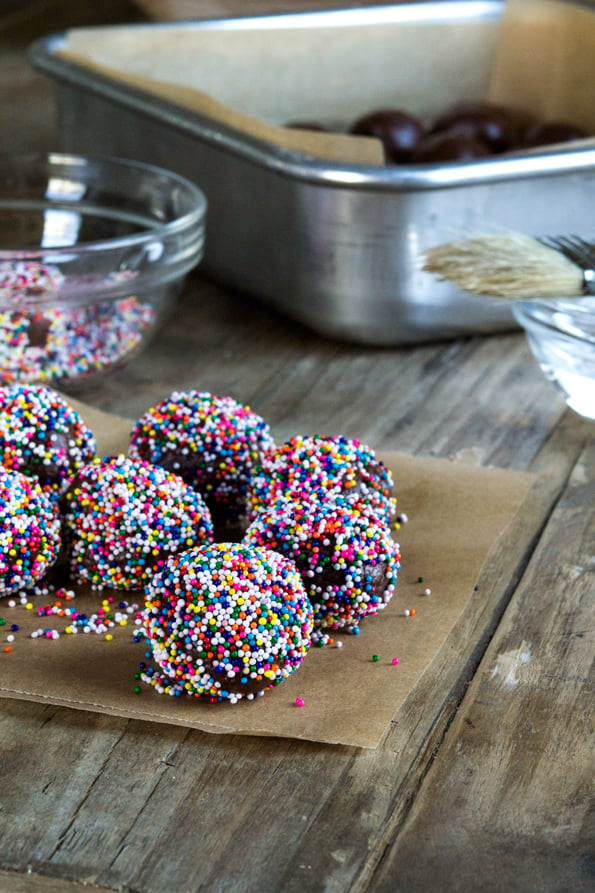 Now I coated my truffles in nonpareils because, you know. They're just so adorable and festive. I have always found nonpareils in particular to be pretty much irresistible. I can resist sprinkles, if I must, but nonpareils? They wink at me. Those temptresses.
If you're 100% against all those food dyes (I'm not and that's a fact), just … don't use them. Use naturally-colored sprinkles if you like. Or just leave them naked. Or roll them in cocoa powder. Or chill the truffles, and then roll them in confectioners' sugar. Looking for gluten-free information on nonpareils? Well, I'm happy to report that I just a moment ago this morning had a conversation with the nice folks at Signature Brands. They make both Cake Mate and Betty Crocker brand nonpareils, and all of their nonpareils are, indeed, gluten free. 'Tis the season for some bright color, right? Or not. Either way.