These homemade fudge truffles are smooth and buttery with a rich chocolate flavor and are ready in minutes. This is one no-bake recipe you'll want to make again and again!
Are these really truffles?
Traditionally, truffles are just little balls of chilled chocolate ganache. And chocolate ganache is really just melted chocolate mixed with heavy cream.
These fudge truffles are nearly like that, but they're actually better. You start by melting unsweetened chocolate and some butter, and then sweeten it and change its texture with confectioners' sugar before adding a bit of cream.
When you make fudge truffles this way, they're much cheaper because you need a lot less chocolate—and the quality isn't nearly as important. Plus, the truffles themselves are a lot more stable at room temperature, so they're easy to store and transport wherever you're going. They make the perfect hostess gift!
How to make these easy fudge truffles
The only essential ingredients in these fudge truffles are confectioners' sugar, unsweetened chocolate, butter, and cream. The basic method is to melt the butter and chocolate, then mix them into the confectioners' sugar and add the cream to moisten the mixture enough to roll it into balls.
I prefer to make the truffles as the recipe below is written, though, with unsweetened cocoa powder in place of some of the confectioners' sugar, plus some salt and vanilla for flavor. The cocoa powder also changes the texture of the truffles just enough to make them more stable at room temperature.
Do you need a candy thermometer for this candy recipe?
No! I'm not one to shy away from using a candy thermometer in homemade candy recipes, but I understand that cooking sugar can be intimidating. This recipe calls for melting both butter and chocolate, but the chocolate isn't tempered. It's simply melted in the microwave or in a simple double boiler.
I find that, unless I'm tempering chocolate (which I do very infrequently), I prefer to melt it in the microwave. Just heat the chocolate slowly in 30- or 45-second increments at about 75% power, stirring in between. Stop before the chocolate is completely melted, and stir until smooth.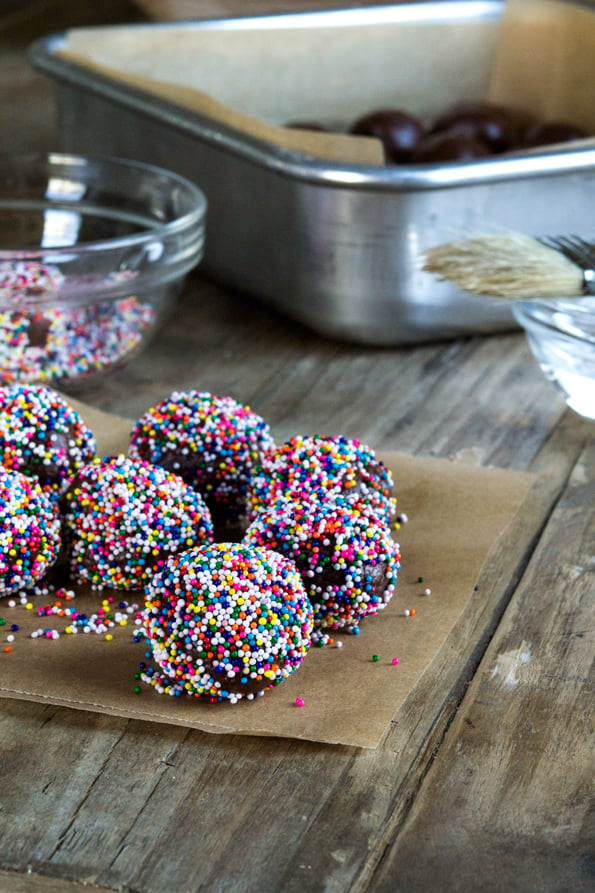 What candy confections can you use to coat the truffles?
Now I coated my truffles in nonpareils because, you know. They're just so adorable and festive. I have always found nonpareils, in particular, to be pretty much irresistible. I can resist sprinkles if I must, but nonpareils.
If you're 100% against all those food dyes just don't use them. Use naturally-colored sprinkles if you like, roll them in cocoa powder or roll them in more confectioners' sugar.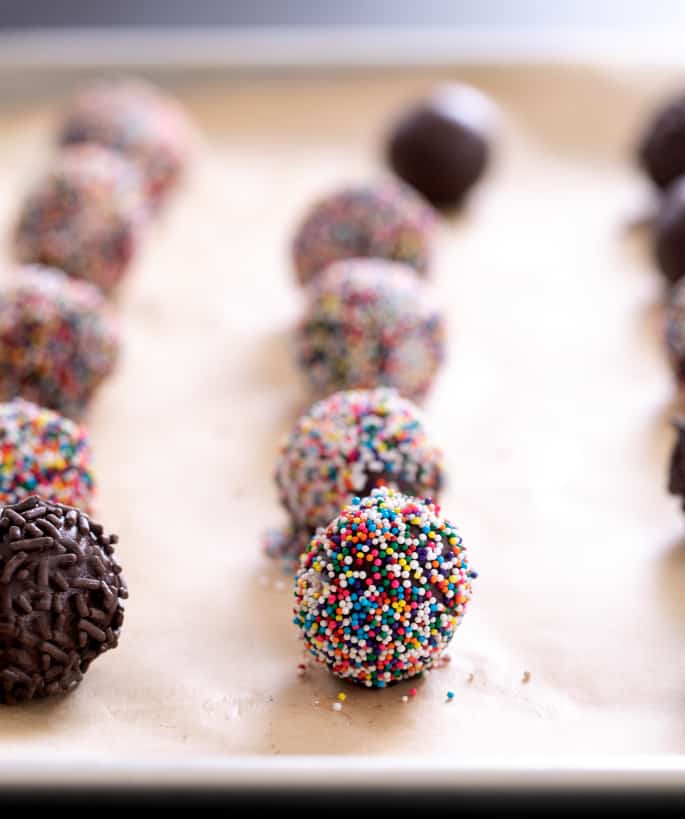 Which nonpareils and sprinkles are gluten free?
I've spoken in the past with the nice folks at Signature Brands. They make both Cake Mate and Betty Crocker brand nonpareils, and all of their nonpareils are, indeed, gluten free.
You can also use the same rainbow confetti confections that we loved in our gluten free birthday cake recipe. I used to purchase AmeriColor brand edible confetti, but it doesn't seem to be available any longer. Instead, I recommend Sweetapolita's Sprinkle Shop or you can try one of the shops on Etsy (just do a search!).
Ingredients and substitutions
Dairy-free: These truffles contain dairy in two forms: butter and heavy whipping cream. The recipe can easily be made dairy-free by replacing the butter with either virgin coconut oil, Spectrum nonhydrogenated vegetable shortening, or Melt brand vegan butter.
The heavy whipping cream can be replaced with canned coconut cream (just the thick part, not the liquid). If you're avoiding dairy because of a sensitivity to lactose, though, you may be able to use heavy whipping cream since it's very, very low in lactose.
Sugar-free: I have never attempted to make these truffles sugar-free, since confectioners' sugar is a major component of the recipe. However, Swerve brand alternative sweetener makes a confectioners' sugar variety. If you are comfortable with the slight cooling sensation of Swerve, you may like this recipe made with Swerve. Just skip the decorations!