Buttery, sweet gluten free cinnamon sugar drop biscuits, with beautiful cinnamon bits marbled throughout, are ready in minutes!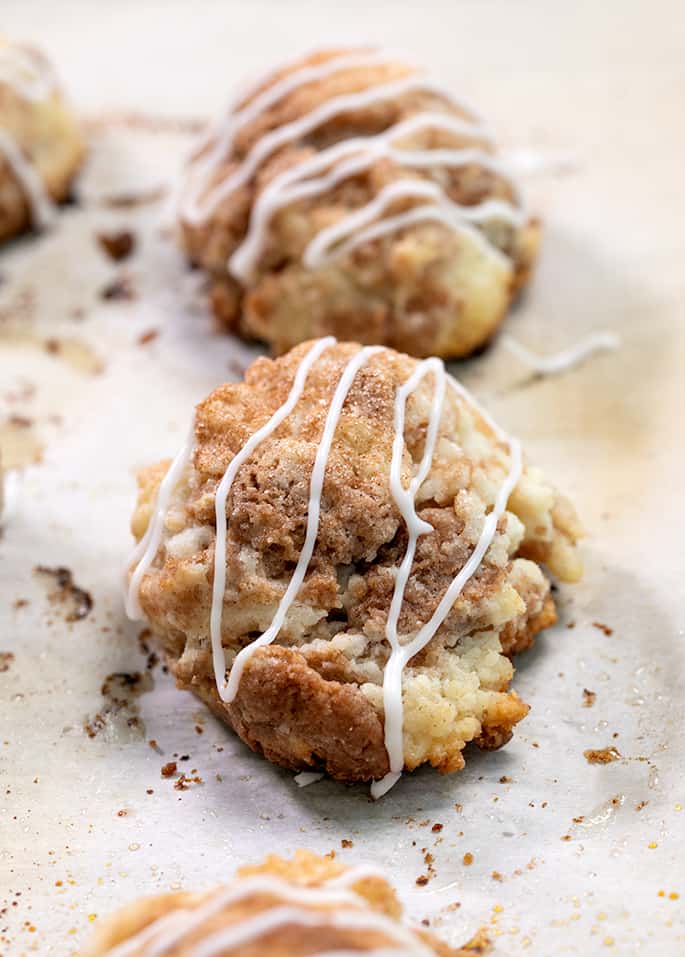 What makes this recipe special
Drop biscuits are a much simpler way to make pastry. They don't require any real shaping, and although they don't boast flaky layers, they have a tender fluffiness and crisp edges.
You begin with cold ingredients and handle the ingredients lightly, like you would with any pastry since you need cold pieces of fat (here, butter) to be surrounded by the remaining ingredients. When they hit the heat of the oven, the butter expands an creates a lightness.
Since they're drop biscuits, though, there's no shaping; there's only scooping. If you take a classic drop biscuit recipe and just add some ground cinnamon and sugar to the mixture, your biscuits will just look discolored. To create a marbled biscuit, with pockets of light brown cinnamon bits and pockets of classic biscuit dough, you make the dough in two parts.
First, you whisk together the dry ingredients (GF flours, baking soda, baking powder, salt, granulated sugar) and add in the cold butter pieces. Second, separate out about 1/4 of the mixture by volume (just eyeball it; precision is not important) and mix in the ground cinnamon to that smaller portion.
Moisten each of the two portions with a corresponding portion of the buttermilk in the recipe. Begin by adding about 3/4 the buttermilk to the plain portion, adding more by the drop as necessary to moisten any dry bits.
Finally, add the rest to the cinnamon portion and combine the two gently. You don't want to create a uniform whole. Instead, we want the cinnamon spiced chunks to interrupt the plain chunks. We just press them together into scoops.
A small batch of biscuits that's easily doubled
This recipe for gluten free cinnamon sugar drop biscuits only makes 6 biscuits. It's just the right amount for a snack.
Since it doesn't contain any eggs, I created a small batch recipe. When a recipe contains eggs, the rest of the ingredients must be in whatever proportions are appropriate for at least one whole egg (or egg white or egg yolk).
The recipe doubles very easily, though. Just multiply each ingredient by two, and follow the instructions as written. You'll have 12 biscuits.
Make ahead instructions
You can even double the batch, create 12 portions of dough and freeze half in a single layer. Store the frozen half in the freezer until you're ready to bake them, and bake off the remaining 6.
When you're ready to bake the frozen biscuits, you can bake them right from frozen. Make as many or as few as you like at a time.
Brush them with melted butter, sprinkle with cinnamon sugar, and bake at 350°F for 5 minutes and then increase the oven temperature to 375°F.
You'll probably need to bake them for another 12 to 15 minutes, for a total of 17 to 20 minutes. But if you begin baking the frozen dough at the full 375°F as instructed in the recipe, they may burn before they're baked evenly all the way through.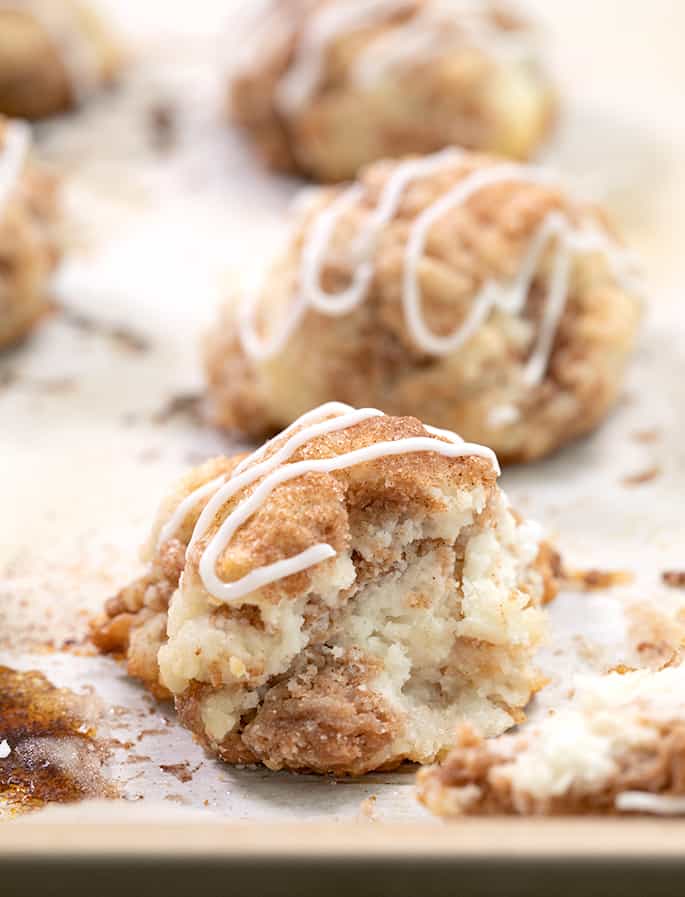 Ingredients and substitutions
Dairy
If you need to replace the buttermilk in this recipe, and you can have dairy, you can easily replace with 1/4 cup (65 g) plain yogurt + 1/4 cup (2 fluid ounces) milk. If you can't have dairy, just use non-dairy plain yogurt and non-dairy milk unsweetened nondairy milk.
If you can't have dairy, try replacing the chopped and chilled butter with 2 1/2 tablespoons (30 g) Spectrum brand nonhydrogenated vegetable shortening + 2 tablespoons (28 g) vegan butter. My two favorite brands of vegan butter are Miyoko's Kitchen and Melt.
In place of the melted butter that's brushed on the biscuits, try using melted vegan butter or even Earth Balance. I do not recommend using Earth Balance buttery sticks in place of the chopped and chilled butter, as it has way too much moisture and the biscuits will melt flat in the oven.
Cornstarch
In place of cornstarch, which helps to lighten the flour blend, try using arrowroot. If you're using a higher starch blend like Cup4Cup (or my mock Cup4Cup blend), replace the cornstarch with an equal amount (18 grams) of that flour blend.
Cinnamon-sugar
This recipe is based on our recipe for plain gluten free drop biscuits. If you'd like a plain biscuit that isn't sweet, and is a great complement to any meal, try that recipe instead!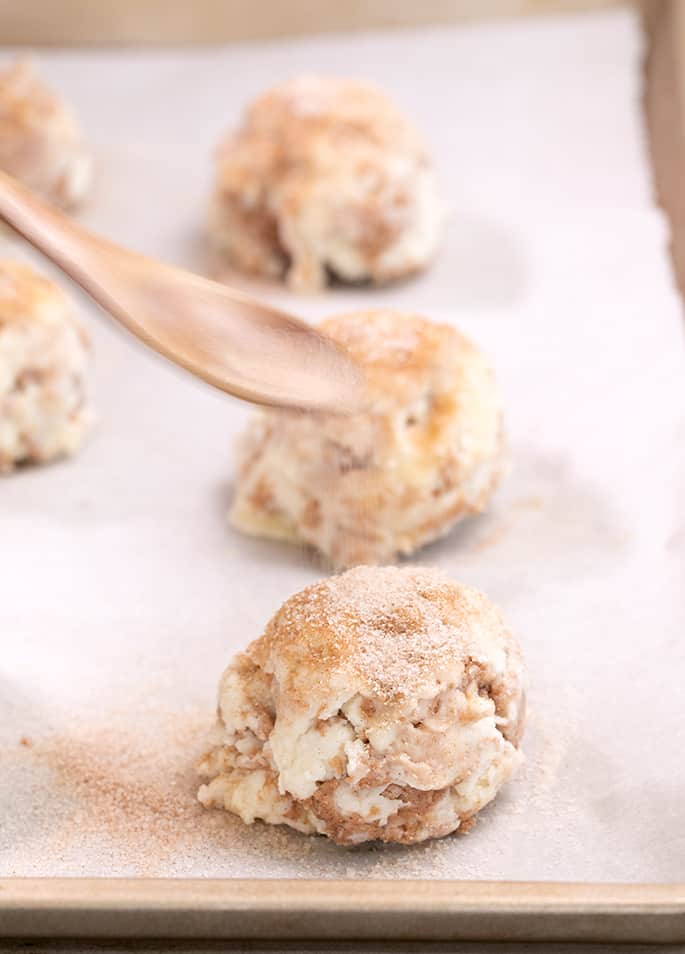 Gluten Free Cinnamon Sugar Drop Biscuits
Ingredients
For the biscuits
7/8 cup (123 g) all purpose gluten free flour (I used Better Batter)
Scant 1/2 teaspoon xanthan gum (omit if your blend already contains it)
2 tablespoons (18 g) cornstarch
1 1/2 teaspoons baking powder
1/8 teaspoon baking soda
1/4 teaspoon kosher salt
3 tablespoons (40 g) granulated sugar
4 tablespoons (56 g) cold unsalted butter, cut into a 1/4-inch dice or grated and chilled
1/2 cup (4 fluid ounces) buttermilk, chilled
1 teaspoon ground cinnamon
1 tablespoon (14 g) unsalted butter, melted
Cinnamon-sugar mixture for sprinkling (see Recipe Notes)
For the glaze (optional)
1/2 cup (57 g) confectioners' sugar
1 teaspoon lukewarm water, plus more as necessary
Notes
For the cinnamon-sugar mixture
I use 1 full teaspoon ground cinnamon for each 3/4 cup of granulated sugar. That's a pretty spicy ratio. You should add cinnamon slowly, to taste.
Make ahead instructions
Biscuits of all kinds are easy to make in stages. Simply make the biscuit dough through scooping the raw dough and before brushing the tops with melted butter.
Place the shaped raw biscuits on a baking sheet and freeze them in a single layer. Pile them into a sealed freezer-safe container or bag until you're ready to bake them.
You can bake them right from frozen. Brush them with melted butter, sprinkle with cinnamon sugar, and bake at 350°F for 5 minutes and then increase the oven temperature to 375°F. You'll probably need to bake them for another few minutes total.
Instructions
Preheat your oven to 375°F. Line a rimmed baking sheet with parchment paper and set it aside.

In a large bowl, place the flour, xanthan gum, cornstarch, baking powder, baking soda, salt, and granulated sugar, and whisk to combine well. Add the chopped and chilled butter, and toss to coat. Working quickly so as not to melt the butter, flatten the pieces between your thumb and forefinger. If you've used shredded butter, just toss to separate as many of the pieces as possible. Transfer about 1/4 of the butter and flour mixture to a separate, medium-size bowl, and set it aside.

To the large bowl with the remaining 3/4 of the mixture, add about 3/4 of the buttermilk (3 fluid ounces), and mix to combine. Add more buttermilk by the drop as necessary to bring the whole mixture together without any dry patches. To the medium-size bowl, add the ground cinnamon, and whisk or mix to combine. Add the remaining buttermilk to the cinnamon mixture, and mix until fully combined, creating clumps of dough. Add the cinnamon mixture to the large bowl with the remaining mixture, and mix gently until the cinnamon clumps are evenly distributed throughout the plain mixture.

Using a spring-loaded ice cream scoop or two spoons, scoop the dough into 6 equal portions, each about 2 1/2 tablespoons, and place about 2 inches apart on the prepared baking sheet. Brush the tops of the mounds of raw biscuit dough lightly with the melted butter, and sprinkle generously with the cinnamon-sugar mixture.

Place the baking sheet in the freezer for about 5 minutes (or the refrigerator for longer) to chill until the raw biscuits are very cold to the touch. Place the baking sheet in the center of the preheated oven and bake for about 15 minutes or until the biscuits are firm to the touch and golden brown on the edges and underside. Remove from the oven and allow the biscuits to set for about 5 minutes before serving.

If serving with the glaze, wait for the biscuits to be completely cool first. To make the glaze, in a small bowl, place the confectioners' sugar and 1 teaspoon of water. Mix well, until a very thick paste forms. Add more water by the drop, mixing to combine well, until the glaze is thickly pourable and drizzle over the cooled biscuits. Allow the glaze to set at room temperature before serving.