Tender Gluten Free Cheddar Bay Biscuits. Simple drop biscuits that are super easy to throw together, and taste just like the famous Red Lobster Biscuits. Perfect for any meal!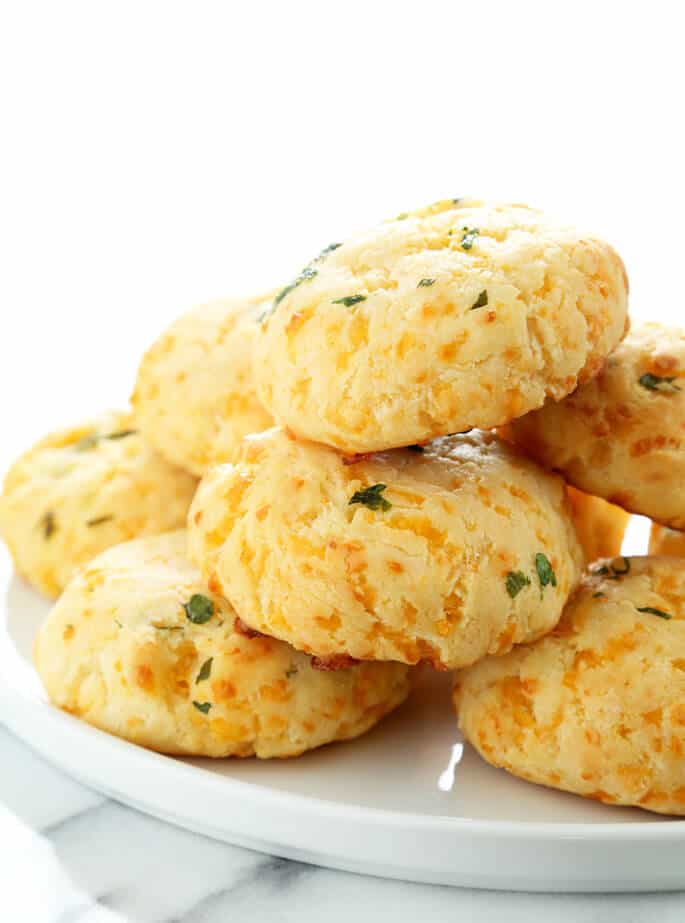 These are no ordinary gluten free biscuits (not that I really consider any of my gluten free biscuit recipes to be "ordinary"). But these are cheddar bay biscuits.
You know, the kind that Red Lobster serves? They're crazy cheddar-cheesy, with just the right amount of garlic, butter and a light sprinkling of fresh parsley. If you bake them a few minutes longer, you'll get an extra crisp bottom that crackles when you break into it. That's my favorite way!
Have you tried Red Lobster's own mix?
I've read here and there online that Red Lobster has introduced a gluten free cheddar bay biscuit mix at Walmart! Since there is absolutely no Walmart anywhere near where I live ?and it doesn't seem to be available online, it's like a suburban legend to me so far.
I'm usually more inclined to make my own gluten free baking mix at home than to buy a boxed gluten free mix since the flours are usually so grainy and disappointing. But I would really like to try the gluten free Red Lobster mix for myself.
If you've tried it, or you've been able to find it online, please let me know in the comments. I'm really anxious to give it a try! I'm crossing my fingers that the mix isn't grainy since that is just … wrong. We're gluten free, but quite human and have tastebuds like everyone else!
How to shape these biscuits
Unlike layered biscuits recipes, with these cheddar bay biscuits, there's no folding and rolling to create light flaky layers. They're drop biscuits, which means that you simply drop mounds of batter on a baking sheet.
When I first began making these biscuits, I made them with melted butter, and they still worked beautifully. But over time, I found that that made the recipe a bit more temperamental, and prone to leaking butter during baking. So now I just grate cold butter on a standard-size grater and mix it into the dry ingredients that way.
How these are a bit different than traditional drop biscuits
The method is slightly different than a regular gluten free drop biscuit. Instead of simply dropping a mound of dough on a baking sheet, the biscuit dough is very lightly shaped into a round and then pressed gently into a disk. All the while, handling the dough as little as possible.
If you prefer to drop the dough by the mound onto a baking sheet, just flatten down any especially sharp edges so nothing burns during baking. Shaping these biscuits into disks before baking makes them really well-suited to being sliced in half horizontally and used for sausage, egg and cheese sandwiches, Eggs Benedict, or even as a hamburger slider bun.
What sort of cheddar cheese is best?
You can use pre-grated cheddar cheese, or grate your own from a block of cheese. If you use shredded cheddar, you may need to add another tablespoon or two of buttermilk to the mixture, since pre-shredded cheeses have anti-caking agents that make them a bit drier.
Be very careful adding more moisture, though. The biscuit dough is meant to be just moistened. If you add more liquid than necessary, your biscuits will leak butter during baking. It's not the end of the world, but it can be a bit unpleasant.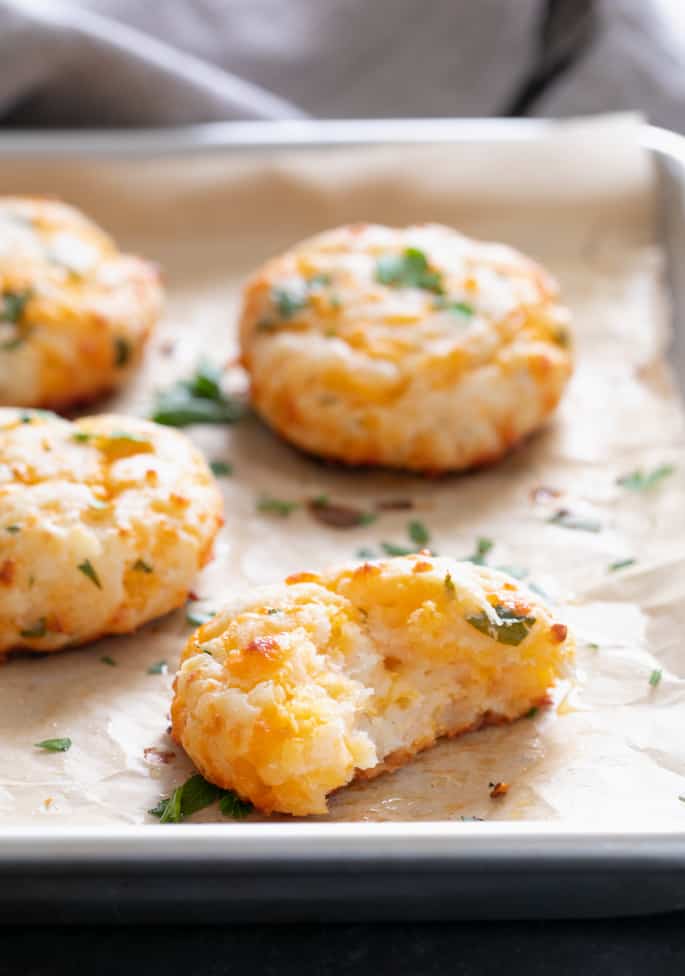 Ingredients and substitutions
Dairy-free: There is quite a bit of dairy to replace in these biscuits, but I think it can be done with good results. Let's take the dairy ingredients one by one.
In place of shredded, cold butter, I'd use Melt brand vegan butter or Spectrum brand butter-flavored nonhydrogenated vegetable shortening. Earth Balance buttery sticks aren't a good choice, since they have way too much moisture.
In place of the shredded cheddar cheese, try using Daiya brand or Violife brand shredded cheddar alternative vegan cheese. Both tend to have good flavor. They will make a less crispy, more "spongy" biscuit, but it should still taste quite good.
In place of the buttermilk, I recommend using half unsweetened nondairy milk and half nondairy plain yogurt. I do not recommend using all unsweetened nondairy milk with a bit of vinegar or lemon juice, as that doesn't begin to reproduce the taste or consistency of real buttermilk.
In place of the cream used to brush the top of the biscuits before baking, you can use an egg wash (beat an egg with a teaspoon of water or unsweetened nondairy milk). Or even some melted Earth Balance buttery sticks would brown nicely.
Cornstarch: In place of cornstarch, try arrowroot or potato starch. If you have chosen to use a high-starch all purpose gluten free flour blend, like Cup4Cup, in place of cornstarch use 36 grams more of the flour blend.