These gluten free brown sugar shortbread cookies are made with little more than butter, brown sugar and flour, hold their shape, and are anything but plain. They're lightly sweet, and just a little bit tender but still crumbly like any proper shortbread must be.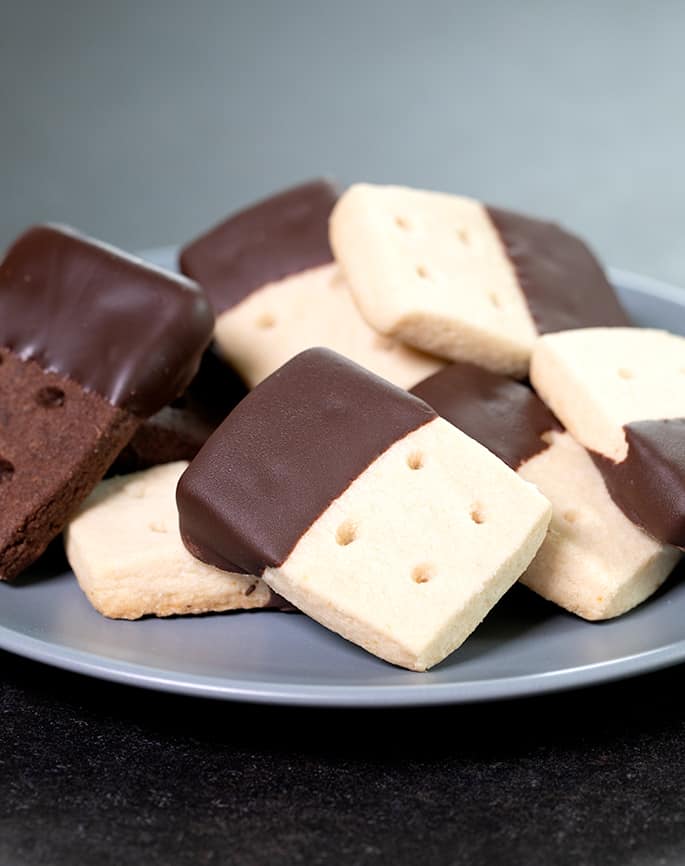 Why brown sugar?
I've had a recipe for "basic" gluten free shortbread cookies made with granulated sugar on the blog since 2014.  You can even take that basic shortbread dry mix and make it into 5 different varieties of shortbread.
That 5-in-1 recipe is a great way to fill out a cookie tray without making yourself crazy with a million different recipes. They're pretty similar to the butter cookies recipe (made with egg yolks and more sugar) here on the blog, too.
I've even got a recipe for gluten free whipped shortbread cookies. That recipe is made with confectioner's sugar and the cookies absolutely melt in your mouth. They're amazing with a dollop of jam in the center, almost like a hybrid shortbread/thumbprint cookie.
Like any cookie recipe that has 3 or 4 ingredients, though, this recipe for brown sugar shortbread cookies is soooo similar, but in many ways a world apart. Using brown sugar as a sweetener adds a softness and a really mild tang from the molasses in the sugar.
How to make chocolate brown sugar shortbread
Unlike the 5-in-1 shortbread cookie recipe referred to above, this recipe for brown sugar shortbread doesn't really need to be dressed up to taste great on its own. They're simple, but have a pleasantly complex taste that allows them to stand on their own.
Since they tend to look a bit plain, though, I like to dip these cookies in a bit of chocolate or even drizzle them with some melted chocolate. That's never really a bad idea if you're looking to impress.
But as I was refining this recipe, I suspected that you could replace the cornstarch with an equal amount of unsweetened Dutch-processed cocoa powder and make pleasantly chocolate-flavored shortbread cookies. And I was right!
At first, I tried replacing half of the cornstarch with cocoa powder, but the cookies barely tasted like chocolate at all. And their color was almost gray.
You'll need to replace all of the cornstarch with unsweetened cocoa powder. The reason for using Dutch-processed cocoa powder is that it's a cocoa powder that has had its acidity balanced to neutral.
Natural unsweetened cocoa powder (like regular Hershey's cocoa powder) is acidic and needs to be balanced with a bit of baking soda to avoid a sharp flavor. Since we don't want these cookies to rise (that's why we pierce them before baking!), it's best to avoid baking soda.
If you only have natural cocoa powder and really want to make chocolate shortbread cookies, try using just 1/8 teaspoon baking soda along with 7 tablespoons (35 grams) cocoa powder in place of the cornstarch. The chocolate variety of these cookies will spread a bit more, though, because of the lack of cornstarch.
Ingredients and substitutions
These super simple gluten free cookies are already egg-free, too, as are all classic shortbread cookie recipes. They do have a few other potential allergens, though, so here are my best-educated guesses for how to make these cookies suit other dietary needs.
As always, the moment you make a change to the recipe as written, either in ingredients or method, I can no longer promise results. That is doubly true with a super simple recipe like this cookie recipe. But if you're game for some experimenting, here's how I recommend doing it.
Dairy-free: To replace the butter in this recipe, I'd recommend trying Melt brand vegan butter replacement. It is the closest to behaving like butter in baking that I've ever found.
If you can't find Melt, though, try using half Earth Balance buttery sticks (which have way too much moisture) and half nonhydrogenated vegetable shortening (which has nearly no moisture). Omit the salt, though, as Earth Balance is super salty.
Corn-free: This recipe calls for cornstarch in addition to gluten free all purpose flour to add some lightness. If you're using Cup4Cup gluten free flour blend, use 1 1/4 cups of Cup4Cup and omit the cornstarch, as Cup4Cup is already very high in cornstarch.
If you need to omit cornstarch altogether, you shouldn't have trouble replacing it. Try arrowroot in its place or even potato starch. Either should work fine.
Sugar-free: Since this recipe is so, so simple, I really don't recommend using an alternative sugar. But since there is only 1/3 cup of brown sugar, you could try using Swerve brand's brown sugar alternative.
You may have to add a tiny bit of water, though, to the dough as Swerve tends to be drying. Add water by the drop (literally) because you can't take it out—and if you add too much moisture, your cookies will spread.
Gluten Free Brown Sugar Shortbread Cookies
Ingredients
8 tablespoons (112 g) unsalted butter, at room temperature
1/3 cup (73 g) packed light brown sugar
1/8 teaspoon kosher salt
1 cup (140 g) all purpose gluten free flour (I used Better Batter)
1/4 teaspoon xanthan gum (omit if your blend already contains it)
1/4 cup (36 g) cornstarch
Instructions
Preheat your oven to 325°F. Line a large rimmed baking sheet with unbleached parchment paper and set it aside.

In a large bowl, place the butter, brown sugar, salt and beat with a handheld mixer or stand mixer fitted with the paddle attachment on medium-high speed until light and fluffy (about 3 minutes). Add the flour, xanthan gum and cornstarch, and mix until just combined. The dough will seem crumbly at first, but just keep mixing until it comes together.

Press the dough into a ball and transfer it to a large sheet of unbleached parchment paper. Cover with another sheet of parchment paper and press and roll the dough into a rectangle about 1/2-inch thick. Remove the top sheet of parchment and, using a sharp knife or pastry cutter, trim the edges all around the rectangle to create a blunt edge. Slice the dough into about 16 smaller rectangles, each about 1-inch wide by 2-inches long. Using a toothpick, pierce 6 small, evenly spaced holes in each small rectangle. Transfer the shortbread pieces to the prepared baking sheet, placing them about 1-inch apart from one another. Place the baking sheet in the freezer for about 5 minutes or the refrigerator for about 15 minutes or until firm. This will help the cookies maintain their blunt edges during baking.

Place the baking sheet in the center of the preheated oven and bake for 15 minutes or until the cookies are very slightly brown on the edges and set (not glistening) in the center. Remove from the oven and allow to cool completely on the baking sheet. Dip in or drizzle the cooled cookies with melted chocolate and allow to set before serving. Store the cookies in a sealed glass container at room temperature for at least 3 days, or freeze for longer storage. If freezing the cookies, freeze them plain, without a chocolate glaze. Dip them in melted chocolate soon before serving, to prevent the chocolate from any ugly blooming (that's where the chocolate develops a white layer, which is harmless but doesn't look pretty).