These savory gluten free breakfast corn muffins can be made with or without a whole egg cracked right on top before they go into the oven. The perfect make-ahead breakfast for busy mornings!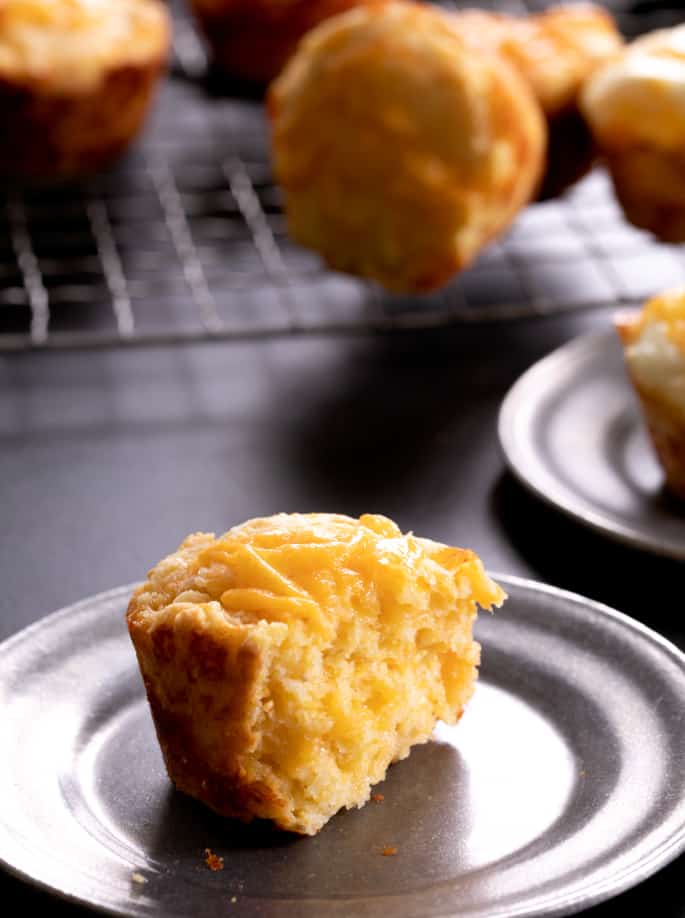 It all starts with a Jiffy-style gluten free corn muffin mix
Jiffy may not make a gluten free corn muffin mix, but we have our own Jiffy-style gluten free recipe that works just the same—and is so simple to make and have on hand. I've used our gluten free cake mix recipes so many different ways. And our pancake mix a million times.
But the Jiffy-style mix was something I used mostly around Thanksgiving, and not otherwise. Corn muffins are so hearty and satisfying, but the sugar in the mix made it seem less versatile to me.
This recipe begins with a base that is nearly identical to our Jiffy-style mix of all purpose gluten free flour, cornmeal, baking powder, salt, and shortening crumbled into the mix. We've omitted the sugar entirely without sacrificing tenderness or taste.
Topped with a whole egg—or not
I used to wake up extra early every single school day and make my 3 kids scrambled eggs. One of them hated eggs, but no matter. I was obsessed with making them some brain food before they started the school day.
I kept that going until my oldest graduated from grammar school, and it was such a relief! I discovered the joys of the make-ahead breakfast, and have never looked back. These gluten free breakfast corn muffins are a welcome addition to that repertoire.
These muffins can be made as full corn muffins, and they're still packed with hearty cornmeal and cheese. They're tender, moist and filling. But if you crack a whole egg on top, it bakes in exactly the same amount of time and takes these muffins all the way to a school day home run.
The recipe will make about 16 muffins (depending upon the size of the wells of your muffin tin) if you make them all with a whole egg baked on top. Simply fill the wells of the tin about 1/4 of the way full with the muffin mix and press it up the sides of the well. Then, crack a whole, raw egg on top of the batter.
The muffins freeze perfectly and can be defrosted briefly in the microwave or in a toaster oven on busy school mornings. Even the ones with the egg on top.
How to make these breakfast muffins
These muffins are made very easily in a single bowl. Just combine one of my recommended all purpose gluten free flour blends, cornmeal, baking powder, and salt, and whisk to combine well. Then, add the few tablespoons of shortening and crumble it into the dry ingredients.
The shredded cheese is then added to the dry ingredients and everything is tossed together. That way, the shredded cheese doesn't stick together and it's evenly distributed throughout the muffin batter.
Add the wet ingredients (buttermilk, sour cream, and one beaten egg), and mix to combine. Here, you could replace some of the cheese with crumbled cooked bacon pieces, for an even heartier muffin.
Like we described above, you can either make full corn muffins by filling the prepared wells of your muffin tin nearly full, or you can fill the wells only about 1/4 of the way full. Then, top with a whole egg.
I like to make 8 or 9 full muffins, and 3 or 4 egg-topped muffins. Not all of my children like the whole egg on top (especially the yolk). They are so, so wrong, though. Haters gonna hate!
Do you have to use shortening?
I use shortening in the corn muffin mix because that is what's used in the boxed Jiffy mix and I've always found it to work really well in this recipe. It also makes the Jiffy-style mix shelf-stable, which I really like.
I always use Spectrum non-hydrogenated vegetable shortening and find it at my local health food store or at Whole Foods. It's made sustainably, and it's the very best quality—and lasts in my pantry forever.
You can also use good old Crisco, though. Just don't use Nutiva brand, which simply doesn't perform the same. If you'd like to replace the shortening, you can try using virgin coconut oil (the kind that's solid at cool room temperature). Even unsalted butter is worth trying.
Ingredients and substitutions
Dairy-free: There is dairy in these muffins in a few forms: the cheese, the buttermilk, and the sour cream. I haven't tried making these muffins with dairy-free replacements, so you'll be experimenting if you try.
You should be able to replace the buttermilk with a mixture of half nondairy plain yogurt and half unsweetened nondairy milk, and the sour cream with nondairy sour cream. You should be able to replace the cheese with your favorite shredded nondairy cheese. My favorite brands are Violife and Daiya.
Egg-free: There is only one egg in the main muffin recipe. You should be able to replace it with a "chia egg" (1 tablespoon ground chia seeds + 1 tablespoon lukewarm water, mixed and allowed to gel). Of course, you'll make only full-sized corn muffins as described in the instructions below, not corn muffins topped with whole eggs.