This recipe for homemade Against the Grain-style gluten free rolls is just like the original. Stop paying too much for packaged gluten free bread!
A few years ago, in a pinch, I bought a package of Against the Grain original rolls. They were so expensive (nearly $9 for 4 rolls!) that it was really really (really) hard to pull the trigger. But my family loved them. So I did the only thing that seemed reasonable to me. I made my own copycat version asap.
This is not a bread recipe, though, like any other. It's made of just tapioca starch/flour, eggs, milk, cheese, and oil. These rolls are chewy and cheesy, and almost remind me of popovers in texture but with a delightfully crisp and almost flaky crust.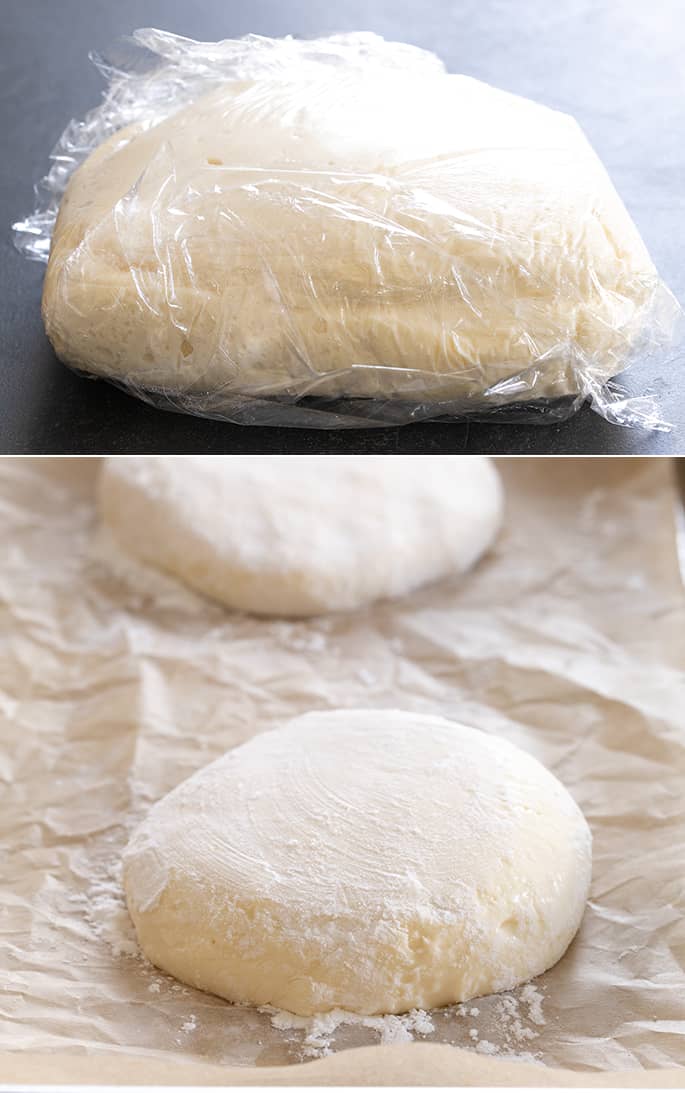 Secrets to recipe success
I originally wrote about these rolls in 2013. Along the way, I've made these gluten free rolls so many times that I've modified the method a bit, both to simplify the process and to handle the issues that sometimes come up.
I never post a recipe unless I make it successfully and can repeat my own success multiple times. But over the years, I have seen some issues pop up that I didn't anticipate years ago.
Your food processor
You do need a food processor to make this recipe. I've tried making it in a blender, and I'm afraid I've failed. If you only have one of the mini prep food processors, don't despair! Just split the entire recipe in half and make it in two parts.
If you have issues with your food processor stalling during preparation, it is likely that the tapioca flour has clumped at the bottom of the bowl and the blade has become stuck. Opening the top and stirring the dough to loosen it will get it working again. Do make sure you add the tapioca flour after you add the cheese, eggs and oil.
Temperature matters
Right after preparation, the dough will be very sticky. Wrapping the dough in plastic wrap and chilling it will allow you to divide it into portions.
When I first made this recipe, I cooked part of it on the stovetop before processing everything together. Over time, I realized that step wasn't necessary—and that the recipe worked better when the ingredients began at room temperature, or even chilled. Processing the dough in the food processor with add heat, which is part of why we will have to chill it before shaping no matter what the temperature of your ingredients at the start.
Add the milk slowly, and sparingly
The amount of milk that it makes sense to add to this dough is perhaps the most important variable in the recipe. Depending upon how much moisture is in your ingredients, the quality of your tapioca starch, and even your food processor, you may need more or less milk.
You will always need less than 1 full cup (8 fluid ounces) of milk. You may even find that you prefer to make the recipe with a bit less than 5 fluid ounces (which is itself less than 2/3 cup).
If you want the dough to be very easy to handle, use a bit less than 5 fluid ounces of milk the first time you make the recipe. The dough will be much easier to handle, especially after chilling, but watch the baking time like a hawk. They will likely be fully baked in less than 20 minutes.
If the raw dough in the food processor falls too easily off a spatula, you've probably added too much liquid. Try adding more tapioca starch/flour and processing until smooth.
If you've gone too far in adding liquid, even after adding a bit more flour, rather than truly shaping the dough you may have to scoop it onto the baking sheets with an ice cream scoop and baking it for a bit longer.
You're not kneading the dough in the traditional sense, anyway. You're just coaxing it into a roll shape. The oven does the rest.
Ingredients and substitutions
Like other simple recipes, each ingredient is crucial to the success of this recipe. It does not take substitutions well. Here are the details:
Dairy-free: If you can't have regular cheese, I'm afraid you simply cannot make this recipe. I have tried making it with homemade Miyoko's Kitchen recipe cheese, and it failed. I have tried making with all different brands of dairy-free packaged shredded cheese, and it failed.
I had developed a recipe for a copycat of the dairy-free Against The Grain rolls and posted it on the blog years ago. The post disappeared somehow in a redesign years ago, and I have no other record of it. It's gone for good. ?
The cheese: This recipe works best with pre-grated low moisture mozzarella cheese. It contains anti-caking ingredients, often starch, that prevent the dough from becoming too sticky and not holding its shape during shaping and baking. I know it's less than ideal to use an ingredient with additives, but there are certainly more additives in the packaged rolls. I do not stress such things, but it's a personal decision.
Egg-free: There are two eggs in this recipe, and they do a lot of heavy-lifting. In fact, they're responsible for the entire rise. I don't think you could make this recipe with an egg replacement at all.
Tapioca flour/starch: Tapioca starch has no equal in the world of gluten free flours, so there is nothing else that will replace it. The quality of the one you use matters a whole lot. I can only recommend purchasing it from nuts.com, Authentic Foods, and Vitacost.com. Bob's Red Mill tapioca starch/flour is of very inconsistent quality and I recommend against it.
The tapioca starch/flour sold in bulk in Asian food stores is also very inconsistent and frequently contaminated with other ingredients, sometimes gluten-containing ones. I also recommend against using that.
Against the Grain-Style Gluten Free Rolls
Ingredients
5 ounces low moisture mozzarella cheese, shredded (packaged, shredded cheese works best)
2 eggs (100 g, weighed out of shell)
1/4 teaspoon kosher salt
3 tablespoons (42 g) neutral oil (grapeseed, canola, vegetable all work fine)
2 1/2 cups (300 g) tapioca starch/flour, plus more for sprinkling
5 to 7 fluid ounces low fat or whole milk
Instructions
Preheat your oven to 375°F. Line rimmed baking sheets with unbleached parchment paper and set it aside.

Add all ingredients except milk to food processor in the order listed, then add about 1/4 cup milk. Process with chute open for about 2 minutes. Add more milk very slowly until the mixture comes together. Add between 5 and 7 fluid ounces of milk, depending upon the moisture in your other ingredients. Process for at least another minute. The dough will be very sticky and, when scooped with a silicone spatula, should fall off of it in a clump. The dough should not be dry and will firm up as it chills. Transfer the dough to a large piece of plastic wrap, wrap tightly and chill for at least 30 minutes. To hurry it along, you can place the dough on a plate or small cutting board and chill it in the freezer. It will not freeze solid.

Remove the dough from the freezer and unwrap the plastic. Sprinkle a flat surface generously with tapioca starch, place the dough on top and sprinkle it with more tapioca. Using a bench scraper or sharp knife, divide the dough into 6 equal parts. With hands that have been dusted lightly with tapioca flour, gently shape each piece into a round then flatten into a disk about 1/2-inch tall, sprinkling with more flour as often as necessary to prevent sticking. Place the rounds about 2 inches apart on the prepared baking sheet. Using a sharp knife, score each roll twice on top at a 45° angle, about 1/8-inch deep. Place the baking sheet in the center of the preheated oven and bake for 20 minutes. Working quickly, open the oven and slice a small hole in the top of each roll to allow steam to escape. Close the oven door and continue to bake until lightly golden brown all over and firm on top, another 5 to 10 minutes depending upon the moisture in your raw dough.

Remove from the oven and allow to cool briefly before serving. Allow any leftover rolls to cool completely before slicing in half, then wrapping them tightly and freezing. Defrost at room temperature for 30 minutes before toasting and serving, or defrost in the microwave and serve warm.

Originally posted on the blog in 2013. Video, text and some photos new. Recipe method clarified.