This recipe for gluten free blueberry muffins with rice flour is the simplest version you'll find. You only need one single flour to make them moist, tender, and bursting with blueberry flavor.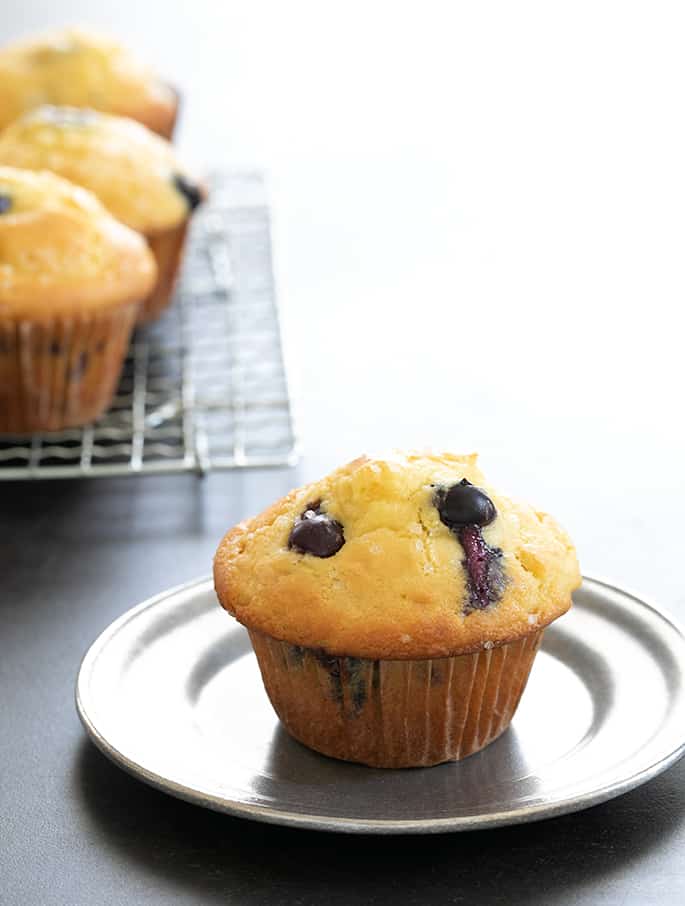 Baking gluten free with rice flour alone
For as long as I've been baking gluten free, I've been baking with gluten free flour blends. No single flour can do the work of conventional all purpose wheat flour, so wheat-free baking calls for flour blends.
All that is still true. But that didn't stop me from being curious about what we could do with, say, just rice flour, since plain rice is gluten free and is so common in cooking and baking all over the world.
Especially when you're new to gluten free baking, you don't have a fully stocked gluten free pantry. It's those sort of limitations that led me to produce recipes for flourless baking.
Since rice flour is the base flour for all of our all purpose gluten free flour blends, we learned to make our own flour from long grain white rice. Eliminating rice from all purpose gluten free flour blends is kind of like eliminating gluten from conventional baking.
We modify the ratios in basic baking recipes to suit the differences in all purpose gluten free flour blends. Despite marketing claims, a true 1 for 1 all purpose gluten free flour as a replacement for conventional flour is a myth.
So why not modify those ratios again to bake with only rice flour? Since you can make your own rice flour if you're in a pinch, a rice flour only recipe can be a real pantry baked good.
It took a few tries, but it finally worked. And because blueberries add pectin and moisture, the greatest success was in making gluten free blueberry muffins with rice flour.
Make my rice superfine
As always, our rice flour must be ground superfine. If your rice flour is not superfine, it won't completely combine with other ingredients. Unless you're soaking the flour before baking like you do with yeast bread, your baked goods will taste gritty.
Gritty gluten free baked goods are at best "good, for gluten free." And that's not good enough.
Baking with fresh or frozen blueberries
We've made blueberry muffins before. My favorite to date was our bakery style gluten free blueberry muffins, and they can be made with fresh or frozen blueberries.
The same holds true for these blueberry muffins. I've made them succesfully with both frozen and fresh berries.
When you bake with frozen blueberries, you shouldn't defrost them at all. In fact, they should only be added after the batter is completely mixed and ready, and your muffin tin is waiting nearby.
Remove the berries from the freezer, and add them to the muffin batter. Stir quickly but gently, taking care not to break many of the berries, which will tend to turn the batter blue.
If you're very rough with the berries and too many of them burst, your batter may have too much moisture. Too much moisture will create muffins that tend to sink when they come out of the oven, but it's not a big risk.
Ingredients and substitutions
Dairy
These muffins calls for buttermilk specifically. A mixture of lemon juice or mild vinegar and milk is just not buttermilk (it doesn't come close to the proper consistency), so please don't use that and expect similar results.
When I run out of buttermilk (which happens often) but I still need it for baking, I use half milk and half plain yogurt by volume. If you can't have dairy, use plain nondairy yogurt.
If you can't have dairy, in place of butter you can probably use any butter replacement (but not oil). Earth Balance buttery sticks would probably work just fine. So would one of my favorite vegan butters (Melt brand or Miyoko's Kitchen brand).
Eggs
There are 2 whole eggs in this recipe that makes only 6 muffins. That's indeed a lot of eggs, and accounts for their relatively yellow color.
In recipe testing, I made them with half as many eggs and a bit more baking powder to compensate for the lift that egg whites provide. They tasted bitter and were more fragile.
Cornstarch
I made such a big show of using only rice flour in these muffins, so why add cornstarch? Well, you don't have to add cornstarch.
You can use another starch, like potato starch or arrowroot in its place. Or you can use all rice flour (a full cup). The cornstarch helps to soften and lighten the crumb a bit, but it's entirely not necessary.
I'm kiiiind of inclined to offer that you try replacing each of the two eggs with one "chia egg" each. But I'm not sure.
The more I experiment with vegan baking, the less I like most of the egg replacements we usually turn to. I'm working on something better, but nothing to recommend just yet.
Xanthan gum
You don't need to use xanthan gum in this recipe. The crumb of the muffins has a great texture either way.
But they do tend to crumble a bit without just that small amount of xanthan gum. And like most recipes made without xanthan gum, they don't stay fresh quite as long without it.
Gluten Free Blueberry Muffins | With Rice Flour
Ingredients
3/4 cup (120 g) superfine white rice flour
1/4 cup (36 g) cornstarch (or 1 full cup superfine white rice flour)
1/4 teaspoon xanthan gum (optional)
1/2 teaspoon baking powder
1/4 teaspoon baking soda
1/8 teaspoon kosher salt
1/4 cup (50 g) granulated sugar
2 tablespoons (28 g) packed light brown sugar
1/2 cup (4 fluid ounces) buttermilk, at room temperature
2 eggs (100 g, weighed out of shell) at room temperature, beaten
4 tablespoons (56 g) unsalted butter, at room temperature
4 ounces blueberries (fresh or frozen)
Coarse sugar, for sprinkling (optional)
Instructions
Preheat the oven to 350°F. Grease or line 6 standard-size wells of a muffin tin, and set the tin aside.

In a large bowl, place the rice flour (or rice flour and cornstarch), (optional) xanthan gum, baking powder, baking soda, salt, and granulated sugar, and whisk to combine well. Add the brown sugar, and mix to combine, breaking up any lumps. Create a well in the center of the dry ingredients and add the buttermilk, eggs, and butter, and mix to combine. The batter should be smooth and glossy (and rather yellow). Add most of the blueberries, reserving a few for placing on top of the batter in the wells.

Divide the batter among the prepared wells of the muffin tin, filling each well almost completely full. Add any reserved berries to any tops that look rather bare. Sprinkle the tops very lightly with the (optional) coarse sugar.

Place the tin in the center of the preheated oven and bake until domed, pale golden, and the top of each muffin springs back when pressed gently in the center (about 20 minutes). Allow the muffins to cool in the pan for 10 minutes before transferring to a wire rack to cool completely.