No churn chocolate gluten free ice cream made with only 4 simple ingredients, and no ice cream machine. It's so fast and easy, and it tastes like chocolate mousse!
What makes this chocolate ice cream special?
There are a whopping 4 ingredients in this recipe: heavy whipping cream, melted chocolate, sweetened condensed milk and Dutch-processed cocoa powder (okay fine, plus a pinch of salt but does that really count?).
Just like my 3-ingredient no-churn vanilla ice cream, you still don't need an ice cream machine to make it. It's so easy that it's your basic dream/nightmare. The homemade chocolate syrup is a nice touch, too. I've included the recipe for that below, too.
Does ice cream need to be churned?
Let's talk about no churn versus churned ice cream. I have an ice cream machine (and it only cost about $40, if memory serves). But I just never use it. I can't decide if it's because it only makes a wee little bit of ice cream after all that churning or what.
Maybe it's because I can never seem to scrape out the last bits of ice cream from the walls of the machine without scratching it. Whether it's this chocolate gluten free ice cream or even my dairy-free ice cream, I consider it a personal mission to make it smooth and creamy—without a machine.
Is chocolate ice cream gluten free?
Yes, most chocolate ice cream is gluten free. Just be mindful of gluten-containing mix-ins and other flavors, and the manufacturing environment in which the ice cream is made.
I'm gearing up to do a whole long exposé (intriguing, right?) on no churn ice cream, including the elements of a good recipe. I'll include all manner of information about dairy-free and dairy ice cream, sugar substitutes and unrefined sugars, what works and what doesn't, what makes ice cream icy and what makes it smooth.
I've tried and failed and lived to try another day so many times in developing these ice cream recipes that the School of Hard Knocks has given me an honorary degree in No Machine Ice Cream. I'm thinking about including "Ph.D." after my name, or at the very least insisting that new acquaintances call me "Doctor." You'll be the first to know when that post goes live.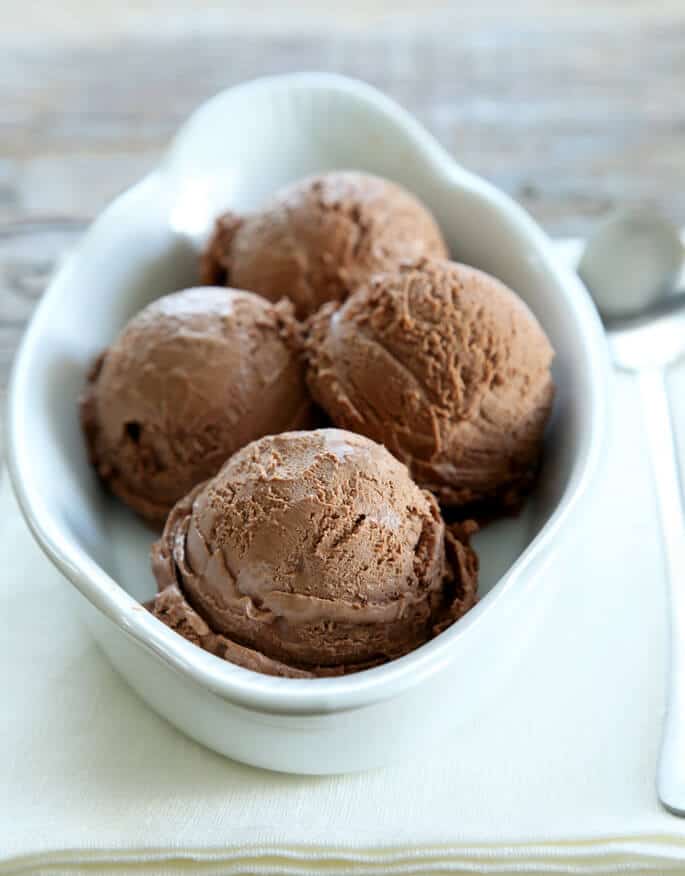 For now, this chocolate gluten free ice cream will have to do. It's smooth and extra creamy, almost like chocolate mousse. The melted chocolate that's mixed right into the ice cream gives it that extra smooth mouth feel and deep, rich chocolate flavor. It's almost dangerously quick and easy!
Links:
Natural versus Dutch-processed cocoa powder
Dairy-free gluten free no churn chocolate ice cream
About.com's list of gluten free ice creams
No Churn Chocolate Gluten Free Ice Cream
Yield:
1 1/2 quarts ice cream
Ingredients
For the ice cream
1 pint heavy whipping cream, chilled
3 tablespoons (15 g) unsweetened Dutch-processed cocoa powder (I buy Rodelle brand (aff link))*
5 ounces bittersweet chocolate, chopped
10 ounces sweetened condensed milk
For the chocolate syrup
3/8 cup (3 fluid ounces) water
3/4 cup (150 g) granulated sugar
1/8 teaspoon kosher salt
1 teaspoon (7 g) light corn syrup (optional—keeps the sugar in the syrup from crystallizing)
6 tablespoons (30 g) unsweetened Dutch-processed cocoa powder*
*If you don't have Dutch-processed cocoa powder, try adding the very smallest pinch (less than 1/8 teaspoon) of baking soda to natural cocoa powder to neutralize the acid in the natural variety of cocoa powder.
Instructions
To make the ice cream, in the bowl of a stand mixer fitted with the whisk attachment (or a large bowl with a handheld mixer), place the cream. Beat medium-high speed until slightly stiff peaks form. Add the cocoa powder to the whipped cream, whisking or beat constantly just until it is mostly absorbed into the cream. Place the whipped cream in the refrigerator to chill.

Melt the chopped chocolate in the microwave or in a double boiler (in a heat-safe bowl positioned over a pot of simmering water, making sure the water does not touch the bowl), stirring occasionally until smooth. In a large bowl, mix the melted chocolate with the sweetened condensed milk, and whisk until well-combined and smooth. The mixture will be relatively thick. Allow to cool until cool to the touch.

Scrape about half of the the whipped cream into the bowl of chocolate and condensed milk, and whisk carefully until smooth. Add the remaining whipped cream and, using a silicone spatula, fold it in until very few bright white streaks remain. Pour the mixture into a 2 quart freezer-safe container with a lid, and smooth the top. Cover tightly and place in the freezer until firm (at least 4 hours). Allow to sit at room temperature for about 10 minutes or in the refrigerator for about 15 minutes before serving to make scooping easier.

To make the chocolate syrup, in a medium-size, heavy-bottom saucepan, place the water, sugar, salt, and optional corn syrup, and whisk to combine. Place the saucepan over medium-high heat and bring to a boil. Whisking constantly, add the cocoa powder to the sugar mixture and continue to cook, whisking vigorously, until the cocoa powder is absorbed into the liquid. Lower the heat to medium-low and continue to cook, whisking frequently, until the mixture has begun to thicken and coats the back of a spoon, leaving a clean, visible trail when you run your finger across the syrup on the spoon (about 5 minutes). Remove from the heat and transfer the syrup to a small, heat-safe bowl. Serve warm over the ice cream. Store any remaining syrup in the refrigerator in a sealed bottle or other container.