Gluten free snickerdoodles are an old-fashioned cinnamon-sugar cookie, made here with brown butter for a new twist on this old favorite. Leavened with cream of tartar and baking soda, they're a thin and chewy delight!
See all that cinnamon sugar on top of these gluten free snickerdoodles? It's inside, too. And it doesn't even come off and litter the bottom of a perfectly clean school lunchbox. I hate it when lunchboxes come home littered with crumbs.
These cookies spread in the oven, but they spread perfectly in all directions, leaving a cookie that looks just like it came from the very best bakery. But instead it came from your kitchen.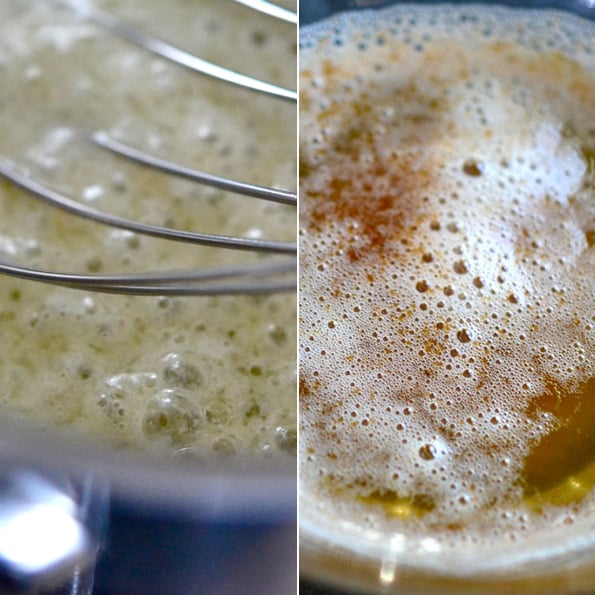 If you've never browned butter, you're in for a treat. I describe it all in the instructions, but the way to make sure you don't burn the butter (in which case into the trash it goes) is to remove it from the heat if you even see so much as a hint of browning. If it turns out that you're wrong, just place the pan back over the heat.
Last time I posted a recipe for gluten free snickerdoodles, I had a different way of making sure they emerged covered just so in cinnamon sugar. And … no brown butter. That recipe is much the same as this one, so if you don't want to go through the trouble of browning butter (although really you should), use that one. 
But use this method, brown butter or not. Chill the dough in cylinders, then slice, press into cinnamon sugar and …. bake. Perfect every time.
The dough only needs to be chilled to make it easy to slice, not to bake properly. Thin & chewy, cinnamon-sugared and nice and extra puffy from the right mix of baking soda and cream of tartar. 4 dozen cookies definitely leaves enough for the cook to have a couple with her morning coffee, right?