These whole grain gluten free flour tortillas have a wheaty taste and chew from added gluten free whole grains teff and sorghum, but are safely wheat-free.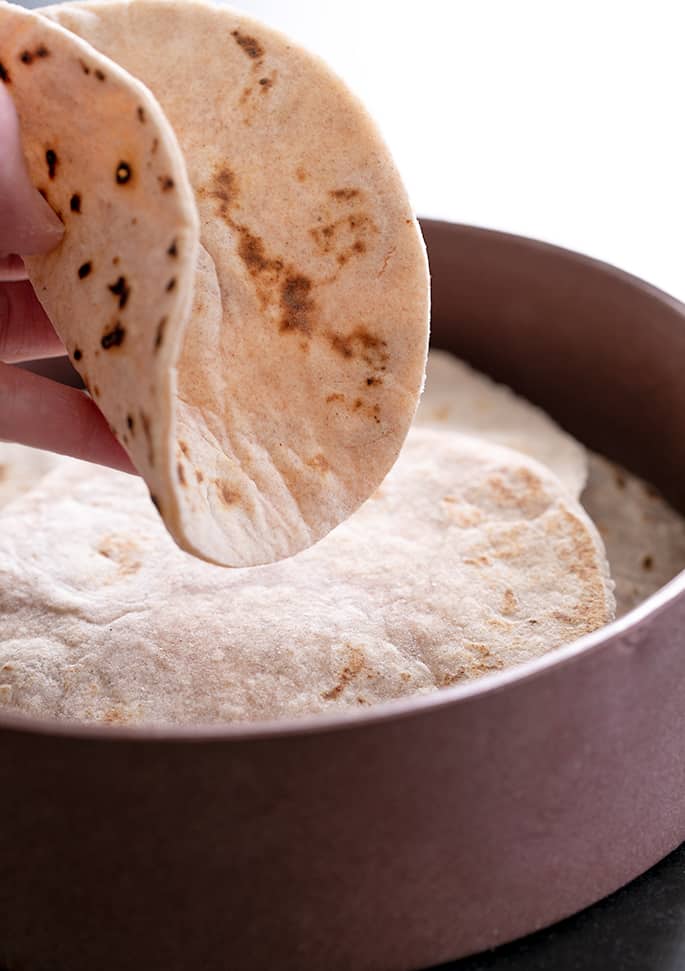 When your tortillas are soft and pliable, like these gluten free whole grain tortillas are, they can easily be folded into a burrito, then wrapped up hours before dinnertime. If I wrap it in a tortilla, I can call it dinner!
If you're making burritos, it doesn't really matter what you put in them, as long as it includes cheese. It does matter what sort of tortilla you use.
Have you ever tried what some gluten-free food companies try to pass off as gluten-free tortillas, made from only brown rice? Well, we know what happens when we try to fold them.
These tortillas aren't just your everyday tortillas. They make up super fast, and they have that wheat-y taste and chew because they're fortified with whole grain flours.
Sear them in a cast iron skillet. If the skillet is hot enough, they cook in a flash—and they won't stick. If you're having a lot of trouble handling the tortillas as you attempt to get them into the skillet to cook, they're not the right consistency.
The dough should be strong and on the dry side, but not so dry that it crumbles. You have to be delicate with them, but not so much that some of them don't make it all the way to the finish line.
Ingredients and substitutions
Happily, these tortillas are naturally dairy-free and egg-free. Here is some other ingredient information, in case you're short of gluten free ingredients or you have additional food intolerances:
Teff & sorghum flours: This combination of teff and sweet white sorghum flours provides the heartiness that you expect from a whole grain baked good. I haven't tried replacing them with anything, and I'm afraid I don't think either can truly be replaced with success.
If you're dying to try a replacement and you're willing to experiment, you can try replacing the sweet white sorghum flour with oat flour and the teff flour with rice bran. But I can't promise anything!
Olive oil: I really like using olive oil in these tortillas, but you can use any oil you like. I've also made these tortillas with Spectrum brand non-hydrogenated vegetable shortening, like our classic gluten free flour tortillas, and it works great.
Whole Grain Flour Tortillas
Yield:
8 6-inch tortillas
Ingredients
1 3/4 cups (245 g) all purpose gluten free flour (I used Better Batter), plus more as necessary and for sprinkling
1 teaspoon xanthan gum (omit if your blend already contains it)
1/4 cup (34 g) sweet white sorghum flour
1/4 cup (30 grams) teff flour
1 1/2 teaspoons baking powder
1 teaspoon kosher salt
1 1/2 tablespoons (21 g) extra-virgin olive oil
7/8 cup (7 fluid ounces) water, at room temperature (plus more as necessary)
Instructions
In a large bowl, place the all-purpose flour, xanthan gum, sorghum flour, teff flour, baking powder, and salt, and whisk to combine well. Create a well in the dry ingredients, add the oil and water and mix to combine. Press the dough together into a ball with your hands. It should be relatively stiff, but not so dry that it crumbles. If it's too soft, add more all purpose flour by the tablespoon and work it into the dough. If it is too dry, add more water by the tablespoon.

Divide the dough into 6 equal parts and roll each piece into a ball. Work with one piece of dough at a time, cover the rest and cover with plastic wrap to prevent them from drying out. Place the piece of dough on a lightly floured surface and sprinkle the top lightly with more flour. Using a rolling pin, roll the dough into a round a bit more than 1/8-inch thick (the thickness of a nickel – no thinner!). For neat edges, take the optional additional step of using the lid of a pot or a 6-inch round cake cutter to cut away a perfect-sized round. Gather the scraps and set them aside with the remaining pieces of dough.

Carefully place the raw tortilla in the hot skillet. Allow to cook undisturbed until it begins to pull away from the pan around the edges (about 45 seconds in a hot pan). With a flat, wide spatula, flip the tortilla over and press it down with the spatula for about 15 seconds. This second side will not blacken or brown much. Remove the tortilla from the skillet and cover with a moist tea towel. Repeat with the remaining dough (using all the scraps, you should be able to get a total of 8 6-inch tortillas but the number will vary based upon how thinly you roll the dough), stacking the tortillas under the towel.

Wrap the tortillas tightly in the towel until ready to use. They should stay pliable for a few hours wrapped in a moist towel. Refresh them in a hot, dry skillet before serving.