Traditional gluten free chocolate chip cookies get an upgrade with this recipe for bakery-style pumpkin chocolate chip cookies. Packed with fall flavors!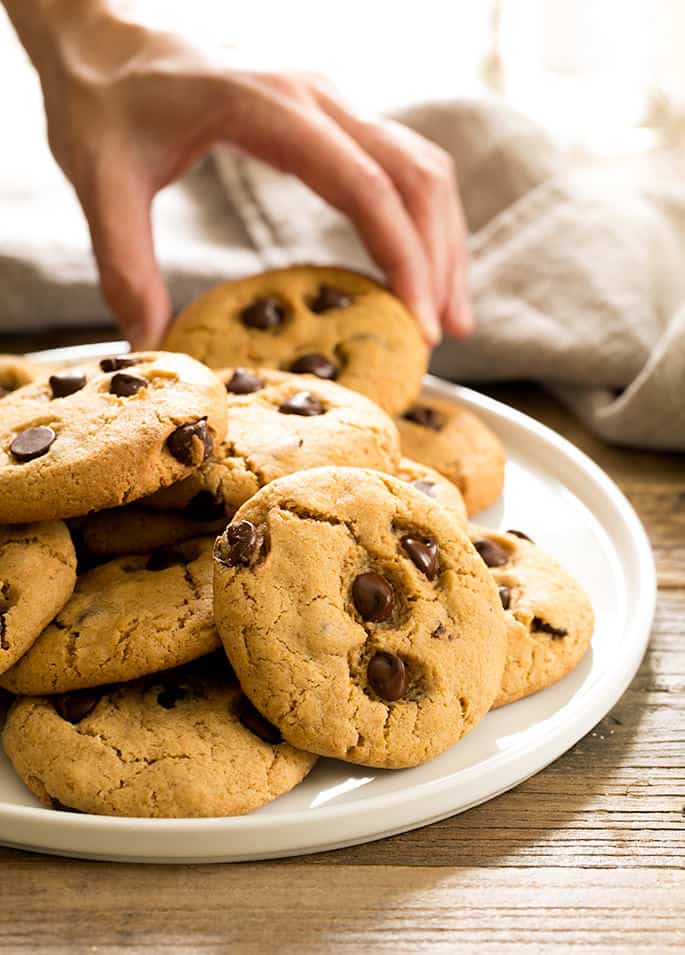 Whenever I'm tasked with baking something for a potluck or other sort of gathering, mailing to a friend in need, a bake sale or anything other than a straight-up birthday (that calls for cake or cupcakes), I make gluten free chocolate chip cookies. They are everyone's favorite treat, across ages and occasions.
When fall comes, though, and pumpkin this and pumpkin that start their seasonal assault on our senses, it's time to give those CCCs an upgrade. These thick and chewy cookies are packed with deep, rich pumpkin flavor, but they mostly look like regular chocolate chippers. I've made quite a few pumpkin-flavored treats over the years, and I learned years ago that the best style of pumpkin for baking is pumpkin butter.
Why pumpkin butter?
Baking with regular canned packed pumpkin is less than ideal for a few reasons. It has so much moisture, that it tends to make everything kind of spongy. If you try to make up for the extra moisture with, say, more gluten free flour, everything else is out of balance in the recipe. Plus, packed pumpkin isn't as rich in pumpkin flavor as you might expect.
Pumpkin butter, on the other hand, is nothing more than pumpkin (either roasted at home or canned) cooked down with pumpkin pie spice, maple syrup and a bit of apple juice. You can purchase it ready-made, which I do sometimes, but it tends to be a bit expensive.
Oh, and if you're wondering about "pumpkin pie spice," it's just a blend of ground cinnamon, ginger, ground allspice, cloves and nutmeg. For just over 2 teaspoons of pumpkin pie spice, here's the formula:
1 teaspoon ground cinnamon
1/2 teaspoon ground ginger
1/4 teaspoon ground allspice
1/4 teaspoon ground cloves
1/8 teaspoon ground nutmeg
If you make pumpkin pie spice yourself, you will need to stock up on the component spices. But you'll never have to scramble to go buy more of the store-bought kind, and you can customize it to your own tastes. Leave out the allspice if it's just not your thing, or add some extra nutmeg because it reminds you of fresh egg nog. It's up to you!
Ingredients and Substitutions
Dairy-Free: Just replace the unsalted butter in this recipe with butter-flavored Spectrum nonhydrogenated vegetable shortening, and be sure to use dairy free chocolate chips. You're dairy-free just like that!
I don't know if Earth Balance buttery sticks would work here, or if they would make the cookies spread too much. You'd have to experiment!
Egg-Free: There's only one egg in this recipe, so it's a great candidate for being replaced with 1 "chia egg" (1 tablespoon ground chia seeds + 1 tablespoon lukewarm water, mixed and allowed to gel). I haven't tried it, though, so as always feel free to experiment!
Sugar Substitutes: You can't simply replace granulated sweeteners with liquid ones, I'm afraid. If you would like to use a sugar replacement, my favorite is Swerve brand since they have replacements for all kinds of sugars, including brown sugar, granulated sugar, even confectioners' sugars.
Push play ▶️ and watch this how to video
Then you try!