Made with a homemade or store bought gluten free vanilla cake mix, this gluten free pumpkin crack cake is always the first dessert to go at a fall party. You won't believe just how easy it is.
This embarrassingly good, frighteningly easy, deliciously inexpensive cake, known affectionately as Gluten Free Pumpkin "Crack" Cake. And why, yes, that is an inappropriate play on the fact that it's so good you'll not be able to control yourself around this stuff.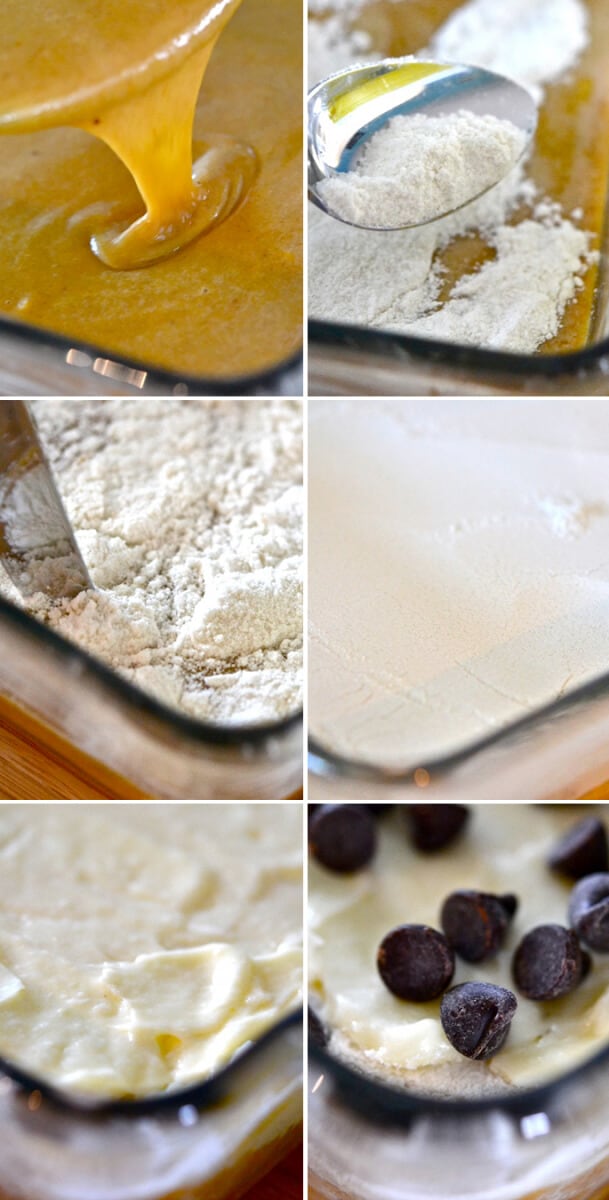 Here's what you're gonna do. Pour in the pumpkin, sweetened condensed milk, eggs, sugar, and pumpkin pie spice. Sprinkle some of the cake mix. Swirl the two together. Spread the rest of the cake mix on top. Spread on the melted and cooled butter next, then sprinkle the chips evenly on top. Cover the cake, bake for a bit, uncover the cake and finish baking it. That's all. The center is soft and pudding-like, and the outside is crumbly and almost crunchy, like a coffee cake crumble. Make your own DIY gluten free vanilla cake mix, or buy a box. What could be easier?
Pumpkin Crack Cake
Ingredients
7 1/2 ounces canned pumpkin puree
7 ounces sweetened condensed milk
2 eggs (100 g, weighed out of shell) at room temperature, beaten
1/2 cup (100 g) granulated sugar
2 1/2 teaspoons pumpkin pie spice
1 16-ounce gluten-free yellow cake mix (DIY or boxed)
8 tablespoons (112 g) unsalted butter, melted and cooled
1/2 cup semi-sweet chocolate chips (or chopped pecans)
Instructions
Preheat the oven to 350° F. Grease a 9-inch square or round baking pan and set it aside.

In a medium-sized bowl, place the pumpkin, condensed milk, eggs, sugar and pumpkin pie spice, and beat until well-combined. Pour the pumpkin mixture into the prepared pan. Sprinkle about 1/3 of the dry cake mix over the top and swirl it into the wet ingredients with a knife. Sprinkle the rest of the dry cake mix on top, and smooth carefully until it covers evenly. Pour the melted butter evenly on top of the cake, then sprinkle evenly with chips. Cover the top of the pan with foil.

Place the cake in the center of the preheated oven, and bake for 25 minutes. Uncover, and bake until the cake has begun to brown around edges (about 20 minutes more). Remove from the oven and allow to cool completely before slicing into squares or wedges and serving.