This recipe for gluten free zucchini flour tortillas is made with fresh zucchini and squash pureed in place of water.
These tortillas are just like the gluten free flour tortillas in our 10 best gluten free flatbreads.  Except that they're green.
Before you turn the virtual web page, hear me out! Even though eating your "greens" can seem to be a sort of punishment for some, what if your "greens" were just as good for you, but didn't taste green (despite looking green)?
And what if this were just.one.more.way. to use up that summer zucchini. Have I hit you over the head too hard with gluten free zucchini recipes yet? I blame it all on my husband and his green thumb.
Here's the big difference in this recipe: instead of straight-up water, the liquid is pure zucchini puree. That's it. No additional water. And if you have zucchini that demands to be used up right now before it shrivels up and dies, make the puree right now, stash it in the refrigerator and use it within a couple of days to make these flour tortillas.
You can also use that puree for our gluten free zucchini bread, but you'll need some more shredded zucchini to make that recipe.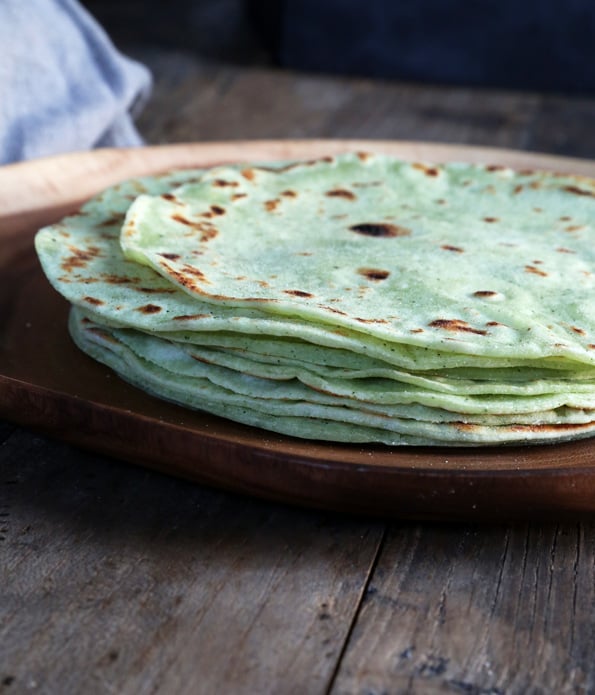 So although they don't taste "green," they do have a slightly different taste than the more traditional flour tortillas. It's more like a bit more depth of flavor than it is a totally different flavor.
They're still clearly flour tortillas, and they behave just the same for all your tortilla needs. But everyone in my family loves them, including my one no-I-don't-care-for-any-vegetables-at-all-not-really oldest child.
Oh, and in case I haven't mentioned it before, these flour tortillas (and the traditional ones) are absolutely 100% perfect for making wraps for your child's school lunchbox. Score!
Gluten Free Zucchini Flour Tortillas
Yield:
About 15 tortillas, depending upon size
Ingredients
1 medium or 2 small fresh zucchini, washed, trimmed and roughly chopped
1 3/4 cups (245 g) all purpose gluten-free flour blend, plus more for sprinkling (I used Better Batter)
35 grams (about 1/4 cup) Expandex modified tapioca starch (See Recipe Notes)
1 1/2 teaspoons baking powder
1 teaspoon (6 g) kosher salt
4 1/2 tablespoons (54 g) vegetable shortening
Notes
For information on where to find Expandex, please see the Resources page. For information on how to replace Expandex with Ultratex 3, readily available in most countries outside the United States, in the gluten free bread recipes in GFOAS Bakes Bread, scroll to #6 in Resources.
I have not yet tested Ultratex 3 in this recipe, but I would recommend trying a mix of 268 grams all purpose gluten free flour + 12 grams Ultratex 3 in place of the blend above. Ultratex 3 is at least 3 times as strong as Expandex.
Instructions
In a blender or food processor, place the chopped zucchini and blend until as smooth as possible. The zucchini may be pureed and stored in a sealed container in the refrigerator for at least 2 days before proceeding with the rest of the recipe.

In a large bowl, place the all-purpose flour, Expandex, baking powder, and salt, and whisk to combine. Add the vegetable shortening and toss it in the dry ingredients. With the tines of a large fork, break up the shortening into small pieces about the size of small peas. Create a well in the center of the mixture, and add 3/4 cup (6 fluid ounces) of the pureed zucchini. Mix to combine. The dough will come together and be thick. Press together into a ball, cover with a moist tea towel, and allow to sit for about 20 minutes. The dough will stiffen a bit as it absorbs more of the moisture.

Heat a 10- or 12-inch cast-iron skillet over medium-high heat. Divide the dough into five pieces. Begin with one piece of dough, and cover the rest with a moist tea towel to prevent them from drying out. On a lightly floured surface, with a rolling pin, roll out the first piece of dough until it is a bit more than 1/8 inch thick (as compared to the regular recipe for gluten free flour tortillas, these can be a bit harder to roll very thin and still be stable enough to transfer to the skillet). Cut out as many rounds as you can (should be three or four) with a 6- or 8-inch metal cake cutter. Stack the raw tortillas on top of one another, dusting lightly with flour between them, if necessary, to prevent them from sticking. Gather the scraps and set them aside. Repeat with the remaining pieces of dough, including gathering and rerolling all of the scraps together.

Once all the tortillas have been rolled out and cut, place them one at a time in the center of the hot skillet and cook on one side until bubbles begin to appear on the top surface and the tortilla darkens in color a bit on the underside (about 45 seconds). Flip the tortilla over with a wide spatula, and cook on the other side until more bubbles form and the tortilla darkens in spots on the underside (about another 45 seconds). Remove the tortilla from the pan, place on a moist tea towel, and cover gently. Repeat with the remaining tortillas.

Using the tortillas: (1) They can be used right away; (2) They can be placed, still wrapped in the towel, in a plastic bag to seal in the moisture and used within a few hours; or (3) They can be cooled completely, wrapped very tightly in a freezer-safe wrap and stored in the freezer for at least 2 months. When you are ready to use frozen tortillas, defrost at room temperature and then refresh in a hot, dry skillet to restore pliability. They'll be as good as new!

Adapted from the Flour Tortillas on page 203 of Gluten-Free on a Shoestring Bakes Bread: Biscuits, Bagels, Buns, and More by Nicole Hunn.