These tortillas are just like the gluten free flour tortillas in our 10 best gluten free flatbreads. Except that they're green.
Before you turn the virtual web page, hear me out! Even though eating your "greens" can seem to be a sort of punishment for some, what if your "greens" were just as good for you, but didn't taste green (despite looking green)?
And what if this were just.one.more.way. to use up that summer zucchini. Have I hit you over the head too hard with gluten free zucchini recipes yet? I blame it all on my husband and his green thumb.
Here's the big difference in this recipe: instead of straight up water, the liquid is pure zucchini puree. That's it. No additional water. And if you have zucchini that demands to be used up right now before it shrivels up and dies, make the puree right now, stash it in the refrigerator and use it within a couple days to make these flour tortillas.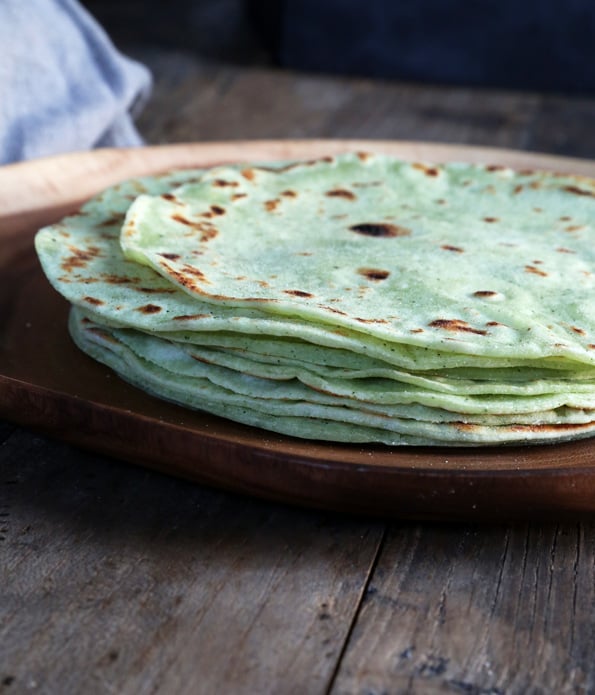 So although they don't taste "green," they do have a slightly different taste than the more traditional flour tortillas. It's more like a bit more depth of flavor than it is a totally different flavor. They're still clearly flour tortillas, and they behave just the same for all your tortilla needs. But everyone in my family loves them, including my one no-I-don't-care-for-any-vegetables-at-all-not-really oldest child. Oh, and in case I haven't mentioned it before, these flour tortillas (and the traditional ones) are absolutely 100% perfect for making wraps for your child's school lunchbox. Score!