If you miss Froot Loops now that you're gluten free, try this recipe for gluten free fruit loops cereal. It's a labor of love, but it's surprisingly fun!
Are froot loops gluten free?
No! Fruit Loops are not gluten free. The third item on the list of ingredients that are in Kellogg's Froot Loops is wheat flour, which is one of the main gluten-containing grains.
Why make your own gluten free fruit loops?
Since Fruit Loops cereal is not gluten free and cannot be eaten if you are on a gluten free diet, the only way to enjoy this delicious fruity cereal is to make it yourself at home.
If anything is clear from this experiment, it's that I need a hobby. Normal people, even people who miss their favorite cereals that aren't gluten free, don't spend all this time making gluten free fruit loops cereal.
I never said I was normal.
Freeze-dried fruit is the star in this one. Lisa has links to reliably gluten-free freeze-dried fruit and other ingredients
Blend it 'till it looks like this.
Add it together with a bunch of stuff. I really can't answer substitution questions, I'm afraid. I made 6 different formulations of the recipe before I came up with this one, and I'm sticking with it. Feel free to experiment, though!
Here's what the dough looks like when it's strawberry.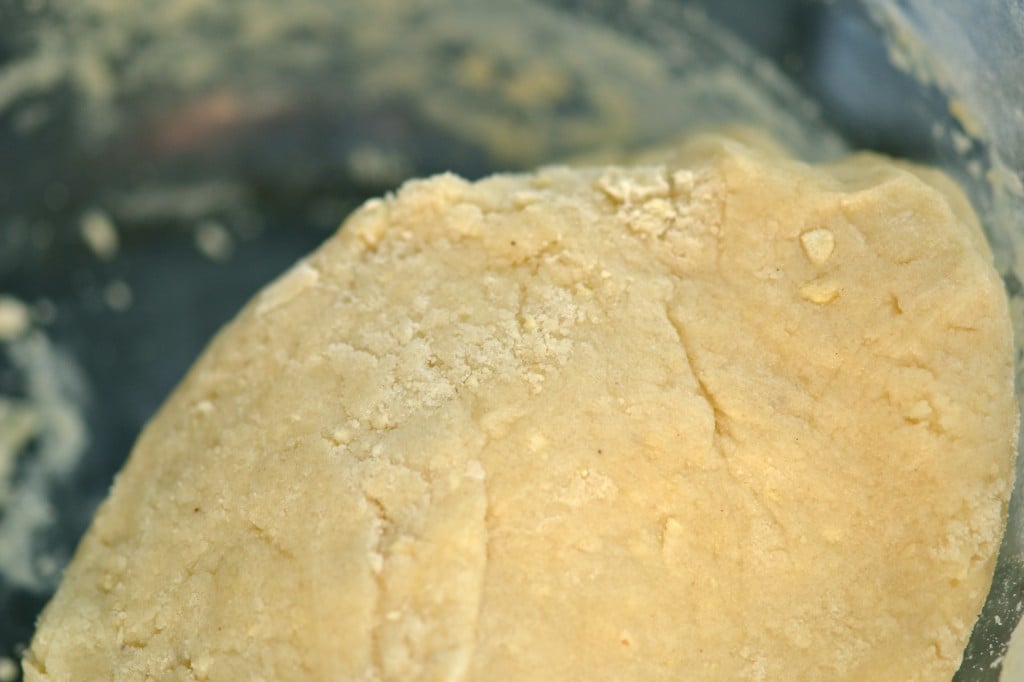 This is banana. It's more moist.
So I added a couple tablespoons of confectioner's sugar to help dry it out a bit.
Then I used a large plain pastry tip to cut out rounds.
Then pressed them through to release them.
A #2 pastry tip was the right size for the hole in the center. I also used a toothpick sometimes, since these guys are pretty small.
The flavor possibilities are endless. I made blueberry, banana and strawberry. My favorite was the blueberry. The moisture balance in the dough was perfect, and the taste was subtle and sweet.
Gluten Free Fruit Loops Recipe
Ingredients
1 cup (140 g) all purpose gluten free flour blend (I used Better Batter)
1/2 teaspoon xanthan gum (omit if using Better Batter)
2 tablespoons (16g) cornstarch
2 tablespoons (12 g) cultured buttermilk blend (I use Saco brand)
50 g finely ground freeze-dried fruit (ground in a blender until a fine powder results)
1/8 teaspoon kosher salt
3/4 teaspoon baking powder
1/4 teaspoon baking soda
1/4 teaspoon Penzey's lemon peel powder (optional)
1/2 cup (100 g) granulated sugar
7 tablespoons (50 g) confectioner's sugar (plus more for dusting, if necessary)
3 1/3 tablespoons (40 g) vegetable shortening, melted
1/4 cup cream or milk, at room temperature
Instructions
Preheat your oven to 325°F. Line a rimmed baking sheet with parchment paper and set it aside.

In a large bowl, place the flour, xanthan gum, cornstarch, buttermilk blend, ground fruit, salt, baking powder, baking soda, lemon powder, granulated sugar and confectioner's sugar, and whisk to combine well. Add the melted vegetable shortening (no need to let it cool after melting in the microwave) and cream or milk, and mix to combine. The dough should come together.

Once it begins to come together, knead it with your hands until it forms a smooth but stiff dough. Some flavors will be drier than others. Blueberry is quite dry, but banana is rather wet. If the dough seems like it's too soft dust with confectioner's sugar by the tablespoon and knead it in to absorb some moisture.

Place the dough between two pieces of unbleached parchment paper, and roll until the dough is no less than 1/4 inch thick. With the small end of a large, plain piping tip, cut rounds out of the dough.

Press the round out of the tip through the top onto the prepared baking sheet. Repeat with the rest of the dough, and place the rounds of dough less than an inch apart on the baking sheet (they won't spread during baking). Gather scraps and reroll as necessary.

With either a toothpick or a plain #2 piping tip, press a small hole in the center of each round of dough. If using a toothpick, move it in a tight circular motion to widen the hole or it will seal up during baking.

Place the baking sheet in the center of the preheated oven, and bake for 4 minutes. Remove from the oven and allow to cool slightly. If any of the centers have closed during baking, gently prod them back open with a toothpick.

Turn the oven temperature down to 250 degrees F, and place the baking sheet back in the center of the oven to dry out (and become crisp) for about 7 minutes. Remove from the oven and allow to cool completely on the baking sheet. The loops will crisp further as they cool.