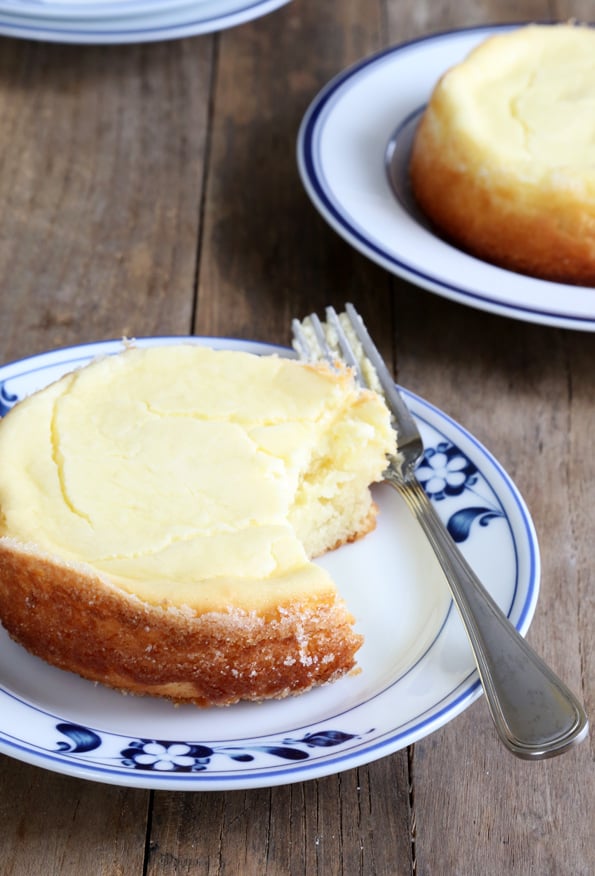 I've never had the butter cake from California Pizza Kitchen. It's true! You got me! But Camille (who answers my blog emails with such style and grace) suggested this recipe because she's so smart. And also because a reader asked for it. I'm surrounded by such smart people! So I looked it up, and California Pizza Kitchen, of BBQ Chicken Pizza Fame, does seem to know what they're doing in the cake department. Cheesecake on top, butter cake party on the bottom, and a light crust of caramelized sugar you get just from buttering and sugaring the pan, this California Pizza Kitchen-Style Gluten Free Butter Cake is pretty much a cake home run.
I tried a bunch of different cake recipes and methods to make this butter cake. They allllll failed miserably except for this one of course. We're talking about cake in the trash failures, which kills me dead. And then since I didn't want you to have to buy a special wee little springform pan just to make this cake (and since I only have 2 of those plus could only locate one in my kitchen cabinets), I tried baking it in a bunch of different pans and ramekins. It worked in them all! And you could still unmold a gorgeous cake without a springform pan.
And anyway with the right recipe (which of course I provide for you below because I'm no miser), this butter cake is actually really simple to put together. The cheesecake layer is going to crack a bit and so what big whoop. I tried baking the whole thing in a water bath and let's just say that it took so long to bake that it ended up in the trash. :(
My favorite part, speaking as someone who adores cheesecake? The crusty caramelized sugar part. No scary kitchen torch required. No contest. Oh, and you know at some point you just have to serve this with …
the CPK-Style Gluten Free BBQ Chicken Pizza. It's the law.
California Pizza Kitchen-Style Gluten Free Butter Cake
Ingredients
For prepping the pans
2 tablespoons (28 g) unsalted butter, at room temperature
1/4 cup (50 g) sugar
For the cake layer
3/4 cup (105 g) all purpose gluten free flour (I used my mock Better Batter)
2 tablespoons (18 g) cornstarch
1 1/2 teaspoons baking powder
1/2 teaspoon kosher salt
1 cup (200 g) sugar
6 tablespoons (84 g) unsalted butter, at room temperature
1 egg (60 g, out of shell) at room temperature, beaten
1 teaspoon pure vanilla extract
6 tablespoons (3 fluid ounces) milk, at room temperature
For the cheesecake layer
8 ounces cream cheese, at room temperature
3 tablespoons (36 g) sugar
1 egg (60 g, out of shell), at room temperature
1/8 teaspoon kosher salt
1 teaspoon pure vanilla extract
Instructions
Preheat your oven to 375°F. Prep a combination of 3-inch and 4-inch ramekins and/or 4-inch springform pan(s) (I used 2 3-inch and 2 4-inch ramekins and pans) by greasing the bottom and sides of each generously with softened butter and sprinkling with an even layer of sugar. Tap the sugar around the pans to coat the entire buttered surface. Set the pans aside.

Make the cake layer. In a large bowl, place the flour, cornstarch, baking powder, salt and sugar, and whisk to combine well. Create a well in the center of the dry ingredients and add the butter, egg, vanilla and milk, mixing to combine after each addition. The batter should be thick but relatively fluffy. Divide the batter evenly among the prepared baking dishes, spread it into an even layer in each, and set them aside.

Make the cheesecake layer. In the bowl of a stand mixer fitted with the paddle attachment or a large bowl with a hand mixer, place the cream cheese and beat on medium-high speed until light and fluffy. Add the sugar, egg, salt and vanilla, beating to combine well after each addition. The mixture should be light and fluffy. Divide the cheesecake layer among the ramekins, on top of the cake layer, and spread into an even layer.

Place the pans on a large rimmed baking sheet, spaced evenly apart from one another, and place in the center of the preheated oven. Bake until the cakes are mostly set on top, with just a little bit of jiggle in the center when shaken lightly from side to side (20 to 25 minutes, depending upon the size of the ramekin). If you have used pans of different sizes, remove the smaller pans first and allow the larger ones to finish baking. Remove from the oven, transfer the pans to a wire rack immediately and allow to cool completely in the pans. Unmold the cooled cakes by either removing the sides of the springform pans or lifting the cake out carefully with a small offset spatula.

Inspired by Homemade Cravings.