If you're looking for easy finger food for dinner, or just an on-the-go snack, these gluten free soft breadsticks are just the thing. Stuff them with whatever you like!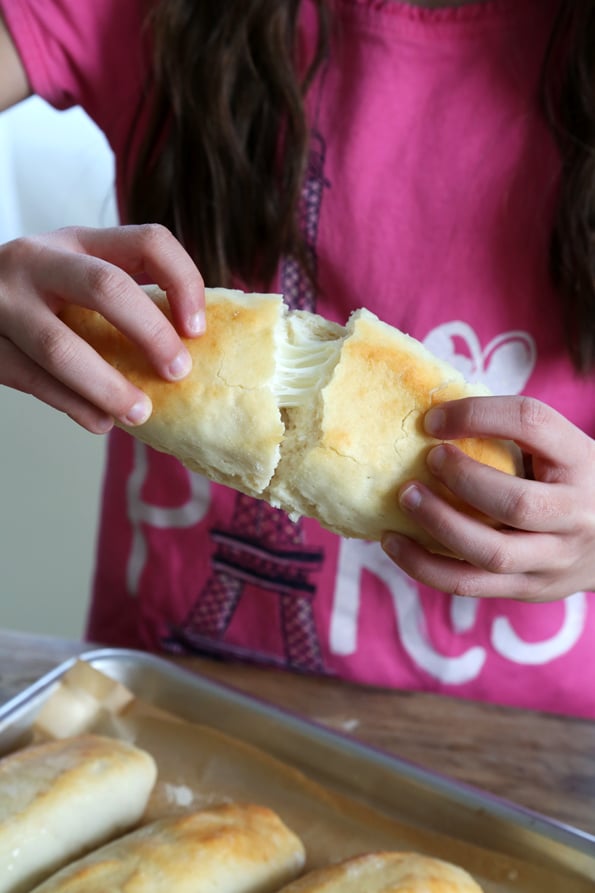 Today, I bring you … stuffed gluten free soft breadsticks. Stuffed with what, you ask? Well, with whatever you like!
So far, I've stuffed these gluten free soft breadsticks with hot dogs, and with cheese. One big win followed by another.
Followed by some very happy children, most of which have already decided that THIS is what they would like to eat for their respective birthdays.
This super versatile dough is based upon the Soft Olive Garden-Style Gluten Free Garlic Butter Breadsticks from page 177 of Bakes Bread. It has no starter, and has only one rise so if you have about an hour and change for the dough to rise while you take care of other things around the house, you can have it tonight.
There has been quite a bit of grumbling about how most of the doughs in the book require at least an overnight refrigerator rise before you can work with them. I figure a lot of that comes from unfamiliarity with the slow rise that most yeast bread dough benefits from to develop real, artisan bread yeasty flavor.
No mind, though. Once you get into the swing of it, you can fill buckets with dough on Sunday, and eat fresh gluten free bread all week long. You'll get the hang of it. But for now, these gluten free soft breadsticks are a nice way to begin.
They rise beautifully, but rising times for all yeast bread will vary depending upon the environment in your kitchen/home. Overproofing does not refer to the amount of time it takes to rise, but to how much the dough has risen.
You can't overproof if the dough is rising more slowly than you expect and you're just being patient in allowing it to double. Patience is a virtue in yeast baking as in life, after all.
This dough is quite easy to work with, but like all the doughs in the book they are easiest to shape when they're cold. If you'd like to make things even easier on yourself, make the dough tonight and use it tomorrow.
Or make it tonight, give it a spin in a sealed container in the refrigerator for 30 minutes and then shape it. You absolutely don't have to do that, though.
Either way, you'll be rewarded with soft, doughy stuffed soft gluten free breadsticks just waiting for you to dig in. Finger food for dinner!
Stuffed Gluten Free Soft Breadsticks
Yield:
10 stuffed breadsticks
Ingredients
4 1/4 cups (595 g) gluten free bread flour, plus more for sprinkling
2 teaspoons (6 g) instant yeast
2 tablespoons (24 g) sugar
2 teaspoons (12 g) kosher salt
6 tablespoons (84 g) unsalted butter, at room temperature
1 1/4 cups plus 2 tablespoons (11 fluid ounces, weighed) warm water (about 95°F)
10 hot dogs or cheese sticks, for stuffing
Instructions
First make the bread dough. Place the flour, yeast, and sugar in the bowl of your stand mixer, and use a handheld whisk to combine well. Add the salt, and whisk to combine. Add the butter and water, and mix on low speed with the dough hook until combined. Raise the mixer speed to medium and knead for about 5 minutes. The dough will be quite sticky, but should be smooth and stretchy. Spray a silicone spatula lightly with cooking oil spray, and scrape down the sides of the bowl.

Line a rimmed baking sheet with unbleached parchment paper and set it aside. Turn the dough onto a lightly floured surface. Knead until smooth as described in These General Shaping Tips. If you have never shaped this new gluten free bread dough before, please read those instructions carefully in the recipe instructions and watch the shaping videos in the link provided. Divide the dough into 10 pieces of equal size (each about 4 ounces). With each piece (covering the other pieces with a moist tea towel when you're not working with them), pat into a rectangle about 1/2 inch thick, and about 6 inches long. Place a cheese stick (or hot dog) lengthwise on the dough, and press gently into the dough. Roll the dough tightly over the cheese stick and press the seam to seal, making sure to cinch the ends. Roll the dough back and forth on the lightly floured surface to seal the edges well, and to elongate it slightly until the dough is about 7 inches long. Place the, shaped and stuffed breadsticks on the prepared baking sheet, about 2 inches apart from one another.

Once all of the breadsticks are shaped, cover the baking sheet with oiled plastic wrap and set in a warm, draft-free location to rise until the breadsticks are nearly doubled in size (about 1 1/2 hours, depending upon the environment). About 25 minutes before the dough has finished rising, remove the plastic and preheat your oven to 375°F.

Once the breadsticks have finished rising, remove the plastic, place the baking sheet in the center of the preheated oven and bake for 10 minutes, or until the rolls are very lightly golden brown all over. You can brush the rolls with melted butter and sprinkle lightly with kosher salt in the last few minutes of baking, if you like. Serve immediately. Any leftover breadsticks should be wrapped well and frozen as soon as they are cool. Defrost in the toaster oven before serving.

Adapted from the book Gluten-Free on a Shoestring Bakes Bread: Biscuits, Bagels, Buns, and More by Nicole Hunn. Excerpted by arrangement with Da Capo Lifelong, a member of the Perseus Books Group.  Copyright © 2013.

For troubleshooting, please read these 21 Gluten Free Bread FAQs. I bet I have provided answers to your questions already, including information on how to sub out Expandex for Ultratex 3.