Crunchy Paleo chocolate cookies filled with Paleo 7-minute frosting to satisfy your sweet tooth, and still stay on your Paleo diet!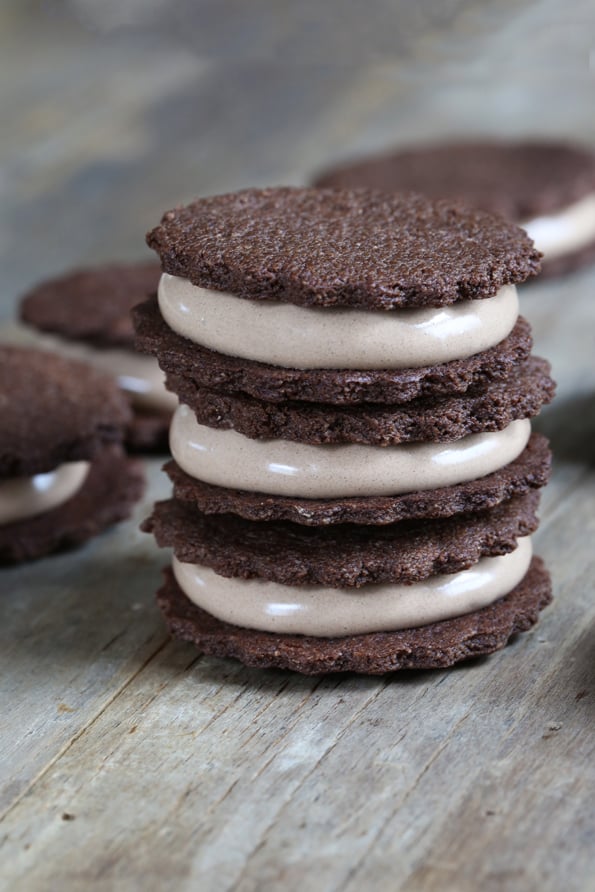 Free of refined sugar, nice and chocolatey but not too sweet, these chocolate Paleo cookies are the answer if you've been missing a crunchy chocolate sandwich cookie with a smooooooth filling. Paleo Oreo Style Cookies? Oh yeah. Keep your New Year's resolution and have your cookies, too.
My Paleo filling calls for granulated coconut sugar and some gelatin. If you'd like to try a version with maple syrup, this Seven Minute Maple Frosting (Paleo) from Healthy Seasonal Recipes looks worth a try.
The cookie is like a Paleo chocolate shortbread cookie. Most Paleo baked goods are made with blanched almond flour, which is a very moist flour so it makes soft baked goods.
Soft can be good! But sometimes? You want to bite into something crunchy, and for that, we need some starch.
As excited as I am about the cookies, I might even be more excited about the filling. It's the ever-popular 7-minute frosting (like we made for the gluten free champagne cake, well, before we turned it into swiss meringue buttercream, at least), but made … Paleo.
The filling is made with a tiny bit of gelatin so that it is very stable at room temperature. A buttercream-style frosting would work as a filling, with finely ground coconut sugar and vegan shortening, but it would have been realllllly sweet.
I wanted to try something different, even though I was pretty nervous that it wouldn't work. The result? Lightly sweet, chocolate frosting that is as smooth and lovely as it is delicious.
The dough is made in a food processor, and it starts out quite soft and, well, a bit oily. Just chill it a bit and it becomes very, very easy to work with.
You could easily stop there and just make some crunchy Paleo chocolate cut-out cookies. Great for every occasion!
Or …. you could fill them with this amazing frosting.
I think you already know which way I lean. And you can bet Imma gonna make this frosting again and again, and play with other variations.
It's so light and fluffy, and naturally pretty low in sugar – especially compared to buttercream.
Paleo Oreo-Style Cookies
Yield:
20 sandwich cookies
Ingredients
For the Paleo Chocolate Cut-Out Cookies
2 cups (224 g) blanched almond flour (I use either nuts.com or Honeyville)
6 tablespoons (30 g) unsweetened cocoa powder (preferably Dutch-processed, but natural will work as well)
1/4 cup (30 g) tapioca starch/flour (I only recommend buying this ingredient from nuts.com or Authentic Foods)
1 tablespoon (8 g) coconut flour
1/2 teaspoon baking soda
1/4 teaspoon kosher salt
1/2 cup (80 g) coconut sugar, ground fine in a blender or food processor
4 tablespoons (48 g) organic vegetable shortening (I use Spectrum brand), melted and cooled
1 tablespoon (14 g) virgin coconut oil, melted and cooled
1 egg (60 g, out of shell) at room temperature, beaten
For the Paleo 7-Minute Chocolate Filling
1/4 teaspoon (about 1 g) unflavored gelatin granules, to be bloomed in 1 1/2 teaspoons lukewarm water
3 egg whites (75 g)
1 cup (160 g) coconut sugar, ground fine in a blender or food processor
1 tablespoon lukewarm water
2 tablespoons (10 g) unsweetened cocoa powder (Dutch-processed or natural)
Instructions
Preheat your oven to 300°F. Line rimmed baking sheets with unbleached parchment paper and set them aside.

Make the cookie dough. Place all of the ingredients for the cookies in a food processor in the order in which they are listed, and pulse until a dough forms. The dough will be soft and kind of oily. Turn out the dough onto a piece of plastic wrap, divide into two equal pieces and wrap each tightly. Place the dough in the refrigerator to chill for about 10 minutes.

Shape and bake the cookies. Remove one piece of dough from the refrigerator, unwrap and roll out between two sheets of unbleached parchment paper until it is a bit more than 1/8-inch thick. With a 2 1/2-inch round cookie cutter, cut out rounds of dough. Place the rounds about 1 inch apart from one another on a prepared baking sheet and place the baking sheet in the freezer to chill for about 5 minutes (or the refrigerator for about 10 minutes) or until firm. If you find that it is difficult to work with the dough at any point, including difficulty removing the cut-outs to the baking sheet, simply chill the dough and it will become much easier to work with. Once the cut-outs are firm, place in the center of the preheated oven and bake until firm to the touch (about 15 minutes). If the cookies begin to smell nutty, take them out as they are about to burn. Allow to cool completely on the baking sheet.

Make the filling. While the cookies are cooling, make the frosting. In the bowl of your stand mixer or a large bowl to be used with a handheld mixer, place the gelatin and bloom it in the 1 1/2 teaspoons water. In a medium-size, heat-safe bowl, place the egg whites, 1 tablespoon water and the 1 cup finely ground coconut sugar, and whisk to combine well. Place the bowl over a pot of simmering water and clip a candy thermometer to the side of the bowl, making sure the tip of the thermometer is in the liquid and not on the bottom of the bowl or you will get an inaccurate reading. The bowl should be just above the simmering (but not boiling water) without touching it. Cook the sugar mixture, stirring occasionally, until it reaches 160°F. Remove the bowl from the heat, and pour the mixture into the bowl of the stand mixer or large bowl with the bloomed gelatin. Beat with the whisk attachment for about 7 minutes or until the mixture is about tripled in size, thick and glossy. It will be a pale brown color because of the color of the sugar. Add the cocoa powder, and beat until combined and once again glossy.

Assemble the cookies. Once the cookies are cool, place the frosting in a pastry bag fitted with a large plain piping tip (or just a large zip-top bag with the tip cut off), and pipe a dollop of the frosting on half of the cookies. Allow the frosting to set for a minute or so until topping with the remaining cookies to make a sandwich. The filling will be set in about 10 minutes.