These no bake grain free energy bites are made with healthy, whole food ingredients, but no oats. The perfect on-the-go grain free snack!
You know those "I'm sorry for the things I said when I was hungry" t-shirts? I can't decide if they're cute or annoying—or both. (I won't even touch the term "hangry.")
But as much as we like to think of ourselves as terribly complicated, thinking beings, when you're really hungry it can be hard to concentrate on doing much of anything. Or even on being nice.
With three growing children in the house, all of them fully food obsessed, having something like these no bake grain free energy bites on hand is a must.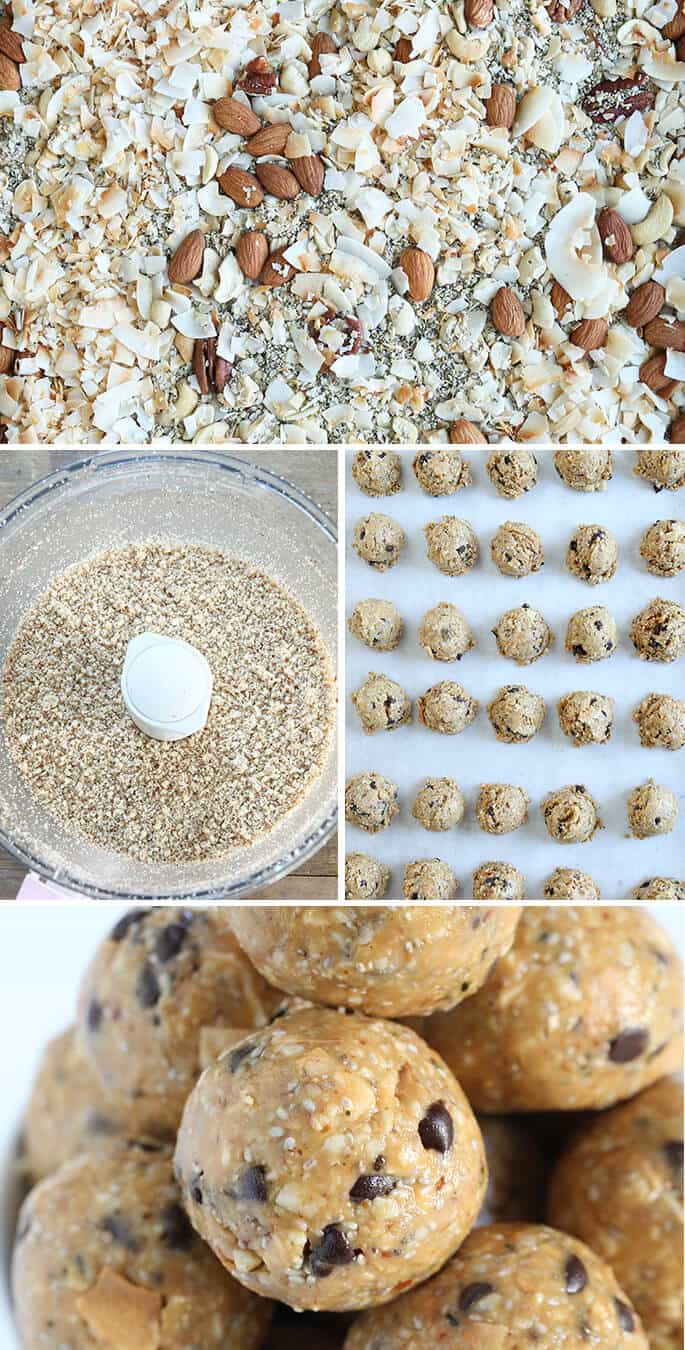 We've made gluten free energy bites before, for sure. And that recipe is still a fave for my oat-loving family. A grain free version like this recipe solves perhaps even more problems, though.
Not only are some people also sensitive to oats as well as gluten, but certified gluten free oats can sometimes be hard to come by (and kind of spendy). Since these bites are positively packed with energy-rich nuts and seeds, even one single solitary bite can take the edge off of hunger between meals.
Some recipe notes, before we dive in to the details:
There are tons of substitution suggestions in the ingredient list itself, so before you ask please refer to those!
Yes, I have made these both with almond butter and peanut butter, and I love them both equally. Just be sure to use the no-stir kind, where you open the jar and you don't have to stir the oil back into the nut butter. No-stir cashew butter would be dreamy, if you can find it.
You can use roasted, and even lightly salted nuts if you'd like. Eliminate the added salt, for sure, though, and of course skip toasting the nuts.
I have made these with both toasted nuts and untoasted raw nuts and coconut. The oven-toasting really does intensify the flavors of the nuts and coconut, but they're lovely both ways.
These simply cannot be made nut-free. They're like big balls of, well, nuts. Sorry!
No Bake Grain Free Energy Bites
Ingredients
2 cups (240 g) assorted raw nuts (I used 1 cup (120 g) raw cashews + 1/2 cup (60 g) raw pecans + 1/2 cup (60 g) raw almonds; I recommend using at least 1/2 cup cashews)*
1/2 teaspoon kosher salt
4 cups (160 g) unsweetened coconut flakes*
1 1/2 cups (384 g) smooth, no-stir peanut butter (can substitute almond butter another favorite no-stir nut butter)
1/2 cup (168 g) honey (Lyle's Golden Syrup is a good substitute)
1 cup (160 g) hulled raw seeds (a combination of hemp, chia, and/or flax seeds)*
4 ounces miniature chocolate chips
To intensify their flavor, place the nuts, seeds and about half of the coconut together on a lined baking sheet in a single layer and toast them in a 300°F oven (or toaster oven, in batches) for about 15 minutes, stirring once. Then proceed with the recipe as written by pulsing those ingredients in a food processor as described in step 1 below.
Instructions
Line a large, rimmed baking sheet with parchment paper and set it aside. In the bowl of a food processor fitted with the steel blade, place the raw nuts, salt, and about half of the coconut flakes. Pulse the mixture until the mixture resembles coarse crumbs (3 or 4 times).

In a large, microwave-safe bowl, place the peanut butter and honey. Microwave the peanut butter and honey mixture on 60% power for 30 seconds to loosen the mixture and make it easier to combine with the dry ingredients, and then mix to combine. To the peanut butter and honey mixture, add the nut and coconut mixture, the seeds and the remaining coconut, and mix until well-combined. Allow the mixture to cool for at least 10 minutes, and then add the miniature chocolate chips. Mix until the chips are evenly distributed throughout. If you add the chips when the mixture is hot, the chips will all melt.

Scoop the mixture by the heaping tablespoon onto the prepared baking sheet (a #50 ice cream scoop works perfectly). You should have about 40 portions. Roll each portion tightly into a ball between your palms. Place the baking sheet in the refrigerator to chill until firm. Serve chilled. They will hold their shape at room temperature, but I prefer them chilled.

Adapted from my No Bake Oat & Peanut Butter Energy Bites.