This healthy pancake recipe is going to become a family favorite, whether you're on Weight Watchers or not. Each fluffy pancake has just one SmartPoint—and no banana!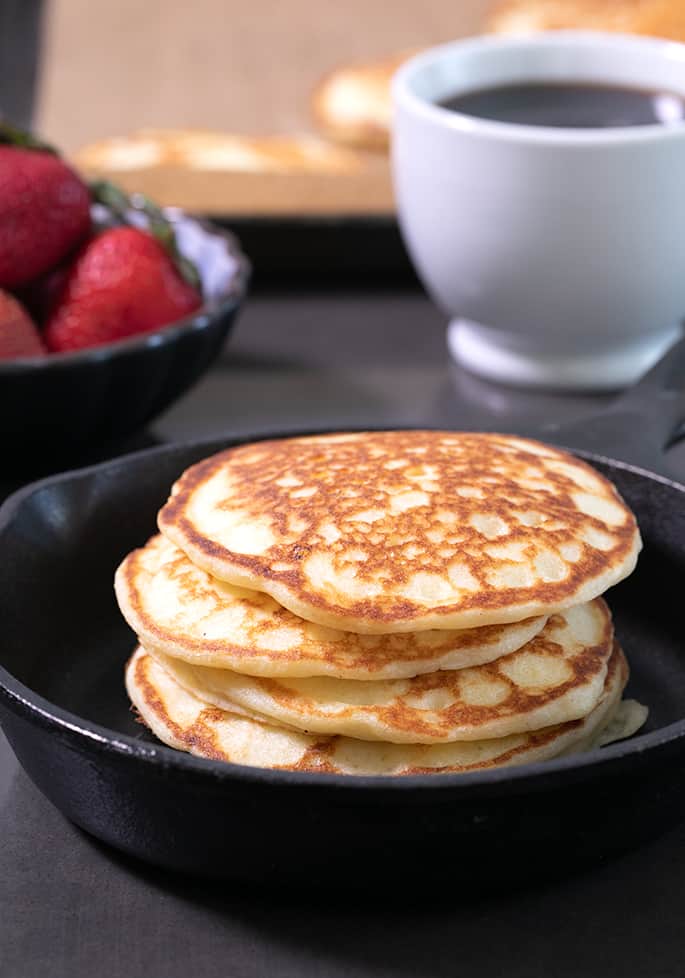 Weight Watchers Zero Point Ingredients
I love baking Weight Watchers-style recipes with ingredients like eggs, applesauce, and nonfat plain yogurt. They're mostly neutral-tasting ingredients, have a "zero points value" on Weight Watchers, and add moisture, structure, and even some pleasant tanginess.
In fact, in our Weight Watchers Bagels, the tanginess of the yogurt even provides some of the depth of flavor that I love in yeasted bagels. Even better, though, since you don't have to go through the trouble of allowing them to rise or the fussiness of working with yeast.
I tend to avoid using mashed bananas, unless I'm making something banana-flavored, though, as bananas have a very obvious, pronounced flavor. Applesauce tends to work the same in most baking applications, but with a more neutral flavor profile.
And I don't care what anyone says, those 2-ingredient flourless pancakes made with banana and eggs? They taste like eggs, but not like you're eating an omelet. They're just all kinds of wrong.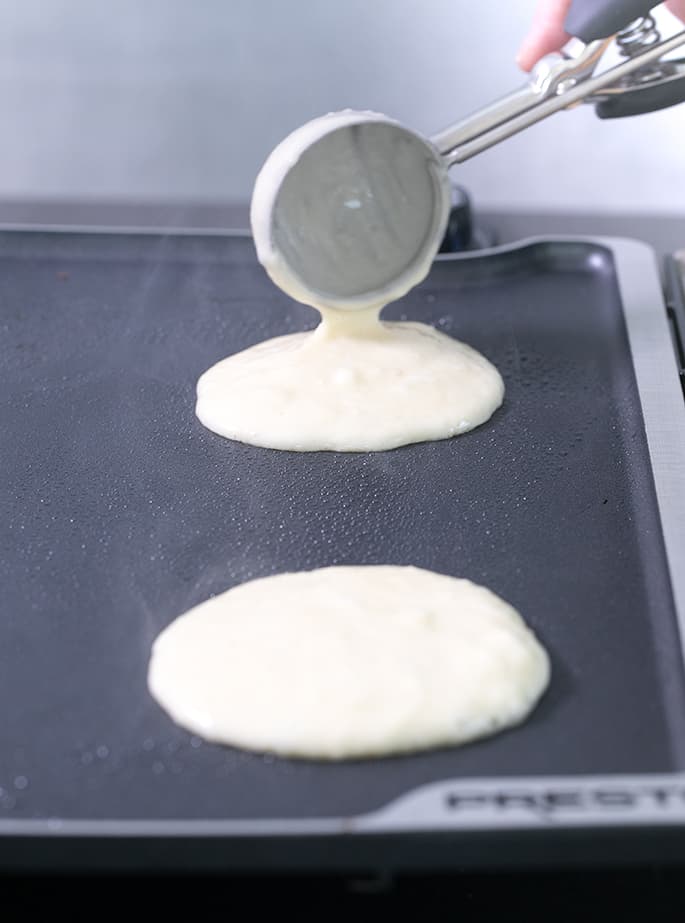 Be sure to use a cooking oil spray on the griddle or skillet before you cook the pancakes. It's so light that it doesn't add any points or take away from the health-focus of the pancakes, but the spray is the only way you're going to get those golden brown edges and spots on your pancakes. And the edges are even a bit crunchy.
Method and Tips
As much as store-bought baking mixes used to mystify me, I do understand their beauty now. That's why I love to provide make-your-own mix recipes like my DIY gluten free pancake mix and my DIY gluten free cupcake mixes.
But pancakes in general are just so easy to make, and they all follow essentially the same method. Combine the dry ingredients (flour, salt and baking powder) and whisk them together. Then add the wet ingredients and mix until just combined.
Even with a gluten free recipe like this, don't mix the ingredients too much if you want fluffier pancakes. But whisking the dry ingredients, adding the wet and mixing are really all it takes. But there are a few tips for cooking pancakes like a pro.
First, make sure the batter is the proper thickly pourable consistency. This batter doesn't have any xanthan gum so it doesn't tend to thicken as it sits. Once you reach the proper batter texture, you shouldn't have to mess with it.
But don't be afraid to add a teaspoonful of lukewarm water if the batter seems too thick. If it seems too thin, add another teaspoonful of either the gum-free gluten free flour, or even just of cornstarch.
The second tip is to be sure to use cooking oil spray and a hot skillet—but not too hot. If your skillet is dry (even if it's nonstick), you won't get those lovely brown edges on your pancakes. If the skillet is way too hot, the outside will cook too quickly and you won't get a fluffy middle.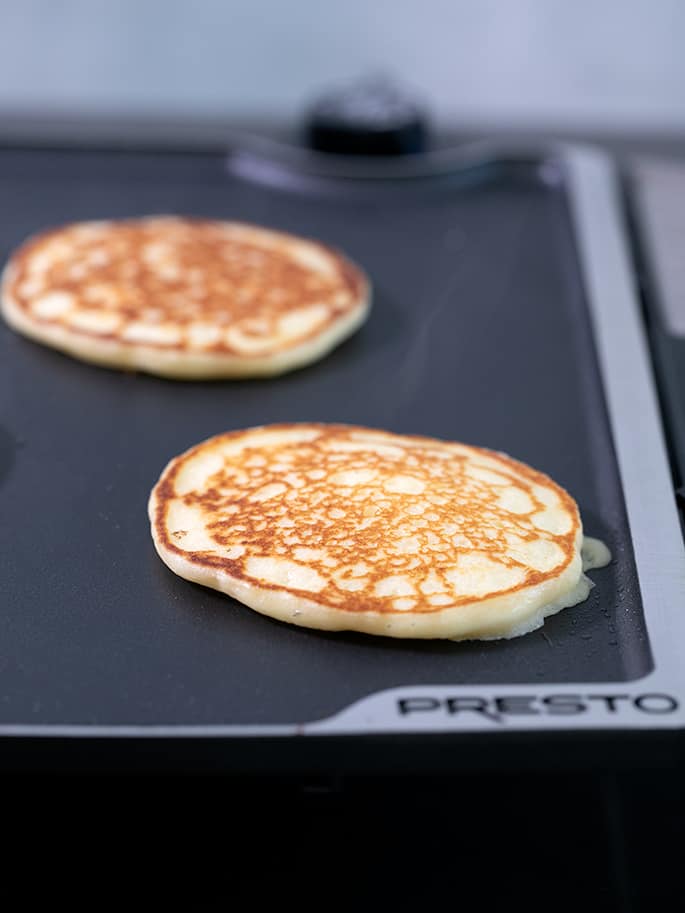 Ingredients and substitutions
I haven't tried this recipe with every substitution, but I've tried some. Here's the benefit of my experience and best-educated guesses:
Dairy-free: I always use unsweetened almond milk in this recipe, and as long as your milk is dairy-free, you're halfway there to dairy-free pancakes. The sticking point is the yogurt.
Much as I did in our Weight Watchers bagels recipe, I was able to substitute SoDelicious brand plain dairy-free yogurt for the 0% plain Greek-style yogurt in this recipe. It's quite a lot thinner than Greek-style yogurt, but rather than draining it to thicken it, instead, I just mix all of the ingredients as described below, but leave out the milk. I then only add as much as necessary to achieve the proper thickly pourable consistency of the batter.
The issue, though, with using dairy-free plain yogurt is that I don't know of any nonfat varieties. That means that the dairy-free version of these pancakes will have more than 1 SmartPoint each. It will still be healthy, just not as Weight Watchers-friendly. If they ever make a nonfat dairy-free plain yogurt, Greek-style or not, I'll be sure to let you know!
Egg-free: Since there are only 2 eggs in this recipe, you should be able to replace them with 2 "chia eggs" (each 1 tablespoon ground chia seeds + 1 tablespoon lukewarm water, mixed and allowed to gel). I haven't tried that, so you'll have to experiment.
And if Weight Watchers is important to you, be sure to recalculate the SmartPoints value to ensure that it hasn't changed. Two tablespoons of ground chia seeds shouldn't alter the stats, but you never know.
Applesauce: I haven't tried this recipe without applesauce, and it's a great way to add pectin for structure, moisture and a bit of WW-friendly sweetness. But you should be able to replace it with mashed banana by weight if applesauce is a no-go. You don't taste the applesauce, but you will taste the mashed banana.
One Point Healthy Pancake Recipe
Ingredients
1 1/2 cups (210 g) gum-free gluten free flour blend (140 g superfine white rice flour + 45 g potato starch + 25 g tapioca starch/flour)
1 1/2 teaspoons baking powder
1/4 teaspoon kosher salt
1 packet granulated alternative white sugar sweetener, like Monkfruit in the Raw (optional)
1/2 cup (128 g) nonfat plain Greek-style yogurt, at room temperature
2/3 cup (163 g) unsweetened smooth applesauce, at room temperature
2 eggs (100 g, weighed out of shell) at room temperature, lightly beaten
2/3 cup (5 1/3 ounces) unsweetened low-fat or nonfat milk (I like unsweetened almond milk), at room temperature
Cooking oil spray
Instructions
In a large bowl, place the gum-free gluten free flour blend, baking powder, salt and optional granulated sweetener, and whisk to combine. Add the yogurt, applesauce, eggs and milk, and mix gently until just combined. Don't try to smooth out any lumps. The batter should be thickly pourable. Add water by the teaspoonful if your batter seems too thick to pour.

Heat a griddle to 350°F or a skillet until hot, and coat lightly with cooking oil spray. Using a medium-sized ice cream scoop or large spoon, place about 1 1/2 tablespoonsful of batter into portions on the hot surface and spread gently into a round. Allow to cook for about 1 minute or until bubbles have broken through the surface and the edges are set about 3/4-inch all around. Flip and continue to cook until set on the underside. Remove the pancakes, spray the surface again lightly with cooking oil spray, and repeat with the remaining batter.  Serve immediately or wrap tightly and store in the refrigerator or freezer. Warm in the microwave or toaster oven before serving leftovers.

Adapted from this Genius Kitchen recipe, except this recipe is actually 1 SmartPoint.