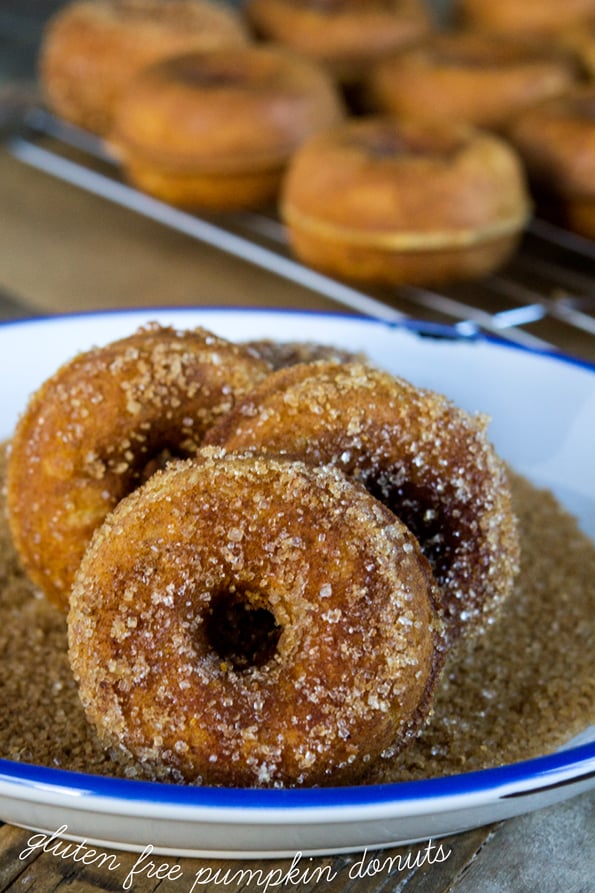 [pinit] Sometimes, I think I wish I just had a breakfast and brunch gluten free food blog. It's pretty much my favorite baking category. (I say pretty much because its numbers here on the blog are outdone only by gluten free cookies.) I love to eat it, I love to bake it and I love to come up with new ways to get it done. I have also come to consider it the school-day dragon to be slain. Breakfasts like these gluten free pumpkin donuts are my sword.
I haven't completely given up on a healthy breakfast (especially on school days), but I have found myself pushing the boundaries of what is considered a good meal to start the day for my kids, at least. I just can't fight in the morning. I fought the good morning fight so very many times, and 1 of my 3 children who shall remain nameless (rhymes with schmAva) just hates eggs and goes from a pretty easy-going kid to Medusa if they're on the morning menu. And it just harshes my morning mellow. So … things like these gluten free pumpkin donuts (with a whole bunch of fruit) are now considered breakfast. Don't judge. Okay, fine. Judge. Not too harshly? I've got a new gluten free bread book coming out in just a few weeks. I'm fragile.
These donuts don't have too many ingredients. And they don't take much time at all (especially if you have one of those nifty electronic Babycakes mini donut-makers, which I have simply come to adore).
 Anyway, even if you don't think they're proper for breakfast, they make a great treat—with or without the sugar-and-pumpkin-pie-spice on top. When they're for breakfast, I go without. Mother of the Year? Probably not. But I'm trying!