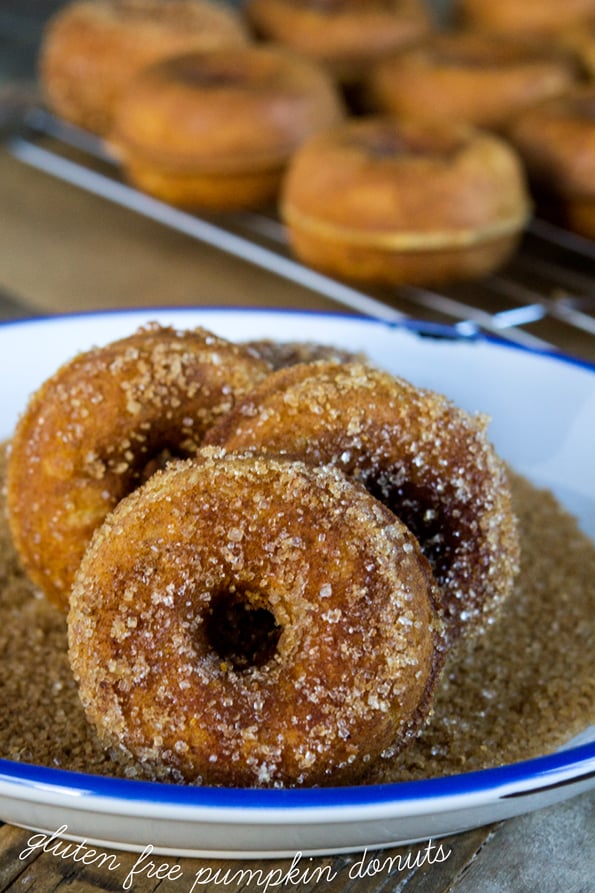 [pinit] Sometimes, I think I wish I just had a breakfast and brunch gluten free food blog. It's pretty much my favorite baking category. (I say pretty much because its numbers here on the blog are outdone only by gluten free cookies.) I love to eat it, I love to bake it and I love to come up with new ways to get it done. I have also come to consider it the school-day dragon to be slain. Breakfasts like these gluten free pumpkin donuts are my sword.
I haven't completely given up on a healthy breakfast (especially on school days), but I have found myself pushing the boundaries of what is considered a good meal to start the day for my kids, at least. I just can't fight in the morning. I fought the good morning fight so very many times, and 1 of my 3 children who shall remain nameless (rhymes with schmAva) just hates eggs and goes from a pretty easy-going kid to Medusa if they're on the morning menu. And it just harshes my morning mellow. So … things like these gluten free pumpkin donuts (with a whole bunch of fruit) are now considered breakfast. Don't judge. Okay, fine. Judge. Not too harshly? I've got a new gluten free bread book coming out in just a few weeks. I'm fragile.
These donuts don't have too many ingredients. And they don't take much time at all (especially if you have one of those nifty electronic Babycakes mini donut-makers, which I have simply come to adore).
Anyway, even if you don't think they're proper for breakfast, they make a great treat—with or without the sugar-and-pumpkin-pie-spice on top. When they're for breakfast, I go without. Mother of the Year? Probably not. But I'm trying!
Gluten Free Pumpkin Donuts
Yield:
2 dozen very mini donuts
Ingredients
1 3/4 cups (275 g)  all purpose gluten free flour blend (I like Better Batter here)
3/4 teaspoon xanthan gum (omit if your blend already contains it)
5 tablespoons (45 g cornstarch)
2 teaspoons baking powder
1/2 teaspoon baking soda
2 teaspoons pumpkin pie spice (plus more) (See Recipe Notes)
1/2 teaspoon kosher salt
1 cup (200 g) granulated sugar (plus more)
8 tablespoons (112 g) unsalted butter, at room temperature
2 eggs (100 g, weighed out of shell) at room temperature, beaten
1/2 cup (120 g) sour cream, at room temperature (can substitute an equal amount of Greek-style plain yogurt)
4 ounces pumpkin butter
Notes
To make your own pumpkin pie spice, combine 2 teaspoons ground cinnamon + 1 teaspoon ground ginger + 1/2 teaspoon allspice, 1/2 teaspoon ground cloves + 1/4 teaspoon ground nutmeg.
Instructions
If using an electric miniature donut maker, warm the donut maker according to the manufacturer's directions. Otherwise, preheat your oven to 350°F, grease a mini donut plan and set it aside.

In a large bowl, place the flour blend, xanthan gum, cornstarch, baking powder, baking soda, 2 teaspoons pumpkin pie spice, salt and 1 cup sugar, and whisk to combine wel. Create a well in the center of the dry ingredients, and add the butter, eggs, sour cream and pumpkin butter, mixing to combine after each addition. The batter will be thick but fluffy.

If using the electric donut maker, fill the bottom of the donut maker wells completely with batter, then close and secure the lid. Allow to bake for 3 1/2 minutes. Open the donut maker and remove the donuts with the remover tool included in the package. Transfer the donuts to a wire rack, and repeat with the remaining batter.

If using the oven, fill the prepared donut wells about three-quarters of the way full. Place in the center of the preheated oven and bake for about 10 minutes, or until the donuts are set and just lightly browned.

While the donuts are baking via either method, place about 1/4 cup (50 g) sugar and 1 to 2 teaspoons pumpkin pie spice (depending upon preference) in a shallow dish or bowl, and toss to combine. As the donuts finish baking and once they are cool enough to handle, brush them lightly with lukewarm water using a pastry brush, and then press them into the sugar and spice mixture on all sides to coat. Transfer to a wire rack to finish cooling and to allow the coating to set.