Instead of a gluten free pound cake, this is a gluten free marble cake. Chocolate and vanilla cake batters are marbled together, and then baked until they're pretty. Some might call this a zebra cake, but I'm not so sure it really looks like zebra stripes.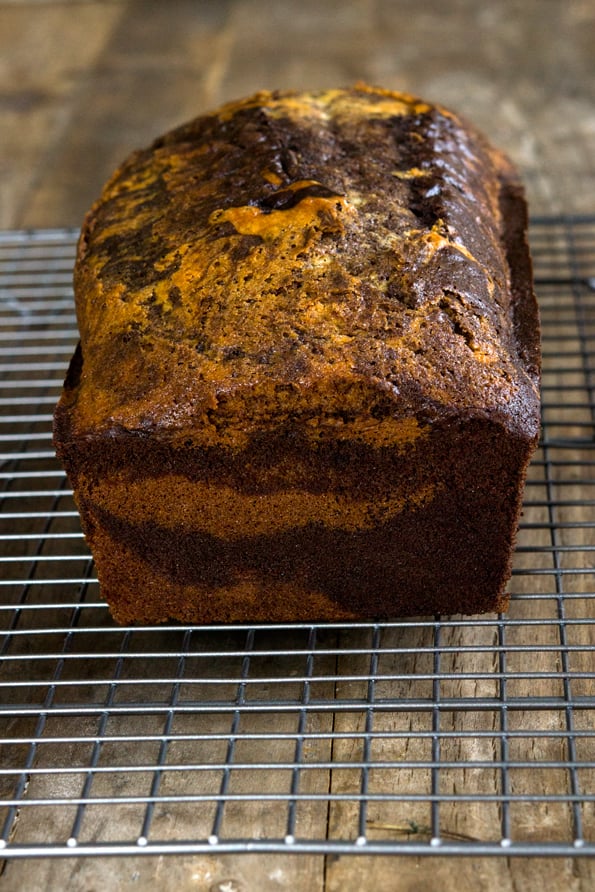 If all you expect is some chocolate and vanilla marbles and swirls, then you won't be disappointed if your cake doesn't look like a zebra baked into a cake. And anyway a zebra shouldn't ever be baked into a cake. It's not right.
This cake really really works best with just a touch of xanthan gum. I made it every which way before I had a version that worked well enough and was easy enough to share with you.
If you make this with a pre-blended gluten free flour that already has xanthan gum in it, there won't be marbling. And if you're anything like me, there may be some mild to moderate frustration and muttered expletives.
But that touch of xanthan gum really helps here. You can omit it from the recipe entirely, and you'll have a beautiful cake, but it will be a bit delicate and won't last more than a day, on the outside, at room temperature without becoming a bit stale. That's just the way it is.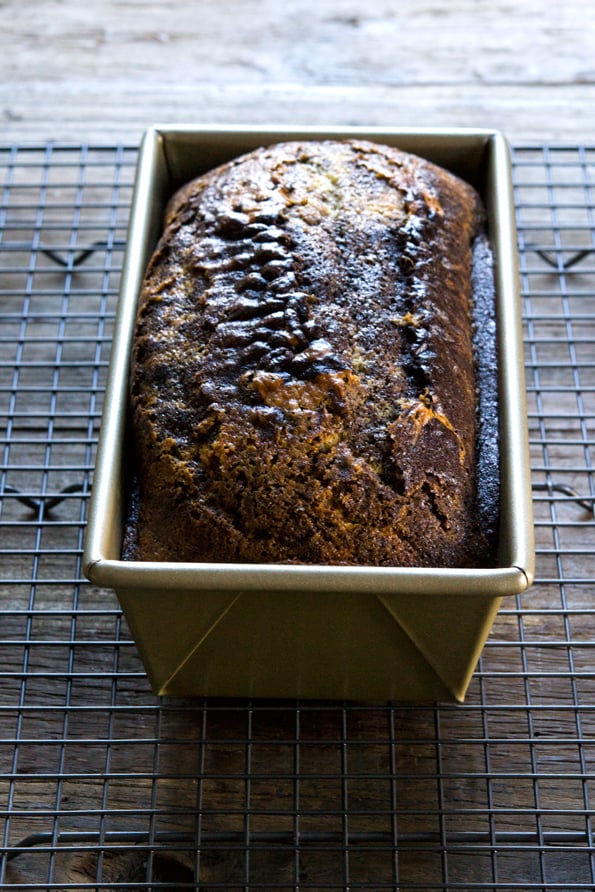 Either way, it's a really lovely, simple and moist marbled loaf cake. Plus, it's totally impressive, particularly when you don't include all that talk of zebras.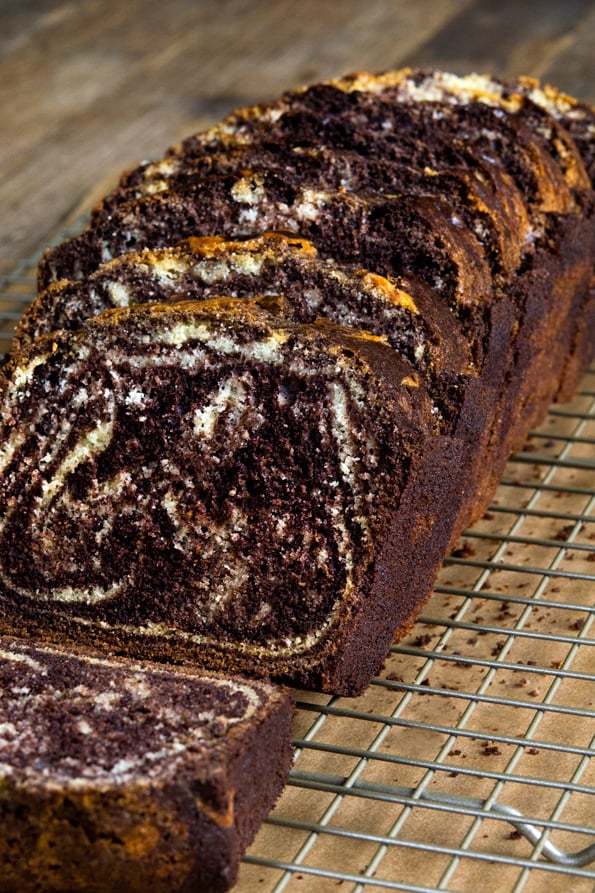 Gluten Free Marble Loaf Cake
Yield:
1 loaf marble cake
Ingredients
8 tablespoons (112 g) unsalted butter, at room temperature
1 cup (200 g) sugar
3 eggs (180 g, out of shell) at room temperature, beaten
2 teaspoons pure vanilla extract
2 cups (280 g) basic xanthan gum-free gluten free flour blend
1/2 teaspoon xanthan gum (See Recipe Notes)

1 teaspoon baking powder
1/2 teaspoon baking soda
1/2 teaspoon kosher salt
2/3 cup (5 1/3 fluid ounces) milk, at room temperature
1/4 cup (20 g) natural cocoa powder
2 tablespoons (1 ounce) warm water
Notes
About xanthan gum
You can omit the xanthan gum completely, but the cake will become stale much more quickly after it is baked. If you use an all purpose gluten-free flour blend like Better Batter that already contains xanthan gum, the batter will be too thick to marble properly.
Instructions
Preheat your oven to 325°F. Grease a standard 9-inch x 5-inch (or slightly smaller) loaf pan, and set it aside.

In the bowl of a stand mixer fitted with the paddle attachment (or a large bowl with a handheld mixer), cream the butter until light and fluffy. Add the sugar, eggs, and vanilla, mixing well after each addition. In a separate medium-size bowl, whisk together the flour blend, xanthan gum, baking powder, baking soda and salt. Add the flour mixture in 3 parts to the butter mixture, alternating with the milk, mixing until just combined after each addition until all of the flour mixture and milk have been added. The batter should be light and smooth. Scrape half of the batter into a separate, medium-size bowl and set it aside.

In a small bowl, place the cocoa powder and warm water and mix together until smooth. Scrape the cocoa mixture into the mixing bowl and mix with the remaining half of the vanilla batter until just combined.

Marble the separate batters together in the prepared pan in the following manner: Begin by placing one portion of about 2 tablespoons of vanilla batter to the bottom center of the loaf pan (using spring-loaded ice cream scoops or a combination of spoons and spatulas). Shake the pan from side to side gently to spread the batter a bit. Place an equal portion of the chocolate batter in the center of the vanilla batter, and again shake the pan from side to side gently. Place a second portion of vanilla batter in the center of the chocolate batter, shake the pan again gently, and repeat with the chocolate batter, alternating until all the batter is in the pan.

Place the pan in the center of the preheated oven and bake until a toothpick inserted in the center comes out clean (about 45 minutes). Remove from the oven and allow the cake, still in the pan, to cool on a wire rack for at least 20 minutes. Carefully remove the cake from the pan, and place it on the wire rack to cool completely. Slice and serve.