In my second book, Gluten Free on a Shoestring Quick & Easy, Chapter 8 is filled with every recipe imaginable for Make-Your-Own baking mixes—or at least at the time I thought it was every mix recipe imaginable. That's kind of the way it goes with writing a cookbook. You think you've squeezed every possible recipe out of a subject (which generally means not a lot more than 100 recipes, in my experience), but once the dust clears and some time passes after the book is out in the world, you always end up thinking—how did I not include a recipe for that?! No worries, though. That's what food blogs are for, right? Which brings me to this recipe for Gluten Free Jiffy-Style Corn Muffin Mix—just like that blue box, but gluten free … and made in two seconds in your own kitchen with just a few basic pantry ingredients.
So welcome back to D.I.Y. Fridays, an occasional blog series where we D.I.Y. a basic recipe or other ingredient that you otherwise might be inclined to buy. As always, we'll aim to save you money, plus the bother of running to the store for every little thing.
Jiffy may not make a gluten free corn muffin mix, but these days plenty of other companies do. If you have a natural foods section of your local grocery store, chances are you'll find at least 2 or 3 brands of corn muffin mixes. I'll be honest—I haven't tried any of them. But with the intense mark-up of all gluten free mixes, and their general poor quality, I'm willing to bet you'll welcome a D.I.Y. version!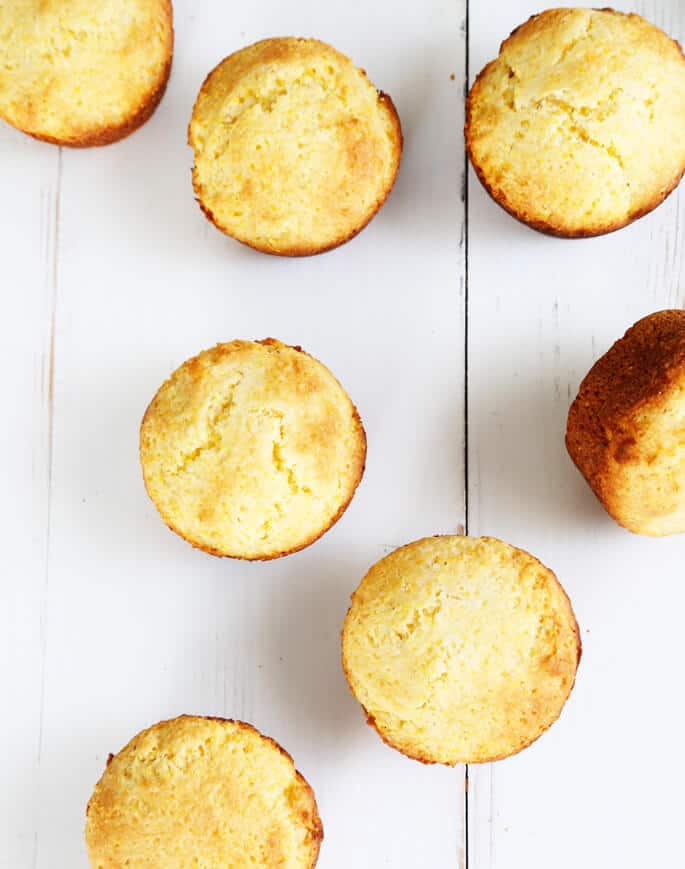 Just like the Jiffy mix itself, this recipe for a gluten free Jiffy-style corn muffin mix is very forgiving, and very versatile. I have made muffins from this mix with and without cupcake liners (muffins and cupcakes always bake more evenly with muffin tin liners), at 375°F (which you see above—they bake faster and they are crustier, more like a skillet cornbread) …
… and at 350°F (for a more tender, less crusty muffin)—both with and without corn kernels mixed in. My personal favorite is the kind you see above: baked in muffin liners, with frozen corn kernels mixed in and baked at 350°F for 15 minutes. Keep in mind that this recipe makes 17 ounces of the dry mix, double the traditional 8.5-ounce Jiffy box. You can of course always cut the mix in half straight down the middle of every ingredient.
I love having this mix on hand, though. It's perfect for serving alongside a hot bowl of chili at your Super Bowl Party this weekend, or just for a snack or light breakfast. And with this mix, you'll have the batter ready before your oven has even finished preheating!