*ETA: Now everyone can use the Thick Crust Gluten Free Pizza Dough recipe from GFOAS Bakes Bread to make Grilled Gluten Free Pizza, as it's reprinted here on the blog!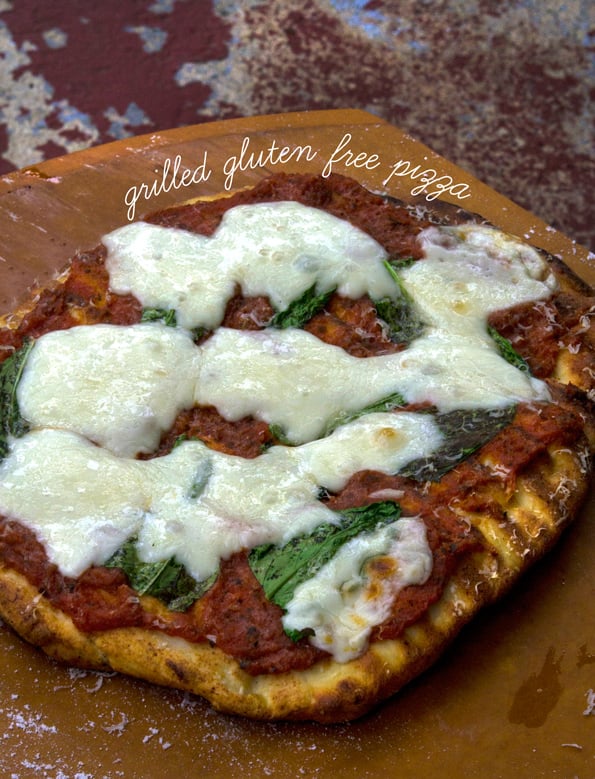 [pinit] Have you ever grilled pizza? It smells and tastes just like brick oven pizza, and it's ready in just a few minutes. Don't get mad, but the recipe below for gluten free pizza dough is not the one I used to make this grilled gluten free pizza. I used the Thick Crust Pizza recipe from Gluten-Free on a Shoestring Bakes Bread. I highly recommend that you pre-order my new bread book for all the reasons listed here (& don't forget to ask your questions about the new book!). But the recipe below works. And you can use it to make pizza in the oven, too. But for now, we're making it on the grill. It's summer, and when you grill, your house stays cool as a cucumber.
When you grill pizza, you'll want to roll it a bit thicker than you might if you were baking it in an oven. That way it doesn't fall through the grates. And just look at those grill marks. Hoooooo boy!
It's as simple as sliding it onto the grill and baking what becomes the top. When the bottom-turns-top is ready (in about 2 minutes), just remove the pizza, flip it over, brush it with olive oil, top it and slide it back on the grill. Now, all you need is a few minutes for the cheese to melt and bubble. You've got a few minutes, right? Now, it really is best if you can prep the dough ahead of time and let it rise at least overnight in the refrigerator. I promise that yeast dough will rise at refrigerator temperatures, just slower. And that slow rise means that the dough absorbs the liquid, which makes it easier to handle, and that the yeast has time to develop some great flavor.
And if you're using mozzarella cheese, just be sure to use low moisture. And don't overload the pizza with sauce or toppings! Too much is, indeed, too much when it comes to pizza. So go ahead and spend just a few minutes making the dough, and you'll be less than 10 minutes away from fresh, brick-oven style gluten free pizza any night of the week.