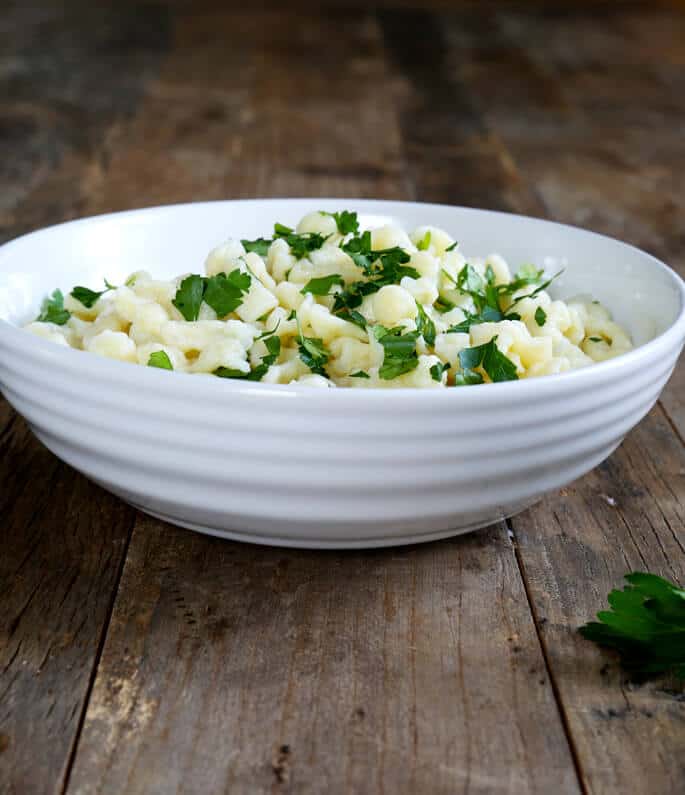 Spaetzle is a traditional German dumpling-style pasta. It's ridiculously easy to make since there's no shaping, rolling, or cutting.
You don't neeeeeeed a spaetzle maker (aff. link), but it does make things easier and neater—and make the dumplings look authentic. It's nothing more than a simple plastic or metal kitchen tool with round holes that are each about 1/4-inch in diameter. It looks quite a lot like a grater, and in fact you can use a grater.
I bought a spaetzle maker to make these little German dumplings look just right. The simple little device should be considerably less than $20 (mine certainly was) and I think it will make it more likely that you'll make this dish more often.

The first few times I made the dumplings, I found that they stuck together way too much if I didn't serve them immediately. When I tried rinsing them with warm water in the strainer, they stayed separate from one another.
And all of you who asked for this recipe over the years? You were so, so right…
They're tender but with the right amount of "bite," even if you boil them a bit longer—if you rinse them afterward. They're lovely as a side in place of rice or pasta, and you can even boil them right in a nice pot of soup.
I bet they'd be lovely served as a pasta salad in the warm weather. Maybe even served sweet with some brown sugar, butter and cinnamon.
Gluten Free Spaetzle
Yield:
About 4 cups spaetzle
Ingredients
2 cups (280 g) basic gum-free gluten free flour blend (185 g superfine white rice flour + 62 g potato starch + 33 g tapioca starch/flour)*
1/2 teaspoon xanthan gum
1/2 teaspoon kosher salt
1/2 teaspoon freshly ground nutmeg (optional, but really adds nice flavor)
2/3 cup (5 1/3 fluid ounces) milk, at room temperature
4 eggs (200 g, weighed out of shell) at room temperature, beaten
Chopped fresh flat-leaf parsley, for serving (optional)
*A note about the flour blend: I made this recipe using Better Batter, and found that it was too thick and gummy, and needed about 2 fluid ounces more liquid to reach the proper consistency. You do need some xanthan gum, however, for the dough to be stable enough, which is why the recipe calls for just 1/2 teaspoon of it for the whole recipe. That is about half of the xanthan gum that would be in that amount of Better Batter flour (or my mock Better Batter).
Instructions
In a large bowl, place the flour blend, xanthan gum, salt and ground nutmeg, and whisk to combine well. Create a well in the center of the dry ingredients and add the milk and then the eggs, mixing to combine after each addition. The dough should come together and be thick but soft. Cover the bowl and place it in the refrigerator to chill for at least 30 minutes and up to 24 hours.

Once the dough has chilled, uncover the dough and bring a large pot of salted water to a rolling boil. Position a spaetzle maker (aff. link—the white one is so cheap!) or a large box grater on top of the bowl of dough. I used a spaetzle maker, since it is much neater and cleaner, but I did not use the hopper as I found it made a much bigger mess. Place about half of the dough on top of the spaetzle maker or grater. Using a silicone spatula or bench scraper and working quickly, position the dough on top of the device right above the pot of boiling water and press the dough through the holes and into the water by scraping it back and forth. Remove the device and set it aside, then stir the dumplings in the water gently to ensure that nothing has stuck to the sides or bottom of the pot. Allow the dumplings to boil for about 5 minutes, or until they are tender and cooked all the way through.

Remove the dumplings from the pot with a strainer and rinse briefly with warm water. Repeat with the remaining dough. Serve immediately with chopped fresh parsley or cover and store in the refrigerator. Before serving, sauté in 2 tablespoons of melted butter in a hot skillet until just beginning to brown.

Adapted from allrecipes.com.