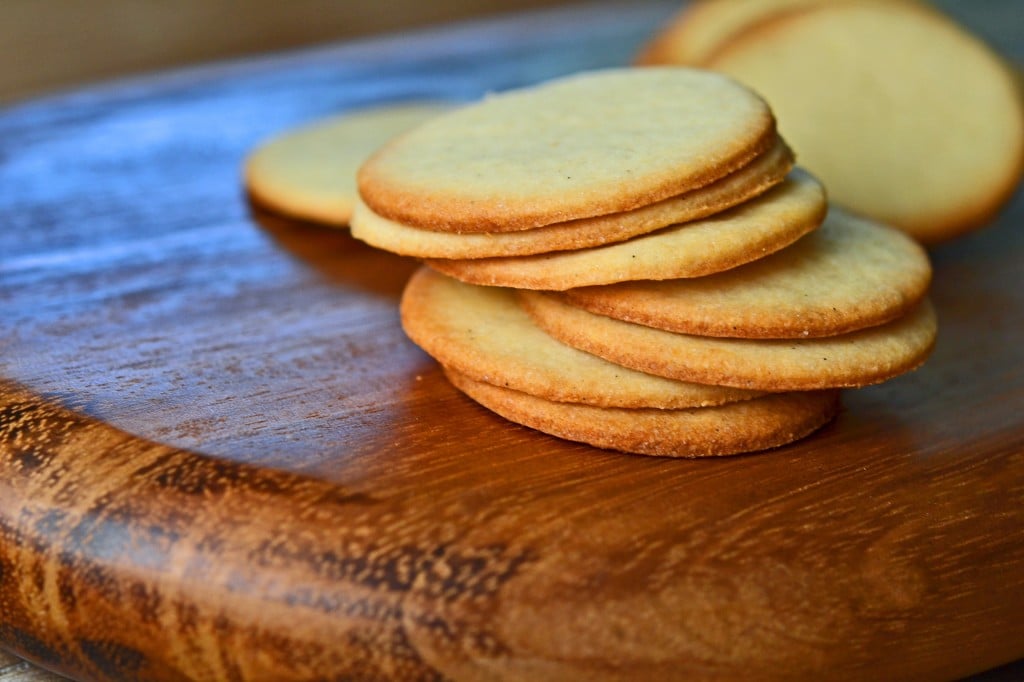 'Morning, sunshine. Straight out of the gate, let's settle a few things.
First, these thin little snappy numbers are not to be confused with my gluten-free 'Nilla Wafers. Those little disks are rounded on top, just like the ones that come from that yellow-box-you-know-the-one. These are flatter than a gluten-free pancake.
Second, these are not gluten-free butter cookies. Those are more delicate, and do not take to being rolled & cut out.
Think of these cookies like the blond cousins of the gluten-free thin & crispy Chocolate Wafer Cookies.
I've been stockpiling gluten-free cookies of the crispity crunchity variety, since I intend to use plenty of them in tons of ways this summer (which is already shaping up to be steamy hot – give me strength).
You might think it'd be easy to find just a plain jane crunchy vanilla cookie recipe on the 'net, to link to when the time came that we needed some crunchy non-chocolate cookies.
Since things didn't go in that general direction, I did what I had to do. Out of whole cloth.
These are just nice, snappy little plain wafer cookies. And, F.Y.I., "plain" does not mean boring. They're really delightful snacking cookies, and we can do all sorts of exciting things with them. We will. Make a non-chocolate gluten-free Icebox Cake, why don't you.
Make the dough, roll them out. Cut out shapes, gather scraps, reroll, bake for just a few minutes. The recipe makes 4 dozen 2 1/4-inch cookies, but 2 dozen fit on a half sheet pan at once. So we're talking two half-sheet pans' worth of cookie baking. A total of about 16 minutes in the oven for all 4 dozen.
No problem-o. And then we'll reap the rewards, together, with plenty of gluten-free no-bake cakes all summer long.

Author:
Thin & crispy plain gluten-free vanilla wafer cookies
Ingredients
2 cups (280g) high-quality all-purpose gluten-free flour
1 teaspoon xanthan gum (omit if your blend already contains it)
3/4 cup (150g) granulated sugar
1/4 teaspoon kosher salt
8 tablespoons (112g) unsalted butter, melted and cooled
1 extra-large egg at room temperature, beaten
1 teaspoon vanilla bean paste (or an equal amount, by volume, pure vanilla extract)
Instructions
Preheat your oven to 325 degrees F. Line rimmed baking sheets with unbleached parchment paper and set them aside.
In a large bowl, place the flour, xanthan gum, sugar and salt, and whisk to combine well. Add the butter, egg and vanilla, and mix until the dough comes together. It will be thick and smooth.
Divide the dough into two equal parts, roll each into a ball and flatten into a disk. Wrap each half tightly in plastic wrap, and refrigerate until just firm (about 30 minutes).
Once chilled, remove one disk at a time from the refrigerator and place it between two sheets of unbleached parchment paper. Roll out the dough until it is 1/8 inch thick (the thickness of a nickel), no thinner.
Pull back the top sheet of parchment paper on one piece of dough. With a round 2 1/4-inch cookie cutter, cut out rounds. Transfer the rounds to the prepared baking sheets, and place them about 1-inch apart (they will not spread much during baking). Gather the scraps, roll them out again, and cut more rounds. Repeat with the second piece of dough.
Place the baking sheets, one at a time, in the center of the preheated oven and bake, rotating once during baking, for 8 minutes or until the cookies spring back when pressed lightly in the center and the edges are light golden brown.
Remove the baking sheet from the oven, and allow the cookies to cool on the baking sheet until firm. Transfer to a wire rack to cool completely.
Love,
Me
P.S. To those of you who have bought My Cookbook, I thank you. You're the wind beneath my wings (unless you're too young to get that reference, in which case forget I said anything, except 'thank you sincerely').