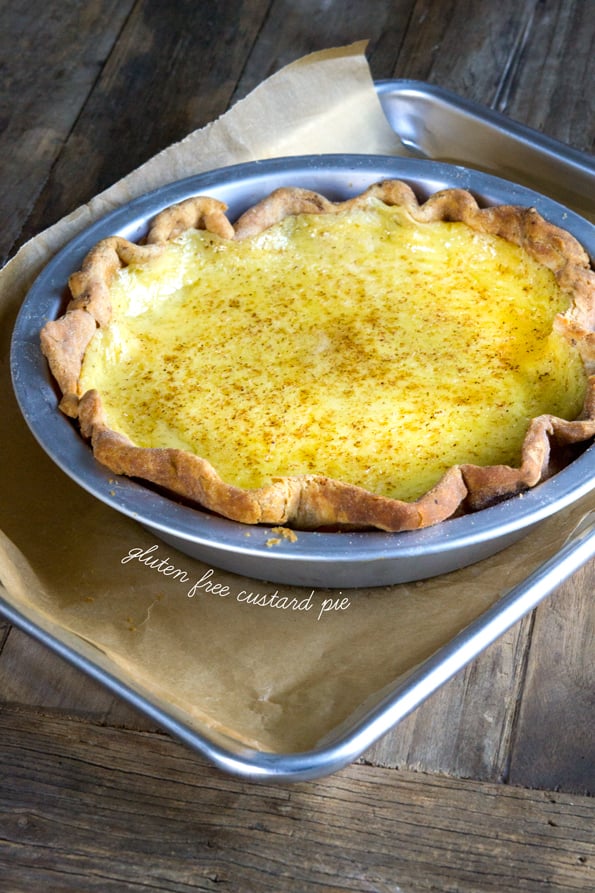 [pinit] What is a proper gluten free Thanksgiving without some lovely gluten free pie? And what is that pie without just the right gluten free pie crust? Making pie means asking Very Important Questions this time of year. Should you blind bake the crust before filling it, or shouldn't you? Which crust recipe is best? I'm here for you, with my version of The Right Answers. We have made quite a bit of gluten free pie on this blog, and there is even more in my books, but I have been getting lots of pie questions lately. So let's take some time out for a simple pie: gluten free custard pie. The filling is a simple but delicious custard, and it gives us a chance to talk about pie crust.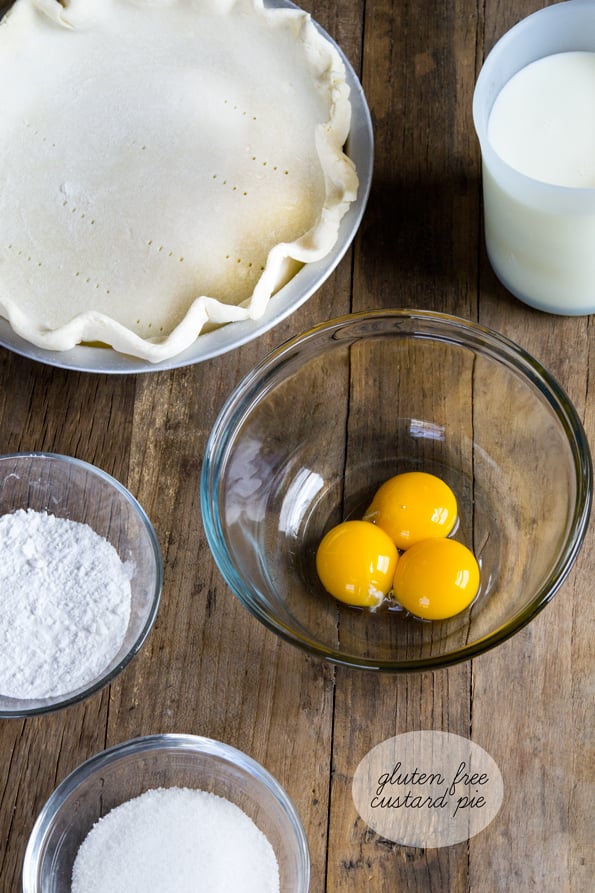 The recipe below is for a single pie crust. If you're making a double crust pie, like this sour cherry pie, just double the recipe. Whatever you do, most of all I recommend NOT processing your butter until it's the size of the proverbial "small peas." That almost always leads bakers to overprocess the butter. And that means your pie crust will not be light and flaky. Light and flaky pastry, gluten free or not, comes from cold chunks of butter surrounded by flour. When the cold butter hits the heat of the oven, it expands and puffs out the flour around it, creating a light and flaky pastry or crust. It's a little bit of chemistry, and it depends most of all upon architecture. So don't overprocess that butter!
You'll see that, for this pie, a do blind bake the crust. All that means is that I bake the crust at a higher temperature (375°F) for 10 minutes before filling it and completing the baking. The reason for that is that this is a custard pie. For that custard filling to set up properly, it needs to be baked at a much lower temperature (325°F), and for quite a while (about 45 minutes). And 325°F just isn't the right temperature for a pie crust if you want it to be light and flaky. So, we blind bake. But for a double crust fruit pie, like apple pie, I generally don't blind bake the bottom crust.
If you have other Thanksgiving pie questions (or just other Thanksgiving questions in general), ask them in the comments below. I know many of you have emailed me with your burning questions and as much as I want to answer them all individually, I'm (as always) woefully behind on answering blog emails as they do tend to pile up and Thanksgiving is less than a week away. I do my level best to respond to everyone, but since time is of the essence, for now ask below!
Oh, and before I forget, in case you haven't seen it yet, Parents Magazine posted a few Thanksgiving tips I have for you plus a very exciting preview recipe from GFOAS Bakes Bread that is perfect for your holiday table. These Soft Olive Garden-Style Garlic Butter Gluten Free Breadsticks!