**The giveaway is now closed! Winners will be notified by email. Thank you to everyone who entered!! Tune in on Tuesday, April 7 (publication day for Classic Snacks!) to find out which recipe from the book will be on the blog!**

Let's get right down to it: Gluten Free Classic Snacks is about to have its day in the sun. Next Tuesday, April 7, 2015 is its official publication date. That's the date that my latest labor of cookbook love is officially for sale everywhere books are sold in the United States. To celebrate, I'd like to do two things:
A quick giveaway of one of TWO signed copies of Gluten Free Classic Snacks.* All you have to do is comment on this blog post to enter (no Facebook, Twitter or email entries please!). Be sure you sign in to the comment system with some sort of email address. If I can't get in touch with you, you can't win! Giveaway to close Sunday night, April 5, 2015. Like, before I go to bed o'clock, EDT.
Reprint a recipe straight from Gluten Free Classic Snacks right here on the blog—and I'd like you to choose which one! Below are photos from 9 of my favorite recipes in the new book. The name of each recipe is below the photo. Please include your favorite recipe of the bunch in your comment, and the recipe that gets the most "votes" is the one I'll publish on the blog on April 7. To wish us all a happy Classic Snacks pub date. Sound good?
*Note: Giveaway open only to residents of the U.S. and Canada, as I'm paying for it myself! So sorry!
Here are your choices *drumroll please*:
Should the reprinted recipe be for these Ferrero Rocher-Style Fine Hazelnut Chocolates?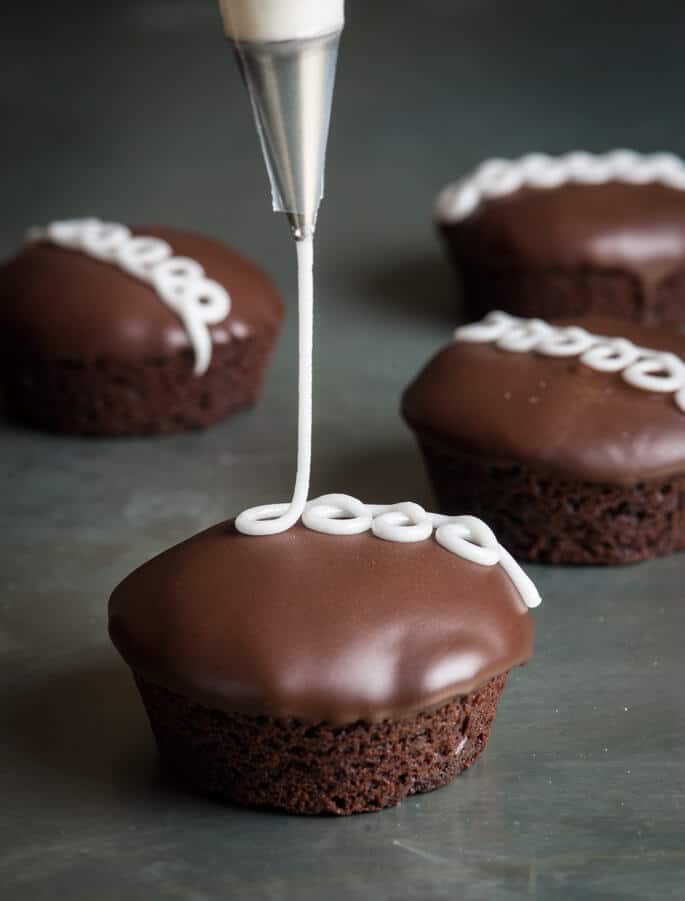 Maybe the snack you miss the most is good old Hostess-Style Chocolate Cupcakes.
Or Little Debbie-Style Cosmic Brownies.
I know you've been missing Little Debbie-Style Oatmeal Creme Pies. Amiright??
Oreo-Style Sandwich Cookies, Chocolate—or Golden. Maybe one of those is your fave? They are made for dunking in an ice cold glass of milk…
Maybe you're dying to make Kellogg's-Style Frosted Strawberry Pop-Tarts Toaster Pastries. With just the right pale pastry, begging for the toaster.
Twix-Style Caramel Cookie Bars are, of course, on the list. To leave them off would be madness.
Maybe you didn't even remember how much you missed Weight Watchers-Style Chocolate Brownies (just 3 PointsPlus per brownie!). Until you saw them again in this gorgeous photo (one of my absolute favorites from the shoot!).
Finally (and they said it couldn't be done), Whoppers-Style Original Malted Milk Balls. Now, malt is a big gluten-free no-no (made from barley!), but you won't miss it in these amazing little candies. Say the word, and the recipe will be on the blog next week!
Have another favorite you saw in the Gluten Free Classic Snacks Table of Contents? Write-in "votes" accepted!
Get commenting and enter for a chance to win one of two signed copies of the book. Remember—contest ends Sunday night, April 5, 2015. Good luck!