How to wrap and bake the perfect gluten free pigs in a blanket, for the Superbowl or for anytime. Everyone's favorite appetizer.
It's hard not to appreciate the beauty of a simple weenie wrapped in pizza dough. Who can resist? After much, much too much trial and error for such simple fare, I have concluded that wrapping the pigs in triangle-shaped dough is way overrated.
It does tend to look pretty, but it becomes quite a chore to get all the triangles the same size and shape. And believe it or not, there is a an optimal shape (long and thin, sharply tapered triangles that are rolled rather thickly works best). So I settled on rectangles and never looked back.
The pigs look so cozy in their blankets, don't they?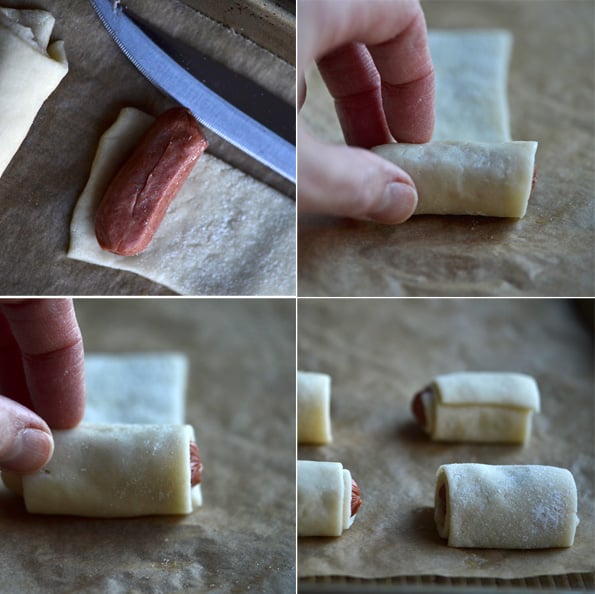 Semi-Pro Tip: Slice halfway into each pig along the length before rolling it in its blanket. That way, the steam that builds up in the pigs when they are in the oven can escape and they don't burst out of the blankets.
I used my regular, tried and true gluten free pizza crust recipe from my First Cookbook for the dough this time, since that's what you'll have, too. It worked a treat.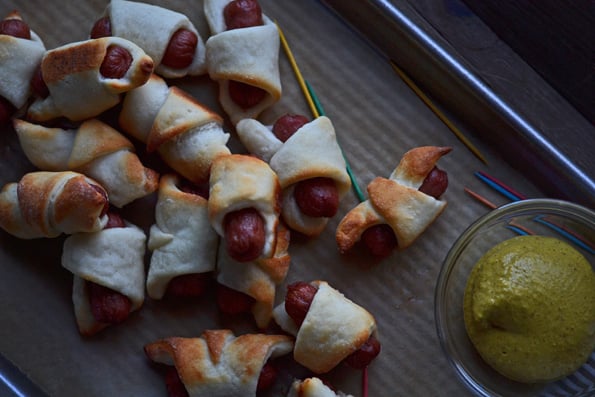 Pigs in a blanket. They may not be the fanciest gluten-free Superbowl (or anytime) finger food, but they're always the biggest crowd pleaser!