These whole grain gluten free flour tortillas have a wheaty taste and chew from added teff and sorghum flours, but are safely wheat-free.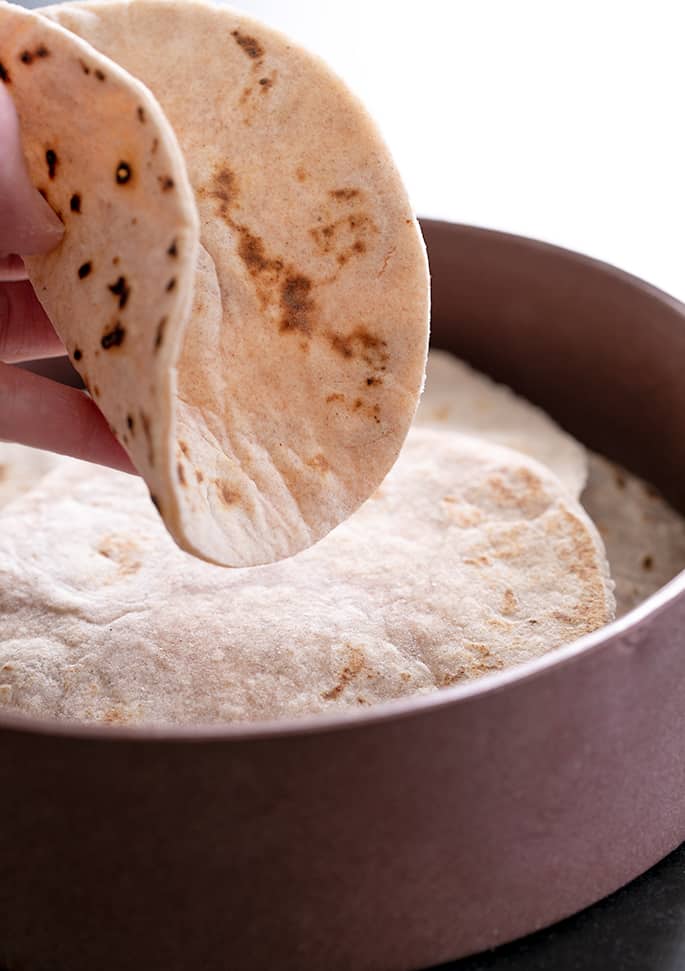 When your tortillas are soft and pliable, like these gluten free whole grain tortillas are, they can easily be folded into a burrito, then wrapped up hours before dinnertime. If I wrap it in a tortilla, I can call it dinner!
If you're making burritos, it doesn't really matter what you put in them, as long as it includes cheese. It does matter what sort of tortilla you use.
Have you ever tried what some gluten-free food companies try to pass off as gluten-free tortillas, made from only brown rice? Well, we know what happens when we try to fold them.
These tortillas aren't just your everyday tortillas. They make up super fast, and they have that wheat-y taste and chew because they're fortified with whole grain flours.
Sear them in a cast iron skillet. If the skillet is hot enough, they cook in a flash—and they won't stick. If you're having a lot of trouble handling the tortillas as you attempt to get them into the skillet to cook, they're not the right consistency.
The dough should be strong and on the dry side, but not so dry that it crumbles. You have to be delicate with them, but not so much that some of them don't make it all the way to the finish line.
Ingredients and substitutions
Happily, these tortillas are naturally dairy-free and egg-free. Here is some other ingredient information, in case you're short of ingredients or you have additional food intolerances:
Teff & sorghum flours: This combination of teff and sweet white sorghum flours provides the heartiness that you expect from a whole grain baked good. I haven't tried replacing them with anything, and I'm afraid I don't think either can truly be replaced with success.
If you're dying to try a replacement and you're willing to experiment, you can try replacing the sweet white sorghum flour with oat flour and the teff flour with rice bran. But I can't promise anything!
Olive oil: I really like using olive oil in these tortillas, but you can use any oil you like. I've also made these tortillas with Spectrum brand non-hydrogenated vegetable shortening, like our classic gluten free flour tortillas, and it works great.