Deliciously tart and smooth, this gluten free key lime pie is made with a simple gf graham cracker crust and filled with a rich, classic key lime custard. You won't believe how quick and easy it is.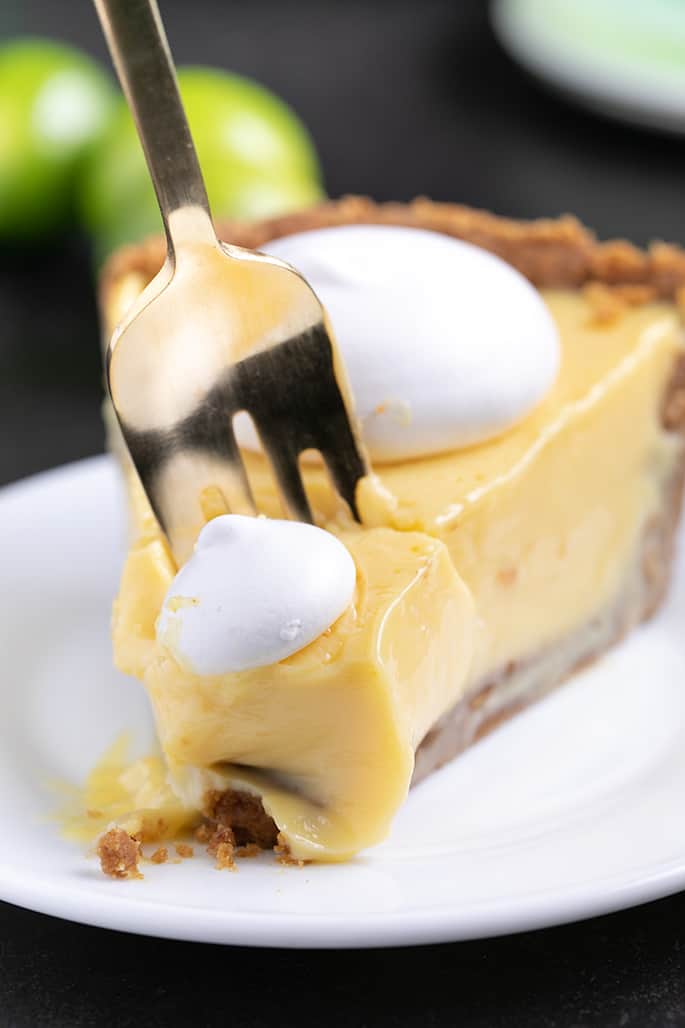 What makes this recipe for gluten free key lime pie special?
As a kid, I had the perfect slice of key lime pie while in the Florida Keys. I've been chasing that moment ever since. That first creamy-crunchy sweet-n-sour bite, the brightest lime flavor, and that smooth custard.
When I returned to Key West just a few years ago, the pie was just as I'd remembered it. But if I'd had my gluten free son with me, there would have been no safe gluten free key lime pie for him to eat.
If you're from Key West, or your family is, you may do things a bit differently. I'm always happy to learn from someone who knows more than I do.
What is the difference between key lime pie, and lime pie?
Key limes are a type of lime. Their juice is brighter and more tart than conventional limes. Key lime pie is made with the juice of this tiny, green-yellow citrus.
The recipe for the filling has only 3 main ingredients: lime juice, egg yolks, and sweetened condensed milk. It's named for Key West, Florida, but the origin story of key lime pie seems to be in dispute.
For every 6 eggs in the recipe I use, below, there's an entire cup or 8 fluid ounces of juice. The acidity in the juice helps to "cook" the egg yolks, which we finish in the oven for a clean-slicing pie.
Because you need the acidity of the citrus juice, you can't make this pie without an acidic liquid. But if you can't find key limes or bottled key lime juice, you can come close to the taste with equal parts fresh lemon juice and fresh conventional lime juice.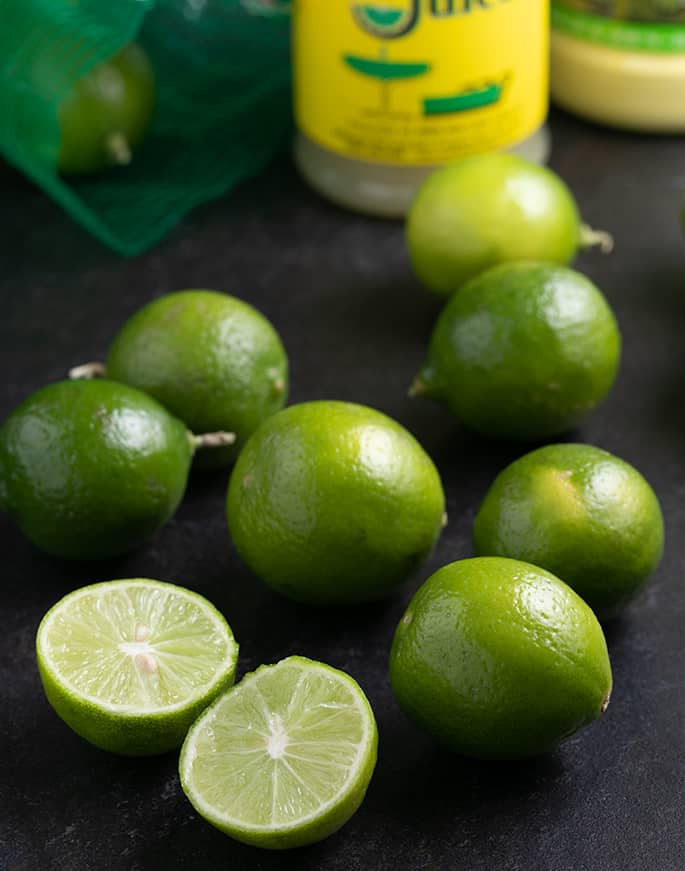 Where to find fresh key limes (and how to know they're authentic)
There are some companies that sell what they call fresh "key limes," but seem inauthentic to me. Key limes are small, for limes. And they're not as dark as conventional limes, and they have a yellow-ish cast.
Of course, with any fresh fruits, there can be a lot of variation in color and size. They typically come in a mesh bag, and they're really quite small.
How to juice them
By the way, have you ever juiced a key lime? They have lots of pits, and their size makes using a juice reamer impractical.
To juice them, slice them in half, and squeeze as hard as you can with your fingers over a bowl. Then strain out the pits and any pulp.
Is Nellie and Joe's key lime pie juice gluten free? Is Manhattan?
The only 100% certain way to get pure key lime juice is by juicing key limes. But they can be difficult to find, and you need a lot of them to make enough juice for this pie.
The ingredients listed on the bottle of Nellie & Joe's Key West Lime Juice are: filtered water, Key West lime juice from concentrate, sodium benzoate (preservative), and lime oil. There is no statement on their website about whether the product is officially gluten free.
The ingredients on the bottle of Manhattan key lime juice are: water, key lime concentrate, and less than 1/50 of 1% sodium metabisulfite (preservative). I feel comfortable using either bottled juice based on the ingredient list. Please make whatever decision is appropriate for your family, based on your own risk tolerance.
How to make meringue as a topping
Many Key lime pie recipes call for topping the pie with whipped cream (including the bottle of Nellie & Joe's Key West lime juice). That's how I remember it being served whenever I was in Key West.
But there's a lot of chatter on the web about how the only "right" way to serve Key lime pie is with an Italian meringue topping. Of course, there's no reason you shouldn't serve it however you prefer.
If you're interested in Italian meringue, I've linked to two recipes from other sources below. It's nearly the same as our recipe for homemade marshmallow crème.
To make Italian meringue, you simply cook sugar and water to the "softball stage," then whip it together with egg whites into stiff (but not dry) peaks. You can then pipe the mixture in mounds and bake it at a very low temperature, or just serve it as is on top of your pie.
If you make baked meringues (which are amazingly delicious, by the way), you can make them weeks ahead of time and store them in a single layer, in a sealed container in the freezer. They will retain their crispness that way.
Either way, don't top the pie until you're nearly ready to serve it. The soft meringue will begin to weep, otherwise, and the baked meringues will lose their crispness.
Ingredients and substitutions
The custard in this recipe is naturally gluten free—but has 2 other prominent allergens. Here are my best guesses for what you can try to substitute if you must, and how.
For substitution information regarding the cookie crust, please click over to the gluten free graham cracker crust recipe. There are bake and no bake options, plus "ingredients and substitutions" information, there.
Dairy
You must use sweetened condensed milk in this recipe. You can make a different sort of recipe with the flavors of key lime pie, and without sweetened condensed milk (try our no-bake key lime pie and our gluten free key lime pie bars recipes), but you can also make this recipe dairy-free.
There are companies that actually sell cans of non-dairy sweetened condensed milk, usually made with coconut milk. They're relatively expensive, but I'm glad they're an option.
You can also make your own sweetened condensed milk more easily than you might think. That recipe (please click the link in the previous sentence) has instructions for making the milk dairy-free.
Egg yolks
Here's where my powers fail me. You cannot make this recipe, as is, with anything other than the actual yolks of actual eggs.
If you're wondering what to do with all those egg whites, after separate the eggs, they're a good start on the roughly 12 egg whites you need for our gluten free angel food cake recipe.