Made with a homemade or store bought gluten free vanilla cake mix, this gluten free pumpkin dump cake is always the first dessert to go at a fall party. You won't believe just how easy it is.
Why this is the best gluten free dump cake for fall
I'll start off by saying that this super simple pumpkin pie dump cake tastes so good. It's so addicting, it previously had a wildly inappropriate name playing on the fact that it's good, you wouldn't be able to control yourself around it. (And for the record: I didn't invent the name; it's one that's commonly given to treats that are too tasty to turn down.)
Today, it has a name that's a bit more descriptive of its preparation process — it's a dump cake, because you dump everything together! It's also known as a gluten free pumpkin crunch cake, because it has that soft cakey bottom layer followed by a crispy-crunchy top layer.
Another spook-tacular thing about this cake (do you see what I did there?) is that you can make it with ingredients you have in your pantry right now… assuming you're the kind of grab up that pumpkin puree the moment it hits the store shelves.
In addition to how easy it is to put together this easy gluten free fall dessert, I love how much it reminds me of pumpkin pie — even though it takes a fraction of the time and effort. Unexpected guests dropping by? Need to whip something up for a pot luck? Craving pumpkin pie but don't want to go through the effort? Gluten free pumpkin pie dump cake is the answer.
Ingredients for a gluten free pumpkin crunch dump cake
Pumpkin puree – I use canned pumpkin in this recipe for pumpkin crunch cake, but if you have pie pumpkins on hand and would prefer to roast them to make your own puree, you can do that too.
Sweetened condensed milk – Condensed milk is evaporated milk with sugar mixed in, so it's super creamy and quite sweet. It adds flavor to this pumpkin cake, but it also contributes to the custardy-cakey texture of the bottom layer.
Eggs – We use two eggs for this easy pumpkin dump cake recipe. I haven't tried substituting them before, but keep reading for a suggestion that might work.
Sugar – The condensed milk adds a lot of sweetness, but we'll also use an additional 1/2 cup of sugar. In addition to satisfying your sweet tooth, sugar also helps keeps things moist and tender.
Pumpkin pie spice – Pumpkin on its own can be a little bland, but add in pumpkin pie spice, and you've got something to celebrate. For this recipe, you can use store-bought or make your own.
Gluten-free yellow cake mix – I include a recipe for DIY cake mix in the recipe instructions below. It's not hard to make it yourself, but this is another place where using store-bought is just fine.
Butter – Unlike lots of cake recipes that call for cold or room-temperature butter, we use melted butter in this gluten free dump cake recipe. Melt it in the microwave or stove top, and then set it aside to cool completely.
Chocolate chips – Chocolate chips are an optional ingredient, but I think they add another dimension to an already awesome cake. If you wanted, you could switch them out for chopped nuts (or include both!)
What is a dump cake anyway?
Dump cakes don't have a very flattering name, but you'll soon look past it once you realize the deliciousness that can come from such simplicity.
Dump cakes began making the rounds in American kitchens in the 1960s, and they get their name from the fact that to make them, you just dump a few ingredients together and then bake.
The most popular dump cakes are made with canned fruit or pie filling and then topped with white or yellow cake mix. When developing the recipe for this easy pumpkin dessert, I knew I wanted something with the simplicity of a dump cake but with all the big flavors of fall.
How to make this addicting pumpkin dump cake recipe
I've been going on about how easy this recipe for pumpkin crunch cake is, now I'm going to prove it.
All you have to do is mix the pumpkin, sweetened condensed milk, eggs, sugar, and pumpkin pie spice and then pour into a baking dish. Sprinkle some of the cake mix on top. Swirl the two together. Spread the rest of the cake mix on top. Spread on the melted and cooled butter over the top, then top with chocolate chips. Cover the cake, bake for a bit, uncover the cake, and finish baking it. That's all.
The result is a center that's soft and pudding-like and an outside that's crumbly and almost crunchy, like a coffee cake crumble. Make your own DIY gluten free vanilla cake mix, or buy a box. Seriously, what could be easier?
Tips for making the best pumpkin dump cake
Double-check those product labels
Obviously, you want to double-check that you don't pick up something that's contaminated with gluten, but you also don't want mix up some of the other ingredients for this gluten free pumpkin spice cake.
First, make sure you grab a can of pumpkin puree and not pumpkin pie filling. The labels may look somewhat similar and the names could be confusing, so if you're ever in doubt, just look at the ingredients list. Pumpkin puree (which may also be labeled pure pumpkin or simply pumpkin) will have only one ingredient: pumpkin.
The other ingredient to watch is the sweetened condensed milk. It will be on the shelf right next to the evaporated milk, which is not the milk you want.
Make your own pumpkin spice mix
I'm all for convenience, but I also like saving money and having more control over what goes into my food. Pumpkin spice is easy enough to find at stores, but it's also really easy (and cost effective) to make yourself. If you plan to do lots of gluten free fall dessert baking, consider making a huge batch to last you through the season.
To make your own pumpkin pie spice, just combine 2 teaspoons ground cinnamon, 1 teaspoon ground ginger, 1/2 teaspoon ground allspice, 1/2 teaspoon ground cloves, and 1/4 teaspoon ground nutmeg. That will give you roughly as much as you'll find in those small containers. Double, triple, quadruple, and beyond to suit your baking needs.
Don't worry about uneven browning
You'll know that your gluten free dump cake is about ready when its heavenly aroma starts to fill your kitchen. Should you sneak a peek at this time, you'll probably notice some uneven browning around the edges of your dessert.
Don't panic; this is completely normal. When you pour melted butter over the dry cake mix, you're unlikely to spread it perfectly even. Those spots that get a little more butter will brown faster, but they won't burn. Once you see that the cake is nicely browned around the edges, it's ready to remove from the oven.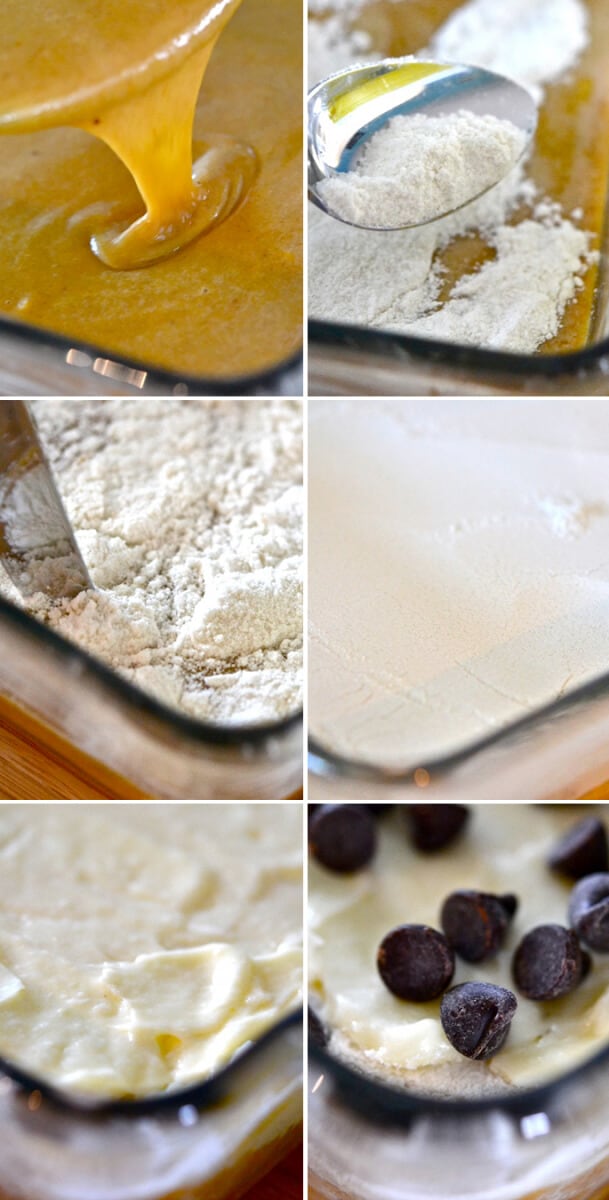 Serving gluten free pumpkin spice dump cake
My family and I are happy to gobble up this pumpkin spice dump cake straight from the oven. Of course, you have to let it cool a bit, but when served warm and fresh, it's absolutely divine.
It's also wonderful with a scoop of whipped cream or vanilla ice cream. When you want to go all out, top it with your choice of cream or ice cream and then finish with a drizzle of caramel sauce.
If you're baking for a pot luck or bake sale, I love the idea of decorating this cake with those little candy corn pumpkins so everyone knows what to expect. The Brach's brand is gluten free.
How to store gf pumpkin dump cake
Once your pumpkin dump cake is completely cool, you can transfer it to an airtight container. It will store in the fridge for up to 5 days.
When you're ready to dig in again, I suggest popping it into the microwave for a few seconds to warm it back up.
Personally, I don't think this is a good recipe for freezing. The textures won't be the same after defrosting. And besides, it's so quick and easy to put this together — definitely opt for fresh.
Gluten free pumpkin pie dump cake: substitutions
Gluten free, dairy free pumpkin dump cake
This recipe for pumpkin dump cake contains dairy in the form of milk and butter.
You can substitute the condensed milk cup for cup with coconut milk. They're both sweet and have similar consistencies, but note that you may taste a hint of coconut in the finished product. You can also use almond milk, reducing 2 cups to 1 cup on the stove and allowing to cool before using.
For the butter, you can use a vegan butter of your choosing or vegetable spread.
Take note that my homemade cake mix calls for buttermilk powder. You can use almond flour or coconut milk powder in its place. If you buy a mix from the store, double-check the ingredients to be sure it's dairy free.
Gluten free, egg free pumpkin dump cake
I've never tried it before, but you may be able to use chia eggs in place of eggs in this recipe. To make a chia egg, you combine 1 tablespoon of ground chia seeds with a tablespoon of warm water and let it sit until it gels.
FAQs
Is dump cake gluten free?
No, traditional dump cakes are not gluten free because they use cake mixes that contain gluten. To make a gluten free dump cake, you need to use a specially formulated gluten free cake mix — you can make it yourself or try a brand from the store.
Can I substitute pumpkin pie filling for the pumpkin puree?
No, pumpkin pie filling and pumpkin puree are not interchangeable. Pumpkin pie filling is sweetened and spiced; it's designed for plopping into a pie shell and baking for a super quick pumpkin pie.
Pumpkin puree is nothing but pure pumpkin. The taste and consistency between the two is totally different, so if you were to use pumpkin pie mix instead, you'd find your dump cake coming out way too sweet.
Can I use a different flavor cake mix for this pumpkin dump cake recipe?
Honestly, white cake mix and yellow cake mix are pretty similar, so it's perfectly fine to use either one for this recipe.
What I don't advise is using a more flavored cake mix, like chocolate. You'll find that these stronger flavors will easily overpower the delicate tastes of pumpkin and spice.
Can I make this pumpkin crisp with cake mix from the store?
Absolutely! Just make sure you pick up a cake mix that is clearly labeled as gluten free. They're readily available these days, and they aren't always pricey!
Can I add nuts to this gf pumpkin dump cake recipe?
You can give this easy pumpkin dump cake even more crunch by adding chopped nuts before popping it into the oven. If you want to go this route, I suggest chopped pecans or walnuts. Sprinkle them over the cake after adding the melted butter and chocolate chips, and they'll get nice and crispy while baking.
How do you know when this pumpkin crisp dump cake is done baking?
Putting together this pumpkin dump cake with yellow cake mix is super easy. Knowing when it's ready? Also easy, if you know what to look for. Don't reach for a toothpick, because it won't work in this situation. Instead, carefully look over the top of the cake. When the edges are browned, it's ready to come out of the oven.
Does this pumpkin crunch dessert need to be refrigerated?
Yes, I suggest refrigerating this pumpkin crisp dump cake so it stays fresh. Leaving it on the counter will cause it to spoil in just a couple of days.
Can I make this gluten free pumpkin spice cake in advance?
If you're crunched for time, you can absolutely make this gf pumpkin dump cake and then toss it into the fridge until you're ready for it. When you're ready to serve, you can pop it into the oven for a few minutes to reheat or heat individual slices in the microwave for just a few seconds.
Gluten Free Pumpkin Dump Cake | Cakey, Custardy, and Crunchy
Make gluten free pumpkin dump cake, and watch your friends and family go wild. This super simple gf pumpkin recipe takes minutes to prepare… and disappear.
Ingredients
7 ½

ounces

canned pure pumpkin puree

(1/2 15 ounce can)

7

ounces

sweetened condensed milk

2

(

100

g (weighed out of shell)

)

eggs

at room temperature, beaten

½

cup

(

100

g

)

granulated sugar

2 ½

teaspoons

pumpkin pie spice

1

16-ounce

gluten free yellow cake mix

(DIY or boxed)

8

tablespoons

(

112

g

)

unsalted butter

melted and cooled

½

cup

semi-sweet chocolate chips

(or chopped pecans)
Instructions
Preheat the oven to 350° F. Grease and line a 9-inch square or round baking pan and set it aside. If you have nonstick aluminum foil, that's ideal.

In a medium-sized bowl, place the pumpkin puree, condensed milk, eggs, sugar, and pumpkin pie spice, and mix until well-combined.

The pumpkin mixture will be smooth and relatively thin. Pour it into the prepared pan.

Sprinkle about 1/3 of the dry cake mix over the top of the pumpkin mixture. Using a butter knife, swirl the dry cake mix into the wet ingredients to begin to mix them together (although not fully).

Sprinkle the rest of the dry cake mix on top, and smooth carefully until it covers the bottom mixture evenly.

Pour the melted butter evenly on top of the cake. Sprinkle the top evenly with the chocolate chips.

Cover the top of the pan securely with aluminum foil.

Place the cake pan in the center of the preheated oven, and bake for 25 minutes.

Uncover the pan, and continue to bake until the cake has browned around the edges and doesn't jiggle in the center when moved gently from side to side (about 20 minutes more).

Remove the pan from the oven and allow the cake to cool completely before slicing into squares or wedges and serving.

For cleaner slices, refrigerate the cake for 20 minutes before slicing.
Notes
Originally published on the blog in 2011; in 2022, new photos and lots of text resources added.