These gluten free lemon poppyseed muffins have all the brightness of lemon and the nutty crunch of poppyseeds in a tender sour cream muffin.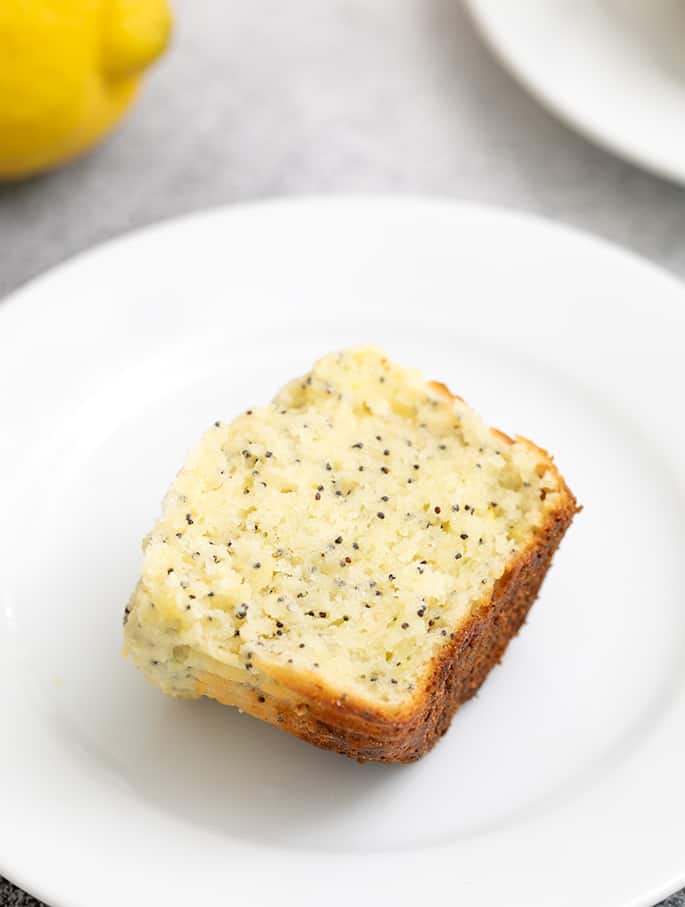 The pleasure of baking with lemons
Bite into these lightly sweet muffins through a thin layer of sugar crunch, and they're super soft & moist inside. The poppyseeds add a pleasant fruity crunch.
Lemons are like the salt of the citrus world. They make everything better. Even just a bit of lemon squeezed over your dinner or into your favorite cake will brighten everything up.
Growing lemons
I don't have a lemon tree in my yard or anything. But I would very much like to move somewhere I could have a lemon tree in the yard. ?
Sometimes I see people growing lemons indoors. I live in N.Y., but I wonder if I could grow them in a container, and bring the tree indoors during the cold months.
I imagine myself lovingly pruning my tiny lemon tree, and think my dream might come true. But then I remember. I have 2 cats and 3 dogs and the dream dies.
Can you substitute chia seeds for poppyseeds?
If you just don't happen to have poppyseeds on hand, consider buying them. They're so good sprinkled on all kinds of things, from bagels to salads.
But if you can't have poppyseeds, or you're afraid of failing a drug test after you eat poppyseeds because they may contain very small, trace amounts of opium extract, you can replace them with chia seeds.
Black chia seeds look a lot like poppyseeds, but they're larger and denser when they're dry. That will make them more distracting than poppyseeds when you bite into the muffin.
Instead of mixing the chia seeds into the dry ingredients that get whisked together, try adding them to the wet ingredients. It might help them soften up a bit before baking.
This isn't our only lemon poppyseed recipe. Case in point, our lemon poppyseed cookies. So please share your results, and let's learn together.
Ingredients and substitutions
Dairy
If you can't have butter, you can try replacing it with Melt or Miyoko's Kitchen brand vegan butter. They're my favorite butter substitutes.
You might also be able to use Earth Balance buttery sticks in this recipe in place of butter, but you might find that your muffins rise more and then fall more. Earth Balance has more moisture than butter, so the balance of ingredients will be disturbed.
If you can't have sour cream, plain Greek yogurt is a great substitute. If you can't have dairy yogurt and can't find nondairy plain Greek yogurt, try straining plain nondairy yogurt until it's the proper consistency.
Eggs
There are three whole eggs in this recipe, and they're really important to the rise and texture. I don't recommend trying to replace each of them with an egg replacer, but if you'd like to try, go with one "chia egg" per egg (1 tablespoon ground white chia seeds + 1 tablespoon lukewarm water, mixed and allowed to gel).