These vanilla almond-flavored gluten free biscotti are twice-baked in the classic style. The result is the crispy, crunchy perfection we expect of only the very best biscotti. And they're even easier to make than drop cookies!
What makes this the best gluten free biscotti recipe?
Without any butter or other added fat, these are made in the traditional Italian-style. That means that they have that super nice crunch that a proper biscotti cookie should have.
And some say they taste best if you dunk them in your favorite cup of coffee.
An Americanized version of biscotti would have butter added to the dough. I pass no judgment. I just prefer the taste and texture of these cookies without any butter.
Any of my recommended gluten free flour blends will work in these cookies. I like the texture of the cookies best, though, when I make them with a combination of Better Batter classic blend gluten free flour and cornstarch.
Biscotti are twice-baked cookies. That actually makes them quite simple to bake. And they take considerably less active time than drop cookies, since they don't have to be baked in many batches, spaced far away from one another on baking sheets.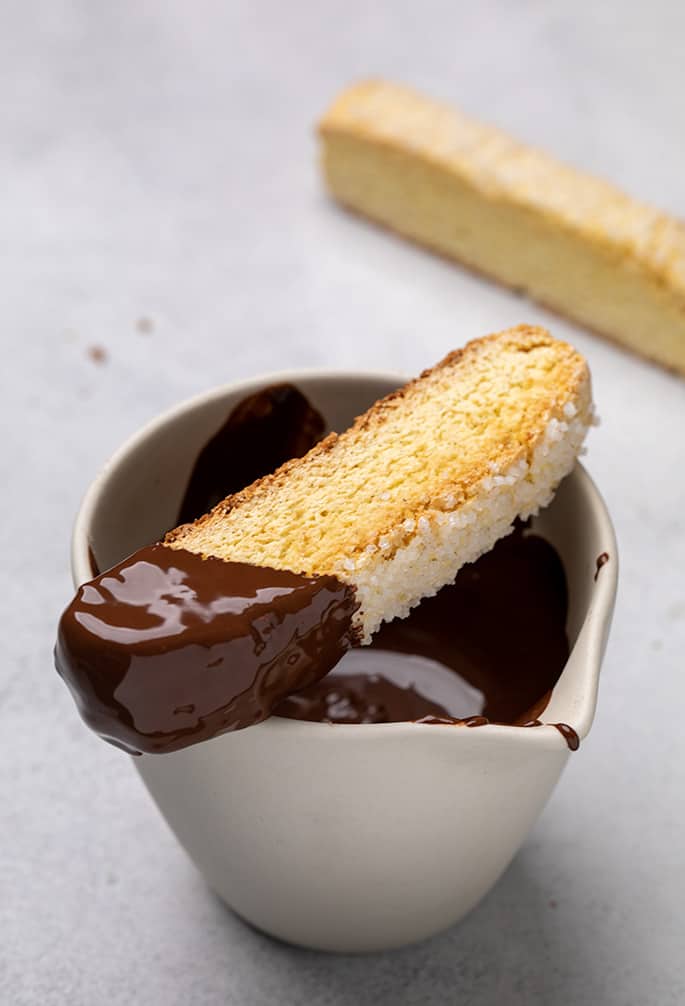 Make this adaptable gluten free biscotti recipe your own
This recipe is also super adaptable. As written, it makes almond and vanilla flavored biscotti, a lot like the vanilla almond biscotti that Starbucks sells.
But there are instructions for leaving out the almonds and baking them plain with extra vanilla flavoring, or with crusted coarse sugar for some extra sweetness.
And, of course, you can always melt your favorite chocolate and dip each cooled cookie in the chocolate. Dip one end of the other on an angle, like I did, drizzle some melted chocolate on top, or dip just the top or bottom.
How to make gluten free biscotti
The simple dough is baked in a flat log first. It's cooled briefly, and then sliced on the bias.
Once sliced, you'll begin to see the familiar shape that you know biscotti have.
After the first baking, the cookies are browned only on the edges, as those were all that has been exposed in the oven so far. Place them on their sides now, and bake again.
And crisp on both sides. This classic gf biscotti are are flavored with vanilla and almond, with just with vanilla.
You can then add a delicious, sweet crust of coarse sugar before baking, whether you've added almonds to the cookie dough or not. Dip them in melted chocolate for that coffee shop look!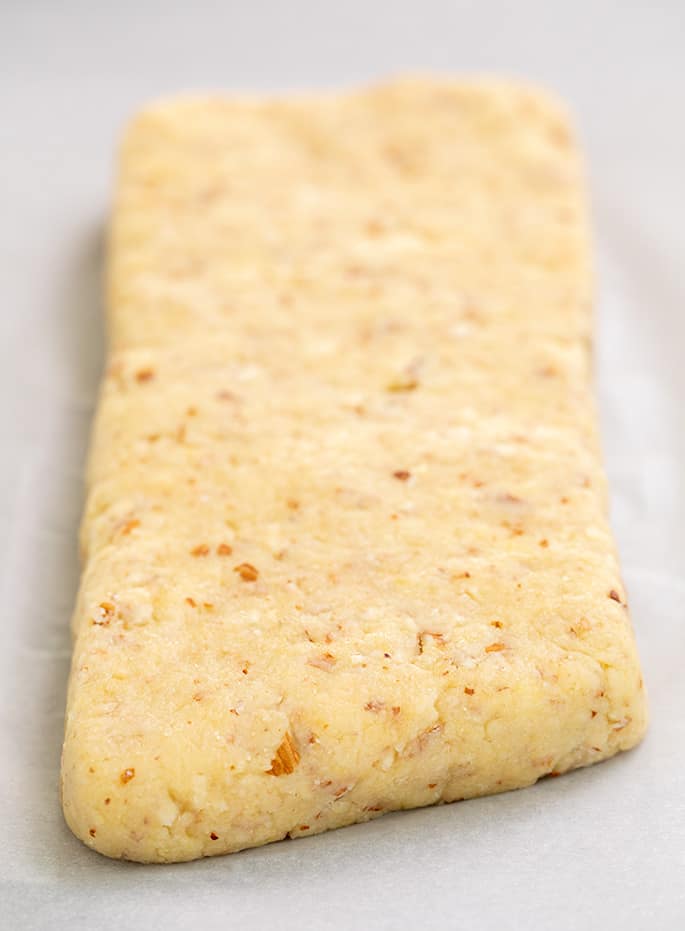 Tips for making delicious, crispy gf biscotti perfect every time
This biscotti recipe is made with very few ingredients in one bowl, in the classic twice-baked style. Once you understand the general concept of how to make it, your very first batch will be as good as your 10th.
Check your oven temperature at each stage of baking
Biscotti is baked as a single loaf at a classic baking temperature of 350°F, just until it's set enough to slice. The loaf will be barely set inside, but must have enough structure to be sliced.
Then, the temperature is lowered to 300°F and each side is baked until lightly (or golden) brown. If your oven temperature is too high for the second bake, the outside will brown before the center is crisp at all.
Adjust the baking time to make crispier (or chewier) cookies
Some people love their biscotti to be as crisp as possible without being burned, so they can dip each bite into a cup of coffee or hot chocolate. If you like your biscotti like that, try baking for 10 minutes on each side at 300°F, and then returning them to the oven until golden brown all over.
If you prefer your cookies chewy in the center, so you can eat them easily bite by bite, without any dunking, the original baking times are likely enough. You can even lower the oven temperature to 275°F if you're not sure that they're baked all the way through but you don't want them too crisp.
Saw the once-baked biscotti loaf carefully with a serrated knife
Your biscotti loaf won't be firm all the way through after the first bake. If you try to slice it with even a sharp, nonserrated knife, the center will probably collapse.
If you don't have a clean cut on each side of the cookies you're slicing, they won't crisp evenly in the oven during the second bake. A large bread knife is best, but even a tomato knife is preferable to a chef's knife.
Slice your once-baked loaf of gluten free biscotti on the bias
Slicing the loaf into individual biscotti cookies on the bias just means on an angle, so you get the most flat surface area on either side of each cut. For the easiest slicing, try shaping your original log with the short sides both sharply angled in the same direction.
Substitutions and variations for gluten free biscotti ingredients
This gluten free biscotti recipe is already naturally dairy-free. Some Americanized recipes contain some oil or butter, but the only fat in this cookie dough (other than the chopped almonds, if you use them) is egg yolks.
Can you make this recipe into gluten free vegan biscotti?
If you'd like this recipe to be vegan, you'll need to replace the eggs. Since there are only 2 eggs, you may be able to replace them with one "chia egg" each.
To make two chia eggs, place 2 tablespoons ground white chia seeds in a small bowl with 2 to 3 tablespoons lukewarm water. Mix, and allow the mixture to sit until it gels.
Can you replace the chopped almonds with other mix-ins?
Yes! Other relatively dry mix-ins like miniature chocolate chips or toasted chopped hazelnuts will act like the almonds, and absorb some of the moisture in the loaf.
Mix-ins with more moisture, like small pieces of dried fruit, won't absorb moisture. Follow the recipe instructions for baking the biscotti when the almonds have been left out, and bake for a few more minutes at each stage.
Can you make gluten free biscotti with almond flour?
You can't replace the all purpose gluten free flour blend in this recipe with almond flour, but I do have a recipe for almond flour chocolate almond biscotti that you might like! And for general tips and plenty of other recipes, please visit our best gluten free cookies with tips and FAQs.
FAQ
How do you keep biscotti from spreading?
Measure your ingredients by weight, not volume, and your biscotti dough will be extremely thick. It will rise up and out a bit during the first bake, and then not at all after the loaf is sliced and baked again.
Why are my biscotti not crunchy?
If your biscotti aren't crunchy, you probably didn't bake them for long enough. They also may not have cooled enough before you broke into them, as they crisp during cooling.
If you store your biscotti in a plastic container or froze them after baking, they will soften as they absorb moisture. Store them in a sealed glass container at room temperature to maintain their texture.
Why did my biscotti crack on top?
If your original loaf of biscotti cracks during the first bake, your oven temperature may have been too high. You want the loaf to rise slowly at 350°F.
A little crack on top isn't a big problem, though. Just let it cool until no longer hot to the touch, and slice it very carefully by sawing back and forth with a serrated knife before the second bake.
Is biscotti dough supposed to be sticky?
Yes! The initial biscotti dough is relatively dry, but very sticky. You can moisten your hands a bit before shaping it, to make handling easier.
How crispy should biscotti be?
Biscotti should be as crispy as you like it! If you like it crispier, bake it longer (but not at a higher temperature).
How to make the best gluten free biscotti, with almonds or not!
Best Vanilla Gluten Free Biscotti (Easy & Delicious)
Crispy, crunchy gluten free biscotti made with or without finely chopped almonds, are naturally dairy-free and turn out perfect every time. You'll be amazed how easy they are to make—and how flavorful they are!
Ingredients
1 ¼

cups

(

175

g

) all purpose gluten free flour blend

(See Recipe Notes)

½

teaspoon

xanthan gum

omit if your blend already contains it

¼

cup

(

36

g

)

cornstarch

(See Recipe Notes)

1

teaspoon

baking powder

¼

teaspoon

kosher salt

½

cup

(

100

g

)

granulated sugar

¾

cup

(

84

g

)

raw almonds

chopped finely (optional)

2

(

100

g (weighed out of shell)

)

eggs

at room temperature, beaten

2

teaspoons

pure vanilla extract

(See Recipe Notes)

1

teaspoon

pure almond extract

(See Recipe Notes)

Coarse sugar

for coating (optional)

Melted dark chocolate

for dipping (optional)
Instructions
Preheat your oven to 350°F. Line a small rimmed baking sheet with unbleached parchment paper and set it aside.

In a large bowl, place the flour blend, xanthan gum, cornstarch, baking powder, salt, and granulated sugar, and whisk to combine well. Add the optional chopped almonds, and mix to combine.

Add the eggs, vanilla extract and almond extract, and mix to moisten all the dry ingredients in the beaten eggs and extracts. It's helpful to press down with the bowl of the mixing spoon.

With clean, dry hands, knead the cookie dough until smooth. It should hold together very well after it's all been moistened.

Place the dough in the center of the prepared baking sheet, and shape with wet hands into a loaf that is 7-inches long x 3-inches wide x 1-inch thick.

If you're using the coarse sugar, moisten the top of the raw loaf with wet hands until it glistens. Sprinkle the coarse sugar in an even layer on top. Press down to help the sugar adhere.

Place the baking sheet in the center of the preheated oven and bake until lightly golden brown and firm to the touch, about 20 minutes. If you haven't used the chopped almonds, the loaf will take a few minutes longer in the oven to become firm to the touch.

Remove the baking sheet from the oven and allow the loaf to cool for at least 10 minutes, or until only slightly warm to the touch.

Lower the oven temperature to 300°F.

Using a large, serrated knife, slice the loaf carefully in cross-section on the bias into 10 to 12 pieces. Cut the slices carefully by sawing back and forth with the serrated knife. Each piece should be about 1/4-inch thick.

Place the pieces back on the prepared baking sheet, cut-side down and spaced about 1-inch apart from one another. Return the baking sheet to the oven and bake for 10 minutes.

The bottoms of the biscotti will have begun to brown lightly. Flip each of the cookies over on the baking sheet.

Return the baking sheet to the oven to bake until the underside of the cookies is lightly golden brown. That will take about another 10 minutes if you've used almonds, 15 minutes if you haven't.

For crunchier cookies, bake until golden brown on both sides, flipping as necessary and returning the baking sheet to the oven to finish baking. Do not bake the cookies long enough that they burn.

Remove the cookies from the oven and allow them to cool to room temperature before serving. The cookies will crisp as they cool.

Once cool, the biscotti can be dipped in melted chocolate on one end, one side, or not at all.

Store biscotti at room temperature in an airtight container for 2 days. Freeze any leftovers tightly wrapped in a freezer-safe container.
Notes
About the gluten free flour blend

.
I like this recipe best when it's made with a combination of Better Batter gluten free flour original blend (or our mock Better Batter) and cornstarch. If you're using Cup4Cup gluten free flour blend (or our mock Cup4Cup), which is already high in cornstarch, replace the cornstarch with another 1/4 cup (36 g) Cup4Cup.
About the vanilla and almond extracts

.
You can use any combination of pure extracts you like, but don't use more than 1 teaspoon of almond extract as it's quite potent. When I add chopped almonds, I use 1 teaspoon of almond extract and 2 teaspoons vanilla extract. Otherwise, I use 1 tablespoon vanilla extract and sometimes even add some vanilla seeds or vanilla bean paste.
Originally published on the blog in 2013. Recipe adapted to provide option of eliminating almonds. Most photos, text, and video new.