Warm, comforting gluten free cinnamon buns, made without yeast so there's no rising time. Ready in less than an hour from start to finish, this is how you get your quick cinnamon-sugar fix!
Food isn't love. Everybody knows that! But let's just say, for the sake of argument, that maybe it was love…
When you're sad about something and, say, eat your feelings, that works for, like, the moment that you're actually eating. That warm, cinnamon goodness all through the tender dough of the cinnamon bun might feel like love.
But what about baking for someone else? I'm telling you right now, as I've experienced this first hand more times than I can count, that that is love. It's not like every time my kids feel sad, I ply them with sugar. But when I know that cinnamon rolls are a favorite, and that saddest teenage child smells them baking in our kitchen?
LOVE. On both sides of that equation. The fact that you went out of your way to bake for someone feels like love for the baker and the eater. It just does.
And if you're worried about baking with yeast, these yeast free gluten free cinnamon buns are the perfect place to start. Leavened only with baking powder and eggs, they're a sure thing. No finicky yeast to deal with!
This recipe was first reprinted on the blog on the publication day of Gluten Free on a Shoestring Quick & Easy, my second cookbook. It's from the very pages of that book, and I remember being so proud to share it with you!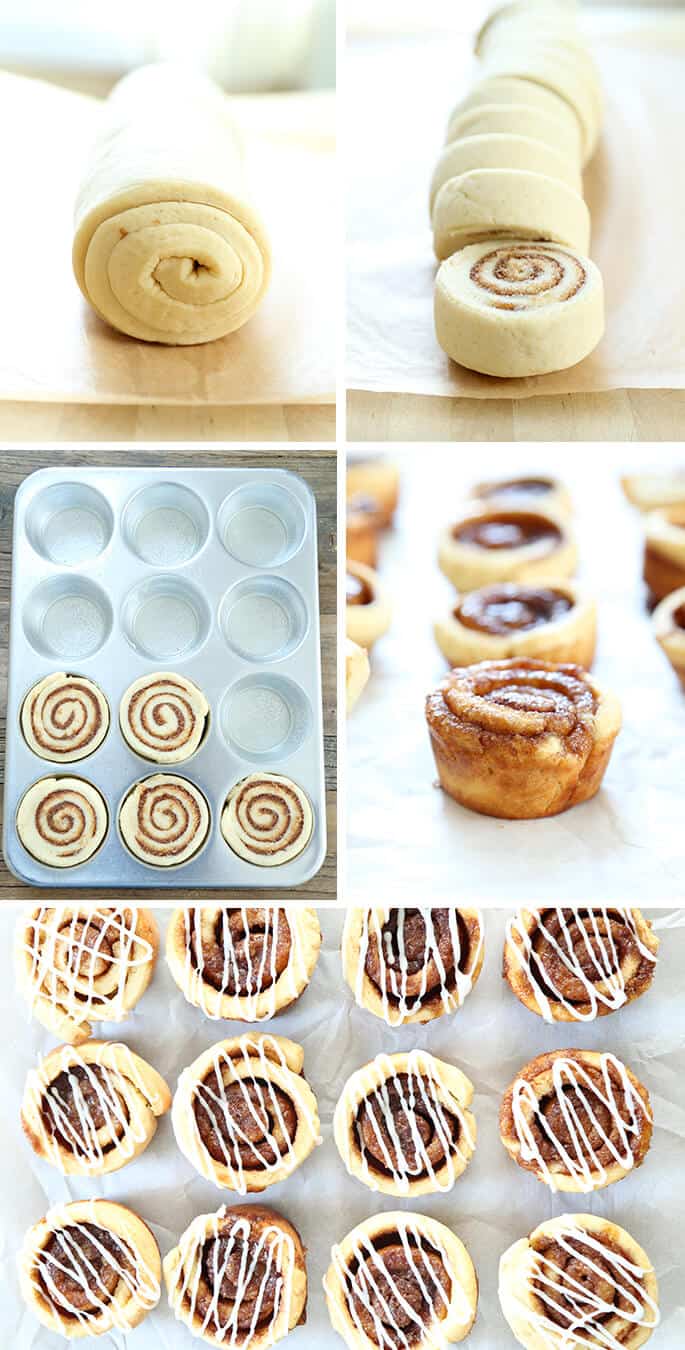 The dough for these yeast free gluten free cinnamon buns is smooth and even silky. With no more than a sprinkling here and there of flour as you work, it's truly a pleasure to roll out.
In just a few minutes, you're rolling up the dough. Then, all that's left is to slice it into 1-inch sections and nestle them into the wells of a muffin tin.
You can slice the roll of dough into individual pieces with a sharp knife, or even a piece of unflavored, unwaxed dental floss. It's a great way to get razor-sharp edges without crushing the roll at all.
After just 25 minutes in the oven, they're done. Classic, fluffy and soft cinnamon buns, with that perfect buttery cinnamon-sugar filling bursting out of the center and making those edges almost crispy.
A light drizzle of a simple glaze is all you need to make your lucky friends and family oooh and ahhhh.