Rich gluten free chocolate cake donuts with a thick glaze will satisfy your donut cravings, and they're ready in minutes. Make any day into a celebration, easily.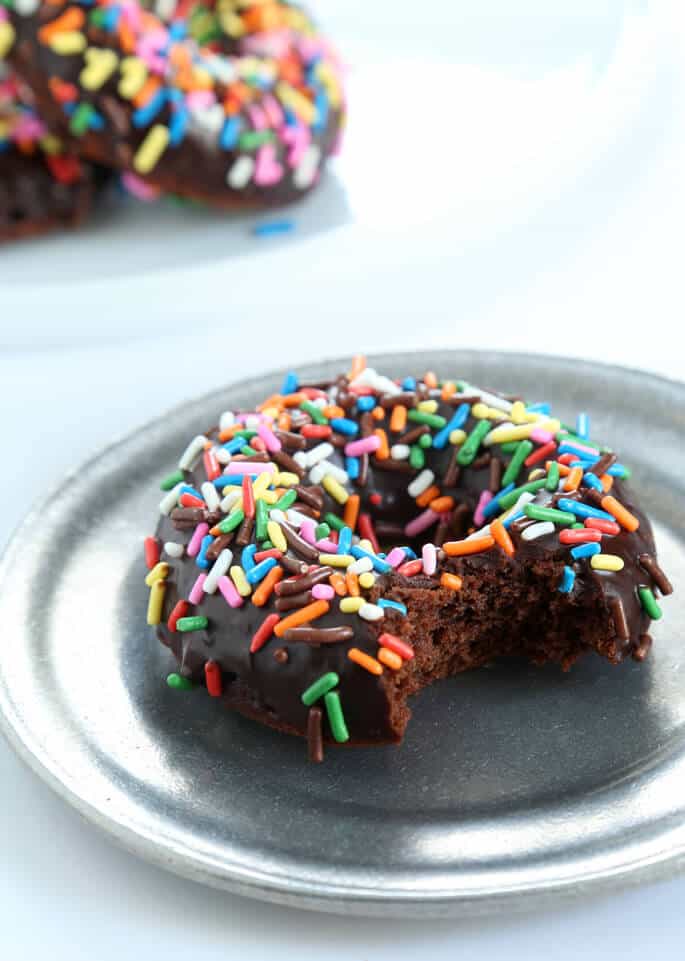 Why you need a great gluten free donut recipe
I started baking gluten free donuts when my gluten free son was in grammar school. They constantly bring Dunkin Donuts into school to celebrate absolutely anything (or nothing). I wanted him to have something just like what everyone else was eating.
If you have a kid with dietary restrictions, you do not enjoy the celebration days. Especially when my son was little, and I just didn't trust anyone to make sure he wasn't mindlessly eating something that wasn't safe for him.
…even if you don't really eat donuts
But even if you're the one who is gluten free, and you're long past grammar school birthday parties, you still need a gluten free donut recipe. Even if you never really liked donuts before you went gluten free, you will have that day when you realize you "can't" have one.
I believe that just knowing you can make a great gluten free donut has power. That's true whether you even make the donuts or not. Ever.
Baking gluten free donuts in a donut pan
I baked these in the oven in a simple nonstick Wilton donut pan. Be sure the donut pan you use has a tall enough center.
If your donut pan has a super short center column (button?), the batter may rise over it and close it up. And what's a donut without a hole?
They bake in just a few minutes in the oven. You can also make them as miniature donuts that way, too. If you're trying to mimic Dunkin Donuts, though, go with the full-sized donuts.
Baking gluten free chocolate donuts in a donut maker
If you happen to own one of the mini electric donut makers, I highly recommend baking these donuts in it. Just heat the machine, and pipe the batter into the wells, filling the lower half of the wells completely.
Close the machine, and let them bake. They'll be ready in about 3 minutes, but you'll know it's time to remove the donuts when they start to smell amazing.
You can't really beat those little machines for quick and easy. I have the Babycakes Donut Makers you see in the how-to video here, but there are also a bunch of companies that make a version of them. I'm sure they all work similarly.
I'm not proud of it, but I've impulse-bought more than one of the Dash brand miniature electric baking appliances. There may or may not be a single-waffle maker in my kitchen (there is ?).
If you can bake something miniature, and better yet without turning on the oven, I can't help myself. They're adorable, and neater and easier and the whole kitchen is nice and cool.
Gluten free chocolate donuts: Ingredients and substitutions
Gluten free dairy free chocolate donuts
There is dairy in two forms in these donuts: butter, and cream. Each can be replaced without much effect on the recipe.
The butter in the donuts can be replaced with Melt or Miyoko's Kitchen brand vegan butter. Earth Balance buttery sticks, which are not usually my favorite butter replacement, should work here, too.
In place of the cream, try canned coconut milk. Don't try using just coconut cream, though, which is too thick and doesn't have enough moisture. Shake up that can first.
How to replace the oil in these gf chocolate donuts
The combination of oil and cocoa powder is what makes these donuts rich and chocolatey. The butter gives them richness. It's the combination of all 3 ingredients that makes rich donuts without melted chocolate in the batter.
You can use any neutral oil you like. Grapeseed, canola, vegetable, or peanut oil will all work just fine.
Gluten free egg free chocolate donuts
There are two eggs in this recipe. You should be able to replace them both with one "chia egg" each.
To make one chia egg, combine 1 tablespoon ground white chia seeds + 1 tablespoon lukewarm water, mixed and allowed to gel. I wouldn't recommend trying simpler replacements, like applesauce.
What decorations are safe to use on these gf donuts?
According to Signature Brands, Cake Mate and Betty Crocker brand sprinkles and nonpareils are gluten free (at least in the U.S.). I figure if I'm going to give my kids a sugar rush before school, I'm going all the way, but of course the decorative touches are optional.
This recipe is from my second cookbook, Gluten Free on a Shoestring Quick & Easy. under the name "Yeast Free Chocolate Doughnuts." There are at least eight other recipes for gluten free donuts here on the blog. Some are yeast-raised, others are not. They're all amazing!
Gluten Free Chocolate Cake Donuts
These rich, tender gluten free chocolate donuts are made without any yeast in a mini donut pan or electric donut maker. Don't skimp on the quick chocolate glaze for a real treat!
Equipment
Donut pan

or mini electric donut maker
Ingredients
For the donuts
1 ½

cups

(

210

g

) all purpose gluten free flour blend

(I used Better Batter; click thru for appropriate blends)

¾

teaspoon

xanthan gum

(omit if your blend already contains it)

6

tablespoons

(

30

g

)

unsweetened natural cocoa powder

1 ½

teaspoons

baking powder

¼

teaspoon

baking soda

¼

teaspoon

cream of tartar

¼

teaspoon

kosher salt

½

teaspoon

freshly grated nutmeg

⅔

cup

(

145

g

)

packed light brown sugar

4

tablespoons

(

56

g

)

unsalted butter

melted and cooled

4

tablespoons

(

55

g

)

neutral oil

like canola, vegetable, grapeseed, peanut oil

2

(

100

g (weighed out of shell)

)

eggs

at room temperature, beaten

1 ½

teaspoons

pure vanilla extract

⅞

cup

(

7

fluid ounces

)

heavy cream

at room temperature
For the glaze
1

cup

(

115

g

)

confectioners' sugar

1

tablespoon

(

5

g

)

unsweetened natural cocoa powder

1

teaspoons

milk (any kind)

plus more as needed

Gluten free sprinkles

for decorating (optional)
Instructions
Make the donuts.
Preheat your oven to 350° F. Grease a miniature donut pan or muffin tin and set it aside.

In a large bowl, place the flour, xanthan gum, 6 tablespoons cocoa powder, baking powder, baking soda, cream of tartar, salt, nutmeg, and brown sugar, and whisk to combine well.

Add the butter, oil, eggs, vanilla, and cream, mixing to combine after each addition until combined. The batter will be thick.
To bake in a donut pan.
Fill the wells of the donut pan or muffin tin about 2/3 of the way full. For perfectly even donuts, transfer the batter to a large piping bag with an open tip, and pipe the batter into each well.

Place in the center of the oven and bake for about 8 minutes, or until the donuts are just set. Allow to cool in the pan for 5 minutes before transferring to a wire rack to cool completely.
To bake in an electric Mini Donut Maker.
Instead of preheating your oven, warm the doughnut maker according to the manufacturer's directions.

Fill the bottom of the wells of the machine completely with batter (made easier if you place the donut batter in a piping bag fitted with a medium-size open piping tip), then close and secure the lid.

Allow to bake for 3 minutes or until the donuts begin to smell fragrant.

Open the doughnut maker, and remove the doughnuts with the remover tool included in the package.

Transfer to a wire rack to cool completely.
Make the glaze.
In a small bowl, place the confectioner's sugar, remaining 1 tablespoon cocoa powder, and 2 teaspoons milk or buttermilk and mix to combine.

Add more milk or buttermilk by the half teaspoon until you have a smooth, but pourable liquid.

Working quickly, dip the top of each of the cooled doughnuts in the glaze, turn back and forth a bit to coat well, invert the doughnut so the glaze is facing up, sprinkle with the optional sprinkles, and place the donut, glazed side up, to a piece of parchment paper.

Allow the donut to sit until the glaze is set.