Traditional gluten free chocolate chip cookies get an upgrade with this recipe for bakery-style pumpkin chocolate chip cookies. Packed with fall flavors, these chewy cookies are so delicious and satisfying!
Get those pumpkin spices ready, because fall means baking cookies. At least I didn't say pumpkin spice latte, right?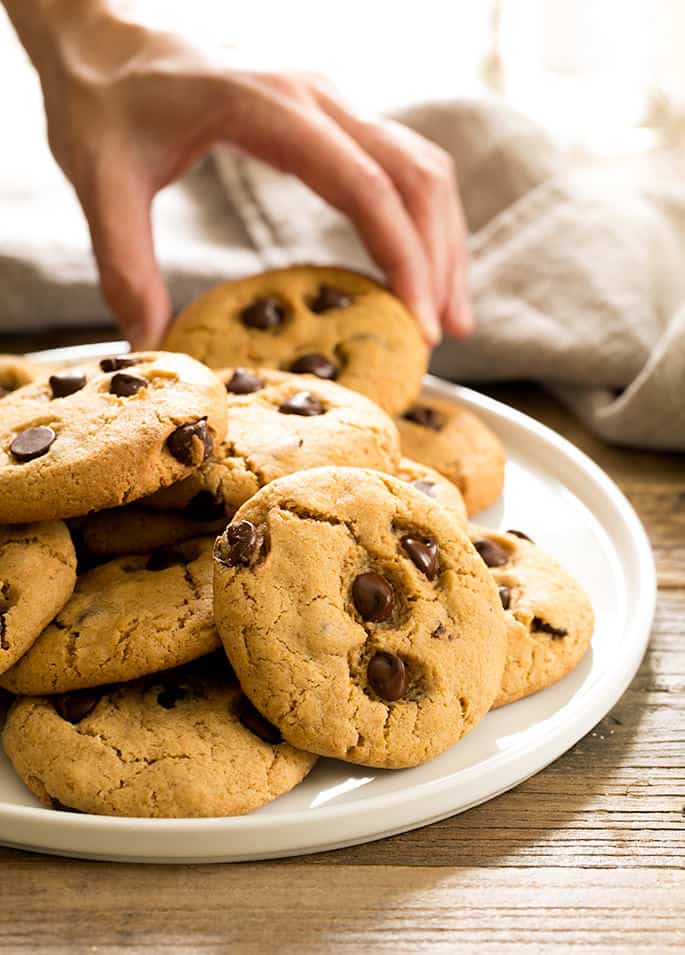 Why you'll love this gluten free pumpkin chocolate chip cookies recipe
These thick and chewy cookies are packed with deep, rich pumpkin flavor, but they mostly look like regular chocolate chip cookies. Between the rich, sweet pumpkin butter and the beautiful aromas of the pumpkin pie spice, you won't miss any of the tastes of the season.
The texture of the cookies is chewy all the way through, and they're stable enough right out of the oven that you can break one open within minutes for that ooey, gooey cookie experience.
The cookies are easy to make with basic gluten free pantry ingredients, plus some pumpkin pie spice and pumpkin butter. If you've never heard of pumpkin butter, you're in for a treat.
You'll want to buy out your local store's stock of pumpkin butter, or clear their shelves of canned pumpkin to make your own pumpkin butter. Because the cookies are so easy, freeze well, and are so flavorful, this is one of my favorite gluten free pumpkin recipes on the site.
Why pumpkin butter for these gluten free pumpkin spice cookies?
Baking with regular canned packed pumpkin is less than ideal. It has so much moisture that it tends to make everything kind of spongy.
If you try to make up for the extra moisture with, say, more gluten free flour, everything else is out of balance in the recipe. Plus, packed pumpkin isn't as rich in pumpkin flavor as you might expect.
In fact, pure canned packed pumpkin often isn't made of pumpkin at all. Instead, it's often butternut squash!
You can purchase packaged jars of gluten free pumpkin butter, and I do that sometimes. Trader Joe's has a nice jar of it that they sell in the fall.
Pumpkin butter is a specialty item, though. So it tends to be expensive.
If you make your own, it should stay fresh in the refrigerator for at least 2 weeks. The cooked sugar acts as a preservative.
Can I use canned pumpkin in place of pumpkin butter in this recipe?
Well, you can't make this recipe with pure canned pumpkin as a replacement for pumpkin butter, for all the reasons pumpkin butter is special. It has much more flavor, and much less moisture.
What if you don't have pumpkin butter, and you aren't willing to make it, but you'd still like to make pumpkin chocolate chip cookies? Make a really small batch of pumpkin butter!
Pumpkin butter, on the other hand, is nothing more than pumpkin (either roasted at home or canned) cooked down with pumpkin pie spice, maple syrup and a bit of apple juice. If you'd rather make a soft and cakey cookie without needing the pumpkin butter, try our plain gluten free pumpkin cookies.
What spices are in pumpkin pie spice blends?
"Pumpkin pie spice" is a blend of all the warm winter spices that you expect to breathe in when the season approaches. It has a mixture of ground cinnamon, ginger, ground allspice, cloves and nutmeg.
For just over 2 teaspoons of pumpkin pie spice, here's the formula:
1 teaspoon ground cinnamon
1/2 teaspoon ground ginger
1/4 teaspoon ground allspice
1/4 teaspoon ground cloves
1/8 teaspoon ground nutmeg
If you make pumpkin pie spice yourself, you'll need to stock up on the component spices. But you'll never have to scramble to go buy more of the store-bought kind, and you can customize it to your own tastes.
Leave out the allspice if it's just not your thing, or add some extra nutmeg because it reminds you of fresh egg nog. It's up to you!
FAQs
Can you freeze these gluten free pumpkin chocolate chip cookies?
Yes! These cookies, like most of the gluten free cookies recipes on the site, freeze really well. Once they're completely cool, you can just put them into a freezer-safe container and into the freezer.
Seal the container well, eliminate as much air as possible, and they'll stay fresh for months. You can let them defrost at room temperature, or pop them in the microwave for a few seconds on low power to help soften them.
Can you refrigerate pumpkin chocolate chip cookie dough?
You can refrigerate the raw cookie dough that you make for this recipe, but you don't want it to dry out at all before you bake it. And you don't want it to be cold when you bake it.
These cookies don't spread that much, which is why we flatten them into disks before baking them. If the dough dries out at all, or the dough is cold when you bake it, they won't spread at all.
What's the best gluten free flour for these cookies?
Like all of my recipes that call for an all purpose gluten free flour blend, you can use any of my recommended blends. I really like Better Batter (or our mock Better Batter blend) in this recipe.
How long do these GF cookies last?
Well, they're really delicious, so they won't last long! For real, though, they'll stay fresh at cool room temperature for about 2 days in a sealed container.
You can freeze them as described above for much longer. Frozen, they'll stay fresh for months, especially if you freeze them tightly (air exposure causes freezer burn).
GF Pumpkin Chocolate Chip Cookies: Substitutions
How to make gluten free dairy free pumpkin chocolate chip cookies
If you can't have dairy, you can replace the unsalted butter in this recipe with vegan butter. Miyoko's Kitchen and Melt brands are my favorite.
Butter-flavored Spectrum nonhydrogenated vegetable shortening would also work, but the cookies will spread even less.
Earth Balance buttery sticks might would work here, but they have more moisture. That might make the cookies spread too much.
And be sure to use dairy free chocolate chips, or another mix-in entirely. Chopped soft nuts like pecans or walnuts are delicious.
How to make gluten free egg free pumpkin chocolate chip cookies
There's only one egg in this recipe, so it's a great candidate for being replaced with 1 "chia egg" (1 tablespoon ground chia seeds + 1 tablespoon lukewarm water, mixed and allowed to gel).
The egg in this recipe helps bind the ingredients together, and gives the cookies some rise—but there is only one. If you have another egg replacer that you like to use, give it a try.
Gluten Free Pumpkin Chocolate Chip Cookies
Check out these gluten free pumpkin chocolate chip cookies. Enjoy a classic taste of fall with these soft and irresistible gluten free pumpkin chocolate chip cookies!
Ingredients
2

cups

(

280

g

) all purpose gluten free flour blend

(I used Better Batter)

1

teaspoon

xanthan gum

omit if your blend already contains it

½

teaspoon

baking soda

¼

teaspoon

kosher salt

2

teaspoons

pumpkin pie spice blend

See Recipe Notes

¾

cup

(

150

g

)

granulated sugar

¼

cup

(

55

g

)

packed light brown sugar

8

tablespoons

(

112

g

)

unsalted butter, melted

½

cup

(

125

g

) pumpkin butter, store-bought or homemade

1

(

50

g (weighed out of shell)

)

egg

at room temperature, beaten

1

teaspoon

pure vanilla extract

6

ounces

semi-sweet chocolate chips
Instructions
Preheat your oven to 350°F. Line rimmed baking sheets with unbleached parchment paper and set them aside.

In a large bowl, place the flour, xanthan gum, baking soda, salt, pumpkin pie spice, and granulated sugar, and whisk to combine well. Add the brown sugar and whisk, working out any lumps.

Add the melted butter, pumpkin butter, then the vanilla and beaten egg, and mix to combine. The dough will be thick but relatively soft. Keep mixing until all the dry ingredients are incorporated into the wet ingredients.

Add the chocolate chips. Mix until they're evenly distributed throughout the cookie dough.

Using a medium-size ice cream scoop or two spoons, place portions of the dough (each about 2 tablespoonsful) on the prepared baking sheet, about 1-inches apart. The cookies won't spread too much.

Roll each piece of cookie dough into a ball and press into a disk about 1/2-inch thick and return to the baking sheet.

Place the baking sheet in the center of the preheated oven and bake until the cookies are golden brown around the edges and set in the center, about 15 minutes. Remove from the oven and allow to cool on the baking sheet until firm.
Notes
For the pumpkin pie spice
To make your own pumpkin pie spice, combine 1 teaspoon ground cinnamon + 1/2 teaspoon ground ginger + 1/4 teaspoon ground allspice, 1/4 teaspoon ground cloves + 1/8 teaspoon ground nutmeg.
Originally published on the blog in 2012. Recipe modified in 2017, and again in 2021 to make somewhat softer cookies, text mostly new, photos and video new.