This is the master recipe for gluten free granola that you've been looking for! Endlessly customizable, with the perfect crispy granola clusters everyone loves.
It's made with plenty of good olive oil, raw nuts and seeds, coconut chips, maple syrup and certified gluten free oats—or with many potential substitutions to suit any diet!
Does granola have gluten?
Before we go any farther, let's answer the question that's on everyone's mind: Is granola gluten free? Do you have to shop for special ingredients to ensure these crunchy, caramelized morsels of goodness are safe for celiacs?
I'm happy to say that most granola is naturally gluten free — as long as you source your ingredients carefully, especially the oats.
Is granola gluten free?
Yes! Made in the classic style as this recipe is, with sugars, carefully selected gluten free oats, nuts, seeds, and coconut, there is no wheat or other sources of gluten in granola at all.
Why is some granola not gluten free?
Some granola is made with oats that are contaminated with gluten in the growing and/or manufacturing process. Other granola is not gluten free because it is made with wheat flour, wheat starch, or another contaminated or gluten-containing ingredient, making the granola not gluten free.
Oats are a controversial ingredient in the gluten free world. I talk about all the surprising truths about oats in another post, but what I'll say here is this: I'm comfortable using certified gluten free oats that follow the Purity Protocol when cooking for my family. It's okay if you aren't, and if you're undecided, I invite you to read more using the link above.
If oats are gluten free, why must some people with celiac disease avoid them?
Some people are sensitive or intolerant to the protein in oats, which is somewhat similar to gluten, the protein in wheat, barley, and rye. If you are on a gluten free diet and eating reliably gluten free oats and your body reacts poorly to eating oats, you may be sensitive them as well.
Why this is the absolute best gluten free granola recipe
The best granola is always crisp when you bite into it, can be served alone, as a topping for yogurt, or even as cereal with milk. If you're lucky enough to smell it baking, you'll never forget it.
There's a reason artisan-style granolas are sold at almost every farmer's market. It's as beautiful and delicious as a warm loaf of homebaked bread!
There are now quite a few packaged gluten free granolas that you can buy. But they're ridiculously expensive for a small bag—and I bet they have one or two ingredients you just don't like!
It's time you had a master gluten free granola recipe that you can make with everything you love, and nothing you don't. With my tips and tricks, and substitution suggestions, this is that recipe.
Why you should make your own gluten free granola
I feel like I could give you a million reasons why you should ditch store-bought granola and make it yourself. Instead, I've leave you with these:
There's no high fructose corn syrup or excessive sugar
There are no nasty preservatives or chemicals in this delicious granola
Homemade gf granola is more affordable than store-bought granola
It's so easy to make: just mix, spread, bake, cool, and eat!
You can use up leftover pantry ingredients — swap as needed
Gluten free granola is a healthy snack that satisfies your cravings for crunch
Your kitchen is going to smell so amazing
It's naturally gluten free, dairy free, and vegan — and you can skip the nuts!
When's the best time for gf granola?
Again, I think I could come up with a million different ways to enjoy homemade granola. But the truth is, no matter the time of day, you can't go wrong with granola!
Breakfast? Add some milk, and you've got gluten free granola cereal, or sprinkle it on top of your smoothie.
Lunch? Yogurt and granola are a match made in heaven. And have you ever had a bit of granola over salad? Try it, and thank me later.
Dessert? Some people like sprinkles on their ice cream. I like granola better. I also like to add some chocolate chips to my granola after it's done baking for a sweet treat.
Gluten free granola ingredients
Almonds – Granola should always be crunchy. So I usually make it with whole raw almonds that I chop roughly. Raw nuts that are solid like almonds bake slowly in the oven with all the other granola ingredients. They get coated with sugar, and come out crisp, but never hard. Softer raw nuts, like walnuts, pecans, or cashews can be used in place of almonds. Watch them carefully in the oven, though, as they burn rather easily.
Raw seeds – My favorite seeds for this gf granola recipe are pumpkin seeds, hemp seeds, and chia seeds. But the beauty of this recipe is that you can use whatever seeds you like best. Love sesame seeds? Throw them in! Want more omega-3s in your diet? Add flax seeds!
Coconut chips – This recipe calls for coconut chips, not shredded coconut. Coconut chips are wide, flat crunchy coconut flakes that will make a believer out of even the most dedicated coconut hater.
Old fashioned rolled oats – Traditional gluten free granola is made with certified gluten free oats. I buy Purity Protocol gluten free oats made by Bob's Red Mill (just be sure to get the one labeled gluten free!).
Salt – A lot of people underestimate how powerful salt can be. Yes, it can ruin food if you add too much, but when used in small amounts as an enhancer, it's kind of like a secret weapon. Add less than a teaspoon to this recipe, and it balances the sweetness in the most perfect of ways.
Sugar – Sugars do so much more in this gluten free granola recipe than sweeten the oats, nuts, seeds, and coconut! The three types of sugars (brown sugar, maple syrup, and Lyle's Golden syrup or honey) help coat everything in a thin, crackly, browned layer. And without sugar, there are no crunchy granola clusters.
Extra virgin olive oil – You can use nearly any fat to make this recipe, but I like extra virgin olive oil best. It's flavorful in a complementary way.
Dried fruit – The sky's the limit when it comes to dried fruit — you can make this gf granola sweet, sour, or tart, all based on the fruit you use. If you use raisins, cranberries, and other small fruits, don't worry about chopping them up. However, you'll want to dice larger dried fruit like apricots and dates.
Tips for making perfect gluten free granola
When I say that making homemade granola is easy, I mean it's E-A-S-Y. That said, I've still got some tips that will ensure your granola comes out better than ever.
Use parchment paper to line your pan
If you've ever worked with melted sugars, you know that things get sticky in a hurry. That's great for the finished product as that's what gives this homemade granola its satisfying crunch, but it's not so great when it comes time to clean up.
For this reason, it's imperative that you line your baking sheet with parchment paper before pouring the granola onto it. When you're done, just throw away the paper — voilà!
Don't skip steps when you're making granola
You might be tempted to bake the granola for 20 or 30 minutes at a time, rather than in 10 minute intervals. Resist the temptation!
Ask me how I know that skipping the intervals leads to granola that's nearly burned on the underside and pale and lifeless on top…
If you don't stop the baking and stir the granola fully, the sugars melt to the bottom. You want to redistribute all that flavor to every beautiful, delicious cluster.
Always bake gf granola low and slow
Homemade granola is best made in a low, low (300°F) oven in 10 minute intervals, stirring in between, until it's golden brown and caramelized. That way, it will never, ever burn.
Your granola is done baking when you say it is! I like to let mine bake until it becomes really fragrant, which signals that the nuts, seeds, oats, and coconut have browned.
After the granola is done baking, let it cool (for clusters!)
Your granola is done baking, and you've mixed in your choice of dried fruit. It's ready to eat, right?
Not just yet! You want to let the granola cool right there in the pan. The sugars solidify and the granola clumps in the most lovely way.
Once it's cool to the touch, you'll break it up into irregular clumps. This is the step that separates okay granola from the best gluten free granola!
How to store gluten free granola
As with anything you've baked until crisp (and you'd like to keep that way), store leftover granola in a glass container with a tight-fitting lid.
Don't use a plastic container or any type of bowl without a lid — they'll allow your granola to absorb moisture and lose crispness.
So long as you keep your granola in an airtight glass container, you can store it on your kitchen countertop for up to two weeks (though I highly doubt a batch or even two will last nearly that long!)
Should you make more granola than you can finish in a couple of weeks, you can store the excess in the freezer. Put it in a heavy-duty, freezer-safe bag with all the air pushed out, and it will last up to three months on ice.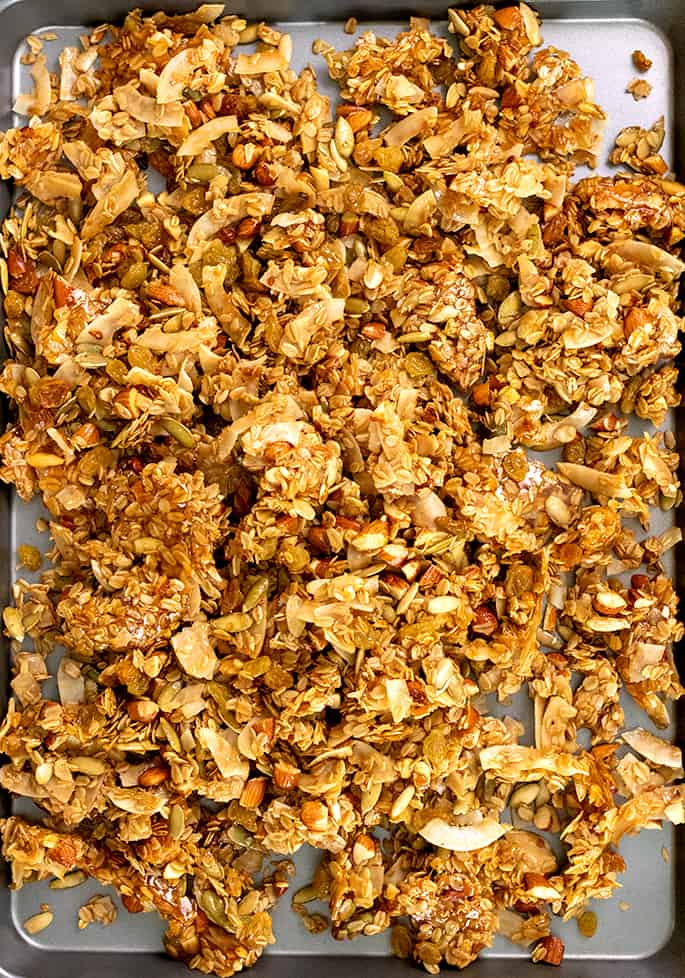 Gluten free granola substitutes
Gluten free, oat free granola
If you're avoiding oats for any reason, there are ways to substitute most forms of oats in gluten free baking. Here, you'd likely use beaten rice in place of oats, since it holds its shape very well. If you can find buckwheat flakes, you can try replacing the oats with that too.
Can you make grain free granola?
Oats may be gluten free when sourced properly, but they are a grain. If you'd like to make grain-free granola recipe, you'll love our recipe for Paleo granola, which is entirely grain-free.
Gluten free granola without coconut
Coconut chips are so nice, especially toasted. If you're dead set against coconut, just replace them with more raw nuts and seeds, whatever kind you like.
Gluten free, sugar free granola
I don't think you can use sugar alternatives to make granola. I doubt they'd caramelize in the oven and create clusters the same way as the sugars for which my recipe calls.
And everybody knows the clusters are the best part of granola.
This said, I do have ideas for how you can substitute the various sugars in the recipe.
Lyle's Golden Syrup substitute
Lyle's golden syrup is a much more neutral syrup than honey, and is similar in consistency. You can replace Lyle's with honey or agave nectar.
You could even use light or dark corn syrup in its place, but most people prefer to avoid those sugars (even though they're not the same as high fructose corn syrup, I promise!).
Pure maple syrup substitute
Pure maple syrup is ideal, since it has that rich, deep flavor everyone loves. It's also thin enough to easily coat all the tasty morsels.
Maple syrup is expensive, though. You can replace it, too, with agave nectar, which should be much cheaper.
Light brown sugar substitute
If you'd prefer to make refined-sugar-free granola, try using coconut palm sugar. Coconut palm sugar has similar depth of flavor to the molasses in brown sugar.
It's a coarse, granulated sugar, so grind it in a blender a bit first, or it won't dissolve completely in the oven.
Gluten free granola without olive oil
You can use a neutral oil that's liquid at room temperature, like grapeseed oil or even canola or vegetable oil. You can also use unrefined coconut oil, which is solid at cool room temperature, if you melt it first.
If your oil isn't properly liquefied when you add it to the other ingredients, it will clump. You'll have oily parts, and parts that are dry.
Gluten free, nut free granola
If you'd like to make gluten free nut-free granola, try replacing the almonds with more seeds (sunflower seeds are a good choice). You'll want some more bulk, so also try adding more coconut chips.
Gluten free, seed free granola
No! You don't have to use seeds. But I hope you'll consider it, especially if you're avoiding nuts.
Any sort of seeds will do. I usually use a combination of hemp seeds and pumpkin seeds.
Seeds add crunch and visual interest—without adding any overpowering flavor. They taste a bit "nutty," but they're not nuts.
Gluten free, dairy free granola
No substitutes are necessary here, because this gluten free granola recipe doesn't use any dairy!
Vegan, gluten free granola
If you're following a vegan lifestyle, you'll be pleased to know that this homemade gluten free granola recipe contains no animals products whatsoever, so it's naturally vegan friendly. Just avoid replacing the Lyle's Golden Syrup with honey, which is not vegan.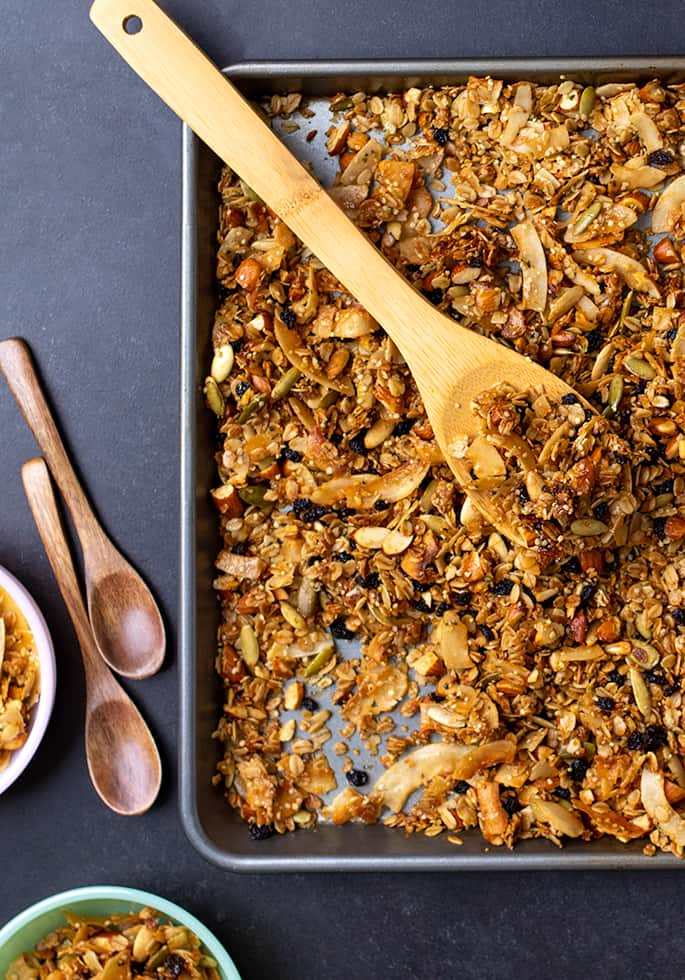 FAQs
Is all granola naturally gluten free?
If you're referring to store-bought granola, the answer is no. Many manufacturers use gluten-containing ingredients.
Even if you follow gluten free granola recipes like mine, you have to be extremely careful about which oats you pick up — believe it or not, not all brands are gluten free.
Are oats gluten free?
Here's the deal: yes, oats in their purest form are naturally gluten free.
However, many farmers grow oats in the same fields that they grow wheat, which means they can become contaminated with gluten.
On top of that, oats may also be processed in facilities that also process gluten-containing ingredients. This presents another opportunity for cross-contamination.
The only way to be certain that you're not exposing your family to gluten when cooking with oats is to purchase certified gluten free oats.
Is granola good for you?
All things considered, I believe this to be a healthy gluten free granola recipe. Some people think granola in general is unhealthy, but you've got to remember that they're typically referring to the prepackaged stuff that's full of high fructose corn syrup, preservatives, and other nasty ingredients.
This gf granola recipe is chock full of high-protein, low-carb nuts and seeds, vitamins and minerals from nearly every ingredient, and natural sweeteners.
Can I use quick oats instead of rolled oats for this homemade granola recipe?
Yes, so long as you purchase oats that are certified gluten free, you can use quick oats. Just keep in mind that the texture will be slightly different. I think the old-fashioned gluten free rolled oats offer more bite and crispiness.
Can I make this gluten free granola recipe with honey?
Yes, if you can't get your hands on Lyle's Golden Syrup, you can use honey in its place. Just note that if you're including honey for its nutritional value, you lose a lot of its benefits when you heat it up.
Can I make this gluten free granola recipe with coconut oil?
Yes, you can use unrefined coconut oil in place of the olive oil in this recipe — you just have to melt it first.
Why isn't my homemade gluten free granola sticking together?
Don't be too concerned if your "raw" granola isn't very sticky. Once the sugars start to melt, everything will come together.
Now, if your homemade granola isn't sticking together after you've baked, there are a couple of things that may have gone wrong. First, did you substitute any of the sugars? Low-calorie varieties just don't melt down the same way as the "real" stuff.
It's also possible that you didn't allow enough time or heat for the sugars to melt. Double-check your oven temperature — you want it low, but not too low. And be sure to bake in several batches, stirring in between, so the gooey sugar gets all over each ingredient.
Why isn't my gf granola crunchy?
It depends on the stage of the cooking process:
Straight of out the oven — the sugar needs to time to cool and re-solidify
After cooling down — you may have used high-moisture ingredients; lower the heat and cook a bit longer
After a few days — moisture from your home is affecting the granola; dry it out again on low heat for 10 to 20 minutes and store in an air tight container
Why didn't my gluten free granola make clusters?
There are several reasons why your granola may not be making clusters:
The baking sheet is too large and the granola is spread too far apart
The oven heat is not hot enough to melt the sugar so everything sticks together
Make sure to let the granola cool completely after baking, otherwise you won't have clusters
Master gluten free granola recipe, step by step
Master Gluten Free Granola Recipe | Easy, Customizable, Delicious
This is the master recipe for gluten free granola that you've been looking for! Endlessly customizable, with the perfect crispy granola clusters everyone loves.
Ingredients
1 ¼

cups

(

140

g

)

raw almonds

roughly chopped

1

cup

(

112

g

)

raw seeds

(like pumpkin, hemp, chia)

1

cup

(

80

g

)

unsweetened raw coconut chips

3

cups

(

300

g

) certified gluten free old fashioned rolled oats

¾

teaspoon

kosher salt

½

cup

(

109

g

)

packed light brown sugar

¼

cup

(

84

g

)

Lyle's Golden Syrup

(honey, or Agave nectar work, too)

½

cup

(

168

g

)

pure maple syrup

½

cup

(

112

g

)

extra virgin olive oil

1 ½

cups

dried fruit

raisins, dried blueberries, chopped dried apricots, etc.
Instructions
Preheat your oven to 300°F. Line a large rimmed baking sheet with unbleached parchment paper, and set it aside. You can use a nonstick half sheet baking sheet.

In a large bowl, place chopped almonds, seeds, coconut chips, oats, salt and light brown sugar and mix to combine (working out any lumps in the brown sugar).

Add the Lyle's golden syrup (or honey or Agave), maple syrup and olive oil, and mix to combine well, coating all the dry ingredients with the wet.

Scrape the granola onto the prepared baking sheet, and spread into a single layer, but a bit thinner toward the center as the center bakes last.

Place in the center of the preheated oven and bake for 10 minutes. Remove from the oven, stir with a large mixing spoon until everything is rearranged.

Spread back into an even layer. Return the granola to the oven and bake for another 10 minutes.

Remove the pan from the oven and stir once more. Spread again into an even layer.

Return the baking sheet to the oven once again and bake for another 10 minutes. Remove the pan from the oven.

If the granola looks golden brown all over, and is strongly fragrant, it should be done baking. You can always stir it once more and bake for another 5 minutes if you like.

Remove the pan from the oven. While the granola is still on the baking sheet, add the dried fruit, and stir to distribute the fruit evenly throughout the granola.

Allow the granola to cool on the sheet pan for at least 10 minutes before breaking it into chunks and smaller pieces.

Transfer the granola to a glass container with a lid. That will keep it crunchy until you are ready to serve it. Store at room temperature.
Notes
Originally published on the blog in 2012. Updated in 2016, and again in 2021; more text content and resources added in 2022 (recipe unchanged).

Nutrition
Calories:
638
kcal
|
Carbohydrates:
69
g
|
Protein:
12
g
|
Fat:
37
g
|
Saturated Fat:
10
g
|
Polyunsaturated Fat:
7
g
|
Monounsaturated Fat:
19
g
|
Trans Fat:
1
g
|
Sodium:
231
mg
|
Potassium:
511
mg
|
Fiber:
9
g
|
Sugar:
40
g
|
Vitamin A:
2
IU
|
Vitamin C:
1
mg
|
Calcium:
128
mg
|
Iron:
4
mg