These homemade gluten free Samoas cookies are the perfect combination of buttery shortbread, soft and rich caramel, toasted coconut, and of course, chocolate. They may make gluten free Girl Scout Cookies, but they don't make these!
Why these are the best gluten free Samoa cookies
Sorry, Girl Scouts, but you have forsaken us. We have no choice but to take matters into our own hands. These gluten free Samoas (a.k.a. Caramel Delights) are way, way better than the original.
And the original is one great cookie. But these are better for one main reason: coconut chips. Shredded coconut tastes like dental floss.
Coconut chips (which I buy in my local health food store, and sometimes on Amazon) are nice, big flakes of shaved coconut. When you toast it, and then crush it, you'll never want to touch the shredded stuff again.
Tips for making the best gluten free coconut Samoa cookies
Perfecting your Samoa cookies dough
These gluten free Samoas begin with a gluten free shortbread base that doesn't spread even a millimeter in the oven.
Resist the urge to add more butter to the dough to make it more pliable! If the cookie dough were super simple to roll out, it would have too much butter, and would bubble and spread as it baked.
Dipping your gluten free Samoa cookies
The trickiest part of assembling these homemade gf Girl Scout Cookies is dipping them first in the melted caramel, and then in the chocolate, without breaking any of the cookies. I have a few tips, since I've been there so many times!
Here's what I recommend:
Make sure your cookies aren't too fragile by making them closer to 1/4-inch than 1/8-inch, and not cutting a large circle out of the center.
Make sure the liquid caramel or melted chocolate you're using for dipping is in a narrow container that's deeper than it is wide.
Hold the plain baked cookies gently by your thumb on the outside edge and your forefinger in the center, not on the other outside edge. This puts the least amount of stress on the cookie, so it won't crack.
Try brushing the base layer of caramel onto each cookie with a pastry brush, rather than dipping the cookies into the caramel. You'll get a thinner layer of caramel, but it should be enough to keep the coconut layer stuck to the cookie.
Press the coconut-caramel layer onto the cookies in clumps using moistened fingertips, and leave the cookie on a flat surface while you do.
Let the cookies set after the coconut caramel layer and before the chocolate layer, so they're as stable as possible.
How to store gluten free Samoa cookies
Sugar is a great preservative, and so is a layer of chocolate. These cookies have chocolate on one side, and plenty of caramel on the other, so they keep really well at room temperature.
For longer storage, you can freeze them in a single layer on a baking sheet, but the chocolate may "bloom" or develop white streaks. They're not pretty, but they are harmless.
Gluten free Samoa cookies: ingredients
The best gluten free flour blend
For the perfect gluten free shortbread cookies that are crisp and snappy, but not too fragile, I like using a gluten free pastry flour best for this recipe.
The best gluten free soft caramels
I typically use Kraft brand caramel candies. After you unwrap them, if you melt them very slowly in a double boiler, they should melt without burning.
You can also use the super simple microwave caramel recipe from our Chocolate Caramel Shortbread recipe. You'll want to cook the caramel mixture to the full 235°F, or the softball stage, or it won't set after you use it to decorate the cookies.
Instead of cooking the caramel less, to make it thickly pourable and suitable for dipping, I recommend adding lukewarm milk to the mixture afterward. Add the milk slowly, and work quickly once you achieve the right consistency.
Gluten free Samoa cookies: substitutions and variations
Dairy free, gluten free Samoa cookies
There's dairy in a few forms in this recipe, but I think you can replace each of them. Here goes:
For the butter in the cookies, use vegan butter. My favorite brands are Melt and Miyoko's Kitchen.
For the caramel layer, use our recipe for microwave caramel, and replace the butter with vegan butter and the sweetened condensed milk with coconut-based sweetened condensed milk. The milk you use to thin the caramel should be your favorite nondairy milk.
Make sure you're using dairy free chocolate to melt.
Vegan, gluten free Samoa cookies
If you eliminate the dairy, you'll have eliminated all the animal products in these cookies. So dairy free gluten free cookies are also vegan cookies, in this instance.
Gluten free, paleo Samoa cookies
If you follow the instructions above for replacing the dairy, you should be able to make this recipe into Paleo Samoa cookies by using our recipe for almond flour cutout sugar cookies and replace the refined granulated sugar with Lankato monkfruit granulated sugar alternative.
FAQs
Are Samoas gluten free?
No, unless you use this recipe to make them yourself! The Girl Scouts bakeries started making a few gluten free cookies, but none are like these.
Caramel Delites vs Samoas: what's the difference?
They're the same thing! Some of the Girl Scout bakeries that make their cookies call them Caramel Delites, and others Samoas.
Can I make GF Samoa Girl Scout cookie dough ahead of time?
You can make the cookies ahead of time, but I wouldn't make the raw dough ahead and let it sit, as it will harden and become more difficult to roll out.
What can I do with leftover caramel sauce coating?
Try adding it to more crushed, toasted coconut. Mix together, and press the mixture into balls. Drizzle with more melted chocolate!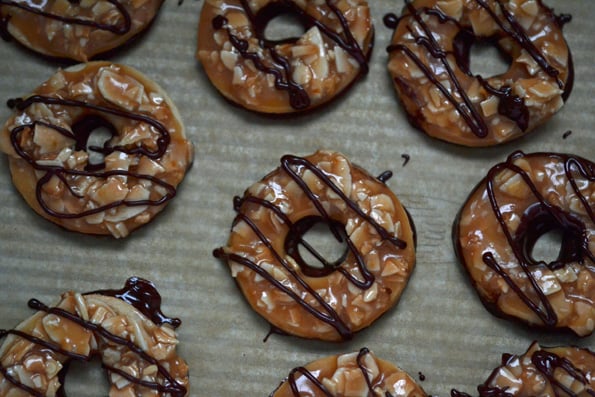 Homemade Gluten Free Samoas Girl Scout Cookies
Don't wait around for Girl Scout season! Enjoy gluten free Samoa cookies whenever you want with this easy recipe. These copycats taste better than the originals.
Equipment
2-inch plain round cookie cutter

1/2-inch plain round cookie cutter
Ingredients
For the cookies
1 ¾

cups

(

245

g

) all purpose gluten free flour blend (I used my Better Than Cup4Cup blend; my gf pastry flour would also work well)

½

teaspoon

xanthan gum

omit if your blend already contains it

⅛

teaspoon

kosher salt

½

cup

(

100

g

)

granulated sugar

8

tablespoons

(

112

g

)

unsalted butter

at room temperature

1 to 2

tablespoons

lukewarm water
For the coconut caramel layer
2

cups

(

120

g

)

unsweetened coconut flakes/chips

8

ounces

soft caramels

unwrapped (See Recipe Notes)

1 to 2

tablespoons

lukewarm milk

as necessary
For the chocolate layer
8

ounces

semi-sweet chocolate

chopped

2

tablespoons

(

24

g

)

vegetable shortening
Instructions
Preheat your oven to 325°F. Line a rimmed baking sheet with unbleached parchment paper and set it aside.
Make the cookies.
In a large bowl, place the flour, xanthan gum, salt and sugar, and whisk to combine well. Add the butter and 1 tablespoon water, and mix to combine.

The dough will be a bit dry, and you will have to knead it with your hands to get it to come together. If necessary for the dough to hold together, add a second tablespoon of water, 1 teaspoon at a time.

Press the dough into a disk, and then place the disk between two sheets of unbleached parchment paper or simply on top of one piece of paper. Roll the dough between 1/8-inch and 1/4-inch thick.

Cut out 2-inch rounds with a cookie cutter, then cut out a 1/2-inch circle in the center with either a 1/2-inch cookie cutter or the underside of a pastry tip. Gather, reroll and cut any scraps into rounds.

Remove the shapes from the paper by peeling back the parchment paper from the bottoms of the cookies (they will be a bit fragile). Place the cookies about 1-inch apart or less on the prepared baking sheet (they should not spread during baking).

Place the cookies in the center of the preheated oven. Bake until the cookies are set and just beginning to brown around the edges (about 8 minutes).

Allow the cookies to cool for a few minutes on the baking sheet until they are firm enough to transfer to a wire rack to cool completely.
Make the coconut caramel layer.
Toast the coconut. Place the coconut chips in a single layer on a rimmed baking sheet, and place it in the center of the preheated oven. Bake, stirring once, until the chips are lightly golden brown (about 8 minutes).

Remove the chips from the oven and allow to cool slightly before crushing the toasted chips in your hands into relatively small shards of toasted coconut.

Remove the caramels from their wrappers and melt them in a double boiler or in a small, microwave safe bowl on 70% power at 30-second intervals, stirring in between, until melted and smooth.

Add milk to the melted caramels as necessary to thin the liquid to a thickly pourable consistency.
Assemble the cookies.
Brush the top of each cooled cookie with the melted caramel, or dip one side of each cooled cookie lightly in the melted caramel mixture. Place each cookie, caramel-dipped side up, on a piece of parchment paper. This will help the coconut mixture stick to the cookies.

Add the toasted and crushed coconut chips to the rest of the melted caramel mixture and mix to combine. With a butter knife, small offset spatula, or moistened fingers, press the clumps of coconut-caramel on top of the caramel layer on each cookie in a single layer, a bit more than 1/8 inch thick. Press gently to help them adhere.

Place the assembled cookies in the refrigerator until they are set (about 10 minutes), or allow them to set at room temperature (it will take a bit longer). While the cookies chill, make the chocolate coating.
Melt the chocolate and complete the cookies.
Melt the chocolate and shortening in a double boiler or a small, microwave safe bowl, on 70% power at 30-second intervals, stirring in between, just until melted and smooth.

Remove the cooled cookies from the refrigerator, and carefully dip the bottom of each cookie in the melted chocolate, and place the cookie back on the parchment paper.

Drizzle a bit more chocolate over the top of each cookie in a zig-zag pattern. Allow to sit at room temperature until the chocolate is set.

Store in an airtight container in the refrigerator until ready to serve. Freeze any leftovers.
Notes
For the caramels

.
I typically use Kraft brand caramel candies. You can also use the super simple microwave caramel recipe from our Chocolate Caramel Shortbread recipe.
Originally published on the blog in 2013. Most images, video, and much of the text new; recipe mostly unchanged.