Making gluten free puff pastry is a snap, when you have the right recipe. If you've ever had trouble understanding the butter packet, or the "turns" that create all those flaky layers, a how-to video is just the thing you need.
If you can make gluten free pie crust, then you can make gluten free puff pastry. And you can make pie crust. I promise. There are a few basic principles to keep in mind whenever you're making any pastry of any kind. Gluten free or not.
First, everything should be kept cold—but not rock solid cold. That is especially true when it comes to puff pastry, as opposed to, say, gluten free biscuits. The larger the piece of butter you're working with, the warmer it can be without causing problems. Let me explain.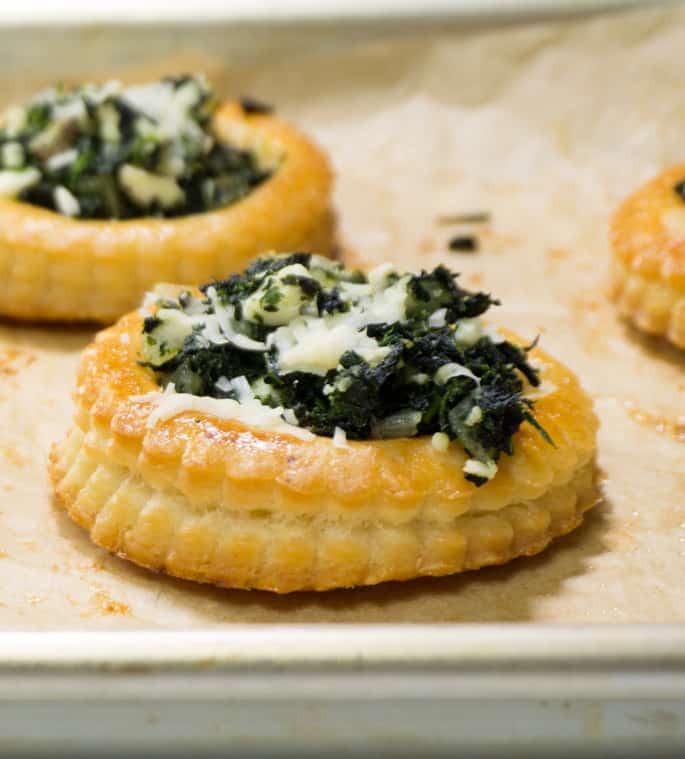 Puff pastry is made by creating a simple pie crust, and wrapping it around a packet made entirely of 1 whole cup of butter. Once the large packet of butter is wrapped in the pie crust, it's rolled out into a rectangle. The first "turn" is simply the first time the dough-wrapped butter packet is rolled out into a rectangle and folded in thirds.
After that first turn, the tripled dough is made up of 3 layers of butter surrounded in alternating fashion by 6 layers of dough. When the turns are repeated between 4 and 6 times, the layers multiply exponentially.
In pastry-making, the butter is kept cold before going into the hot oven. Like ice, when butter is cold, it contracts or is made smaller. When it is heated quickly, like in an oven, it expands. When the butter is in many, many layers, and is surrounded on every side by the dough, it pushes out the dough and creates all those flaky layers we love.
Larger pieces of butter can warm, but once chilled will regain their original shape, rather than melting into the surrounding dough. If you try to shape the butter packet when the butter is rock solid, you'll find it almost impossible to shape.
If you being with slightly warmer butter in creating the packet, you can shape it as you like, and then chill it until it's firm. It will then retain its proper shape during the rest of the shaping—and during baking.
This puff pastry can be frozen for months (just defrost overnight in the refrigerator before using), and is easiest to work with when it's been sitting out on the counter for about 10 minutes.
Use it for super easy sweet desserts, like the open apple tart you see above. Or make it savory, like I did by making puff pastry cups. I topped them with the filling from the Spanakopita Bites in my new cookbook, Gluten Free Small Bites. They're also lovely just filled with pastry cream or whipped cream and some fresh berries.