This easy gluten free apple cider donuts recipe is the cure for what ails you when you go to the apple orchard—but can't buy their sweet-smelling baked goods!
Why you need to make these gf apple cider donuts
Every fall during my gluten free son's young life, we'd go apple picking. And every fall, the smell of apple cider donuts would hang in the air and had the power to make my gluten free son and me downright miserable.
So we did the only thing that makes any sense at all: bring our own gluten free apple cider donuts. And pick up some more apple cider while we're at the orchard, so we can make more donuts when we get home!
For a whole batch of these baked apple cider donuts, you only need 6 fluid ounces of cider. Of course, you can use apple juice if you don't have cider, but rich, spiced cider gives these donuts the true flavor of everything that's frying at the orchard that we can't have!
How to get the cinnamon sugar mixture to stick to these gluten free apple cider donuts
When I first posted this recipe in 2012, you can see from the comments that some readers had trouble getting the cinnamon sugar topping to stick to the donuts. I find that the easiest way to get the topping to stick is to toss the donuts in the cinnamon sugar when they're still hot enough from the oven that you can barely touch them.
If that's just not comfortable for you, remember to press the donut in the cinnamon sugar mixture on all sides rather firmly when the donuts are as warm as possible. I tend to flip them over multiple times in the topping mixture until they're well-covered, and then not handle them again until they're completely cooled.
If you forget to work quickly after baking, or you're just not able to work with the donuts while they're hot, you can brush the donuts very lightly with melted butter before pressing them into the cinnamon sugar. Some sugar syrup would also work.
A few words about donut pans for your baked gluten free donuts
All baking pans and tins are generally not created equal. They vary in size, shape, color, and material.
Those differences affect baking in plenty of ways. But most of the differences aren't that significant, and you as the cook are usually able to sense for what sort of adjustments you need to make for your particular pans.
Donut pans vary in all the same ways, but their shape is even more significant. If you're making a fried donut, you're not using a pan to shape them. But if you're making baked donuts like these apple cider donuts, they take on the shape of the pan itself.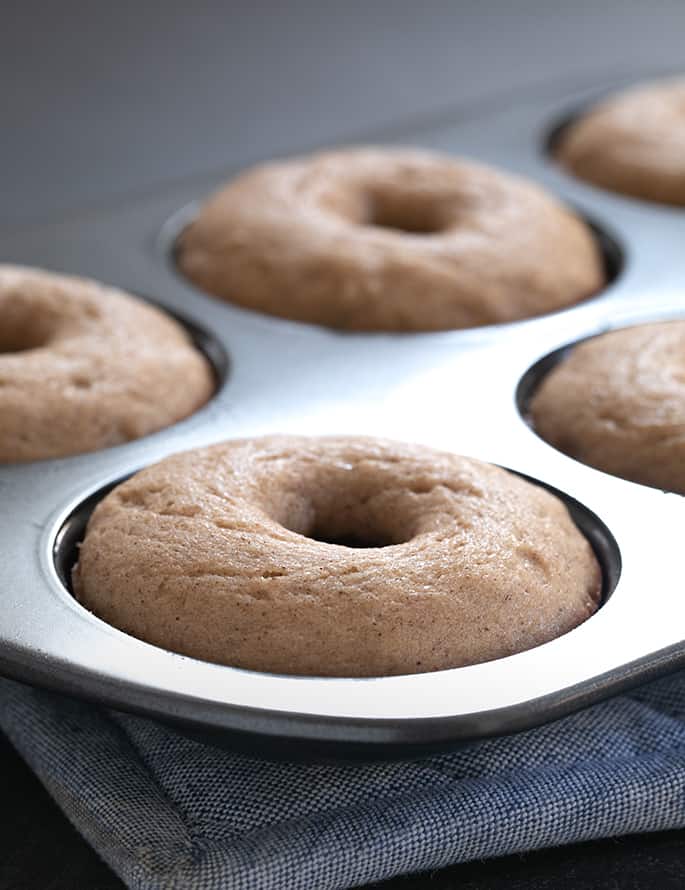 For properly shaped donuts, you want your pan to have a prominent raised center that reaches nearly as high as the sides of the donut. Otherwise, as the donuts rise in the oven, the hole will close on top, leaving only a divot underneath.
To combat a donut pan that has a short raised center, you can still preserve a donut-with-a-hole shape. Just fill each well about 2/3 of the way, or about as high as the center is raised.
My favorite donut pans for baked donuts are these 6-cavity nonstick donut pans by Wilton (affiliate link—feel free to shop around!). It's the pan you see in the photos.
It has the perfect shape and size, and even though it's somewhat dark in color, it doesn't bake the donuts too quickly (which dark pans have a tedency to do). I use this pan in most of the best gluten free donuts recipes here on the blog.
Ingredients and substitutions for GF Apple Cider Donuts
How to make gluten free dairy free apple cider donuts
The only dairy in these gluten free apple cider donuts is from the unsalted butter. It can most likely be easily replaced with Earth Balance buttery sticks, although I haven't tried that. Earth Balance tends to be rather salty, though, so I'd eliminate the salt as an ingredient in the donuts, though.
How to make gluten free egg free apple cider donuts

There are two eggs in this recipe, and they are responsible for a lot of the structure and texture of these soft, tender donuts. You can try replacing them each with a "chia egg" (1 tablespoon ground white chia seeds + 1 tablespoon lukewarm water, mixed and allowed to gel). I'm afraid I just don't know how they'll turn out, though
How to make sugar-free gluten free apple cider donuts
If you'd like to try to make these donuts with a sugar alternative, you can try replacing the granulated sugar with Swerve brand granulated sugar replacement or Lankato monkfruit granulated sweetener.
Pay attention to the texture and viscosity of the batter, though, as those alternative sweeteners tend to absorb a lot of moisture. You may need to add some more cider.
Can you make gluten free apple cider donuts without apple cider?
Yes! If you can't find apple cider, you can make these donuts with apple juice.
There is, however, a difference between the two. Technically, apple cider is raw apple juice that hasn't been filtered to remove pulp (source).
For the donuts in the photos and video in this post, I used cold pressed spiced apple cider from the refrigerated section at Trader Joe's. In the past, I've made them with raw apple cider from the orchard, and also with plain apple juice. The more flavorful and aromatic the cider, the more so the donuts.
And remember, if you can't bring a batch of these donuts with you to the orchard, you can make them fresh as soon as you get home.
Gluten Free Apple Cider Donuts
Tender gluten free apple cider donuts smell like the best donuts at the apple orchard, with plenty of cinnamon and freshly ground nutmeg and rich, flavorful apple cider baked right into the batter.
Ingredients
For the donuts
1 ½

cups

(

210

g

) all purpose gluten free flour blend

(I used Better Batter; please click thru for appropriate blends)

½

teaspoon

xanthan gum

(omit if your blend already contains it)

1 ½

teaspoons

baking powder

¼

teaspoon

baking soda

¼

teaspoon

kosher salt

¼

teaspoon

cream of tartar

1

teaspoon

ground cinnamon

¼

teaspoon

freshly grated nutmeg

¾

cup

(

150

g

)

granulated sugar

6

tablespoons

(

84

g

)

unsalted butter

at room temperature

2

(

100

g (weighed out of shell)

)

eggs

at room temperature, beaten

¾

cup

(

6

fluid ounces

)

apple cider
For the topping
⅓

cup

(

67

g

)

granulated sugar

1

teaspoon

ground cinnamon
Instructions
Preheat your oven to 325°F. Grease 2 standard-size 6 well donut pans and set them aside.

In a large bowl, place the flour, xanthan gum, baking powder, baking soda, salt, cream of tartar, 1 teaspoon ground cinnamon, nutmeg, and 3/4 cup granulated sugar, and whisk to combine well.

Create a well in the center of the flour mixture, and add the butter, eggs, and cider, and mix to combine. The batter will be very soft.

Transfer the batter to a piping bag fitted with a plain tip or to a squeeze bottle.

Squeeze the batter into the prepared doughnut wells until they are each about 3/4 of the way full. Shake the pan back and forth horizontally until the batter is in an even layer in each well.

Place the pan in the center of the preheated oven and bake until the tops of the donuts spring back when pressed gently (about 12 minutes). The underside will be browned, but the tops will still be relatively pale.

Remove the pan from the oven and allow the donuts to cool for about 3 minutes, or until they are no longer hot to the touch.

While the donuts cool slightly, place the cinnamon sugar topping ingredients into a small bowl.

Gently remove the slightly cooled (but still warm) donuts from the doughnut pan with your fingertips and turn them around in the cinnamon sugar until they are well-coated on all sides.

Place the finished donuts on a clean sheet of parchment paper. Serve immediately, or at least within a day or two stored uncovered at room temperature.

Freeze any remaining leftovers in a sealed, freezer-safe container.
Notes
Originally published on the blog in 2012. In 2018, images mostly new, video new, recipe tweaked only slightly.