Tom's Gluten Free Sandwich Bread was my first successful loaf of gluten free bread ever. It's as easy as can be, super adaptable, and will always hold a place in my heart.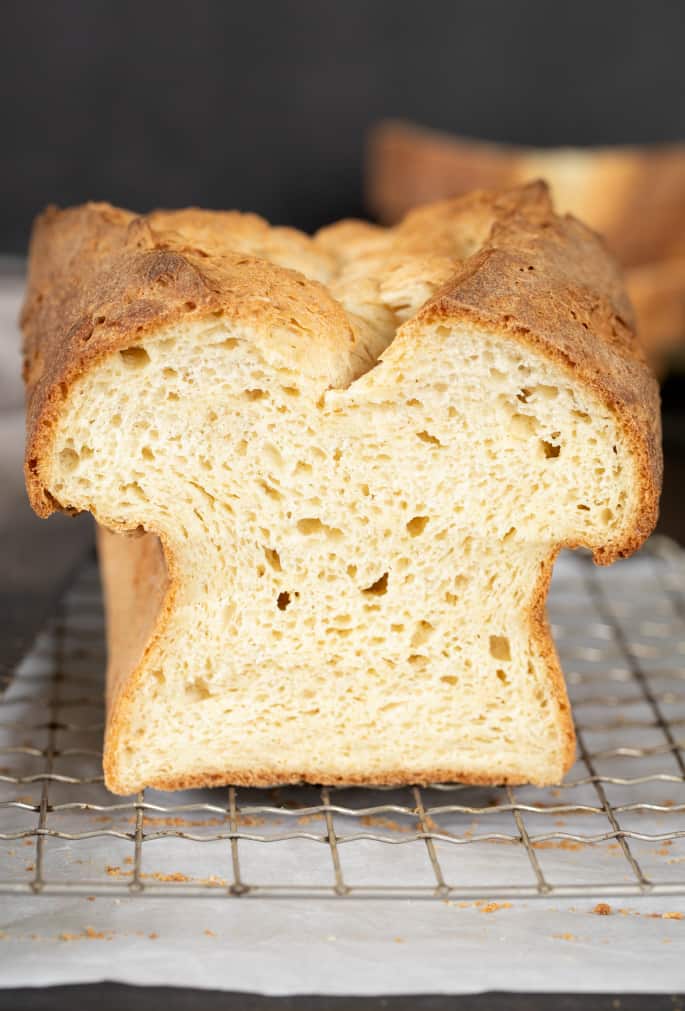 The origin story of this recipe
I published this recipe for Tom's gluten free sandwich bread in August 2009, only a few months after I started this blog. Looking back on it, I can see that it breaks every single rule I have come to embrace over the years about baking gluten free.
As originally written, it calls for bean flour, makes a very wet batter that has something of a tendency to overproof, and it isn't even my recipe! But all the same, it was a true beacon to me in those early years, when there was little to hope for in gluten free baking.
I've left all of the original comments on this post from beginning in August 2009. There were no photos of the bread (literally, not one), and the instructions were not very descriptive. But it was gluten free and dairy free, it called for ingredients we could all find one way or another, and it worked. Readers loved it as I did (and do).
I made this bread dough into every single possible form (a loaf of bread! a weepy roll! a fluffy pizza dough!) and it was truly heaven sent. But it is most decidedly not mine.
Tom's Celiac Light Bread
This recipe was created by a man named Tom Van Deman, and he provided it, selflessly, to everyone who asked without asking for recognition or attribution. For a time, it was sold as a gluten free bread mix called Tom's Celiac Light Bread.
I first got the recipe from Tom in either 2004 or 2005 when I was part of an early celiac message board. At the time I had been ordering expensive, spongy gluten free bread from Canada that looked good but tasted bad. I was desperate.
Back then, there was essentially no good gluten free bread for sale that was any good—or affordable. Today, thankfully, we have lots of packaged gluten free bread options. But fresh is always better.
I could not believe that Tom's recipe worked even when my measurements seemed a tiny bit off. I used it for my kids' school lunches and for french toast. I practically used it for a pillow at night and had sweet, sweet dreams. ?
Tom's Bread is actually quite easy to make, freezes beautifully, and can be sliced as thin as you like. When it's freshly made, you don't need to toast it.
If you don't plan to eat it all in a day or two, slice the whole loaf, then freeze it in a freezer-safe package. To defrost, just toast a couple slices and it'll come back to life.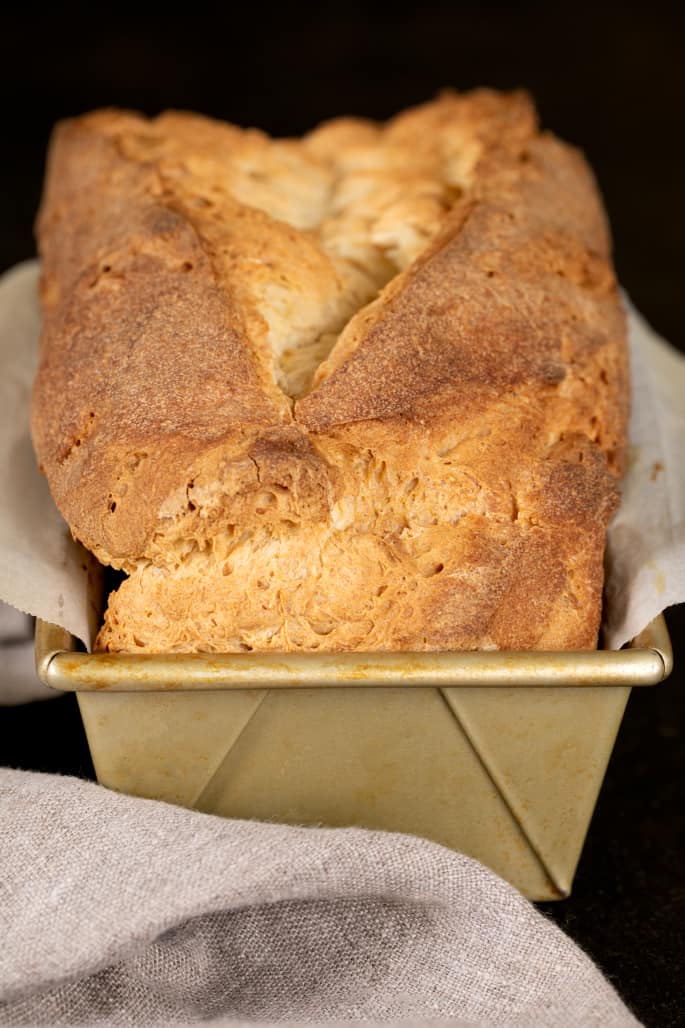 How to make this versatile gluten free bread recipe
This recipe is a batter bread recipe much like our gluten free white sandwich bread recipe from our flagship gluten free cookbook. But it's more old school than that recipe.
All you really need to do to make this bread is combine all the dry ingredients except for the yeast, and whisk them together. Then, add the yeast and whisk to combine (this keeps the yeast and salt from clumping together). Add the wet ingredients, and beat really well.
The dough isn't just a batter. It's a very wet batter. I remember that I used to "roll" it out and shape it into a rectangle in a sheet pan to make something resembling gluten free pizza. But it's so soft that I simply can't picture how I did it successfully. I think I used a ton of garbanzo bean flour to "shape" it?
For many years, to ensure reliable results in baking, I've measured nearly every ingredient by weight—including water, for which 1 fluid ounce (a volume measurement) equals 1 weighted ounce. I do measure the ingredients in this recipe by weight, but I made it successfully for so long without weighing a single thing. So clearly it's not essential!
You do need to include all of the ingredients as listed, or at least an acceptable substitute as outlined in the "Ingredients and Substitutions" section below. You do need to beat the batter/dough well, allow it to rise fully (but hopefully not too much), and slice it in the center so it doesn't explode in a million different directions as it rises.
But there really aren't any secrets you need to know to be successful. When I began making this recipe again recently, after years of developing more gluten-like gluten free bread recipes, I was tempted to make dramatic changes to make it "better."
I wanted to try replacing the oil with melted butter, for more flavor. I was dying to reduce the water a bit so it didn't rise quite as high. I wanted to tinker with the balance of dry ingredients. But this isn't the place for that. This recipe is what it is, and it rescued me and my family in more ways than one.
Thank you, Tom Van Deman. You always said that this recipe came to you fully formed, from divine ?? inspiration. It's hard to believe it happened any other way.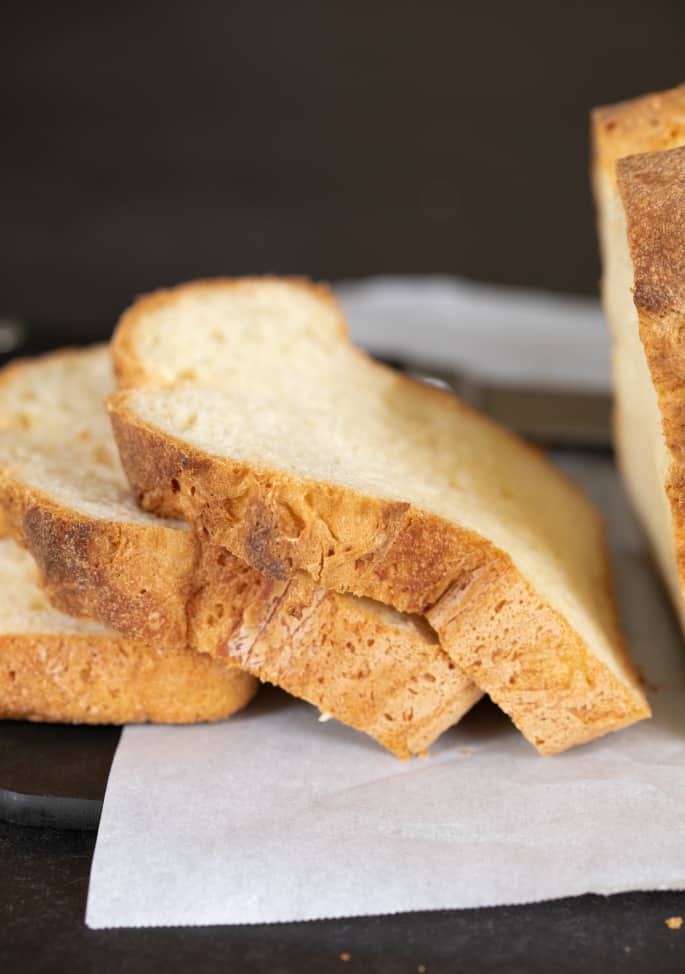 Ingredients and substitutions
This recipe is naturally gluten free and dairy free, as it was originally written. I have made a few changes to the recipe method but they're slight and unimportant.
Flours: This revolutionary recipe is unique among gluten free baking recipes since it's not made with any rice flour. Typically, when a reader asks about baking gluten free without rice flour I steer them toward my Paleo recipes, which are entirely grain free. But this recipe is also rice-free, and also quite adaptable.
The original recipe is made with garbanzo bean flour, which was a staple of my earliest gluten free baking—even though I really didn't like the taste or the smell. But garbanzo bean flour worked in gluten free baking, and I was grateful to be able to bake literally anything that worked.
These days, more than a decade later, I just won't bake with garbanzo bean flour. Raw and baking, it just smells awful to me. It's less aromatic once baked, but still, I refuse.
Luckily, this recipe has proven to be quite versatile. In place of garbanzo bean flour, I use an equal amount (by weight) of sweet white sorghum flour. I think navy bean flour, which happily lacks the taste and smell of a typical bean flour, would work well, too.
I have not replaced the cornstarch or the tapioca starch/flour. I like baking with both of those starches, and never saw a reason to eliminate them.
If you need to try replacing them, I recommend trying arrowroot in place of the tapioca starch/flour and potato starch in place of the cornstarch. If you're only replacing the cornstarch, try replacing that with arrowroot.
Eggs: This recipe relies heavily upon eggs, calling for 3 whole eggs. They provide rise and structure. I'm afraid I don't recommend making this bread egg-free. If you need to be egg-free, my newer bread recipes made with gluten free bread flour are what I'd recommend trying.
Oils: The recipe calls for a "neutral oil," which just refers to something neutral in taste and aroma. Grapeseed, peanut, canola, and vegetable oils all work just fine.
I don't like to specify which type of oil since they really are interchangeable. Plus, so many readers seem to think that canola and vegetable oils will be responsible for the demise of civilization.