The best gluten free flour blend is made using superfine rice flours, milk powder, a few starches and a touch of xanthan gum. Make it yourself at home!
What makes this all purpose gluten free flour blend the best?
When you're first starting out baking gluten-free, sometimes there are tears. Okay – when I first started out baking gluten-free, there were a few tears. Okay, fine. Lots of tears. A great all-purpose gluten-free flour blend is salve for our psychic wounds.
I've done extensive testing of various all purpose gluten free flour blends, and one of my two favorites is Cup4Cup. I did not care for the price, so I hacked it and created a D.I.Y. version of Cup4Cup.
I know many of you really enjoy that blend, and I'm so glad. I just didn't find myself turning to it that often, though.
Then I realized that, if I'm making the blend myself, I'm the Boss of the Blend. And I think Cup4Cup is a bit too starchy.
It tends to make overly fluffy baked goods, and they sometimes don't brown as well as I would like. So guess what? I fixed it. And now I really love it. I think you will, too. Just be sure to use superfine rice flours.
Where to source and how to substitute for the components
Rice flours
In the past, I had only bought gluten free superfine rice flours exclusively at Authentic Foods online on Amazon.com and Vitacost.com. But then I learned that they weren't the only source for superfinely ground rice flours.
I also buy gluten free rice flours from Nuts.com. They have better prices & great customer service, and even though they don't bill their certified gluten free rice flours as superfine, they are quite finely ground.
Vitacost.com also came out with their own brand of "superfine" rice flours. It's not quite as finely ground as Authentic Foods, but it's certainly close enough. I also buy rice flours there.
You can also make your own finely ground rice flour using a grain mill from long grain rice. I've shown how to make rice flour at home, and it works surprisingly well.
There is no substitute for either brown rice or white rice flour. Substituting rice in an all purpose gluten free flour blend is like substituting gluten in a conventional flour.
They both also must be superfinely ground, or you'll be able to feel grittiness in your mouth. That is the hallmark of baked goods that are "good, for gluten free." Don't do it!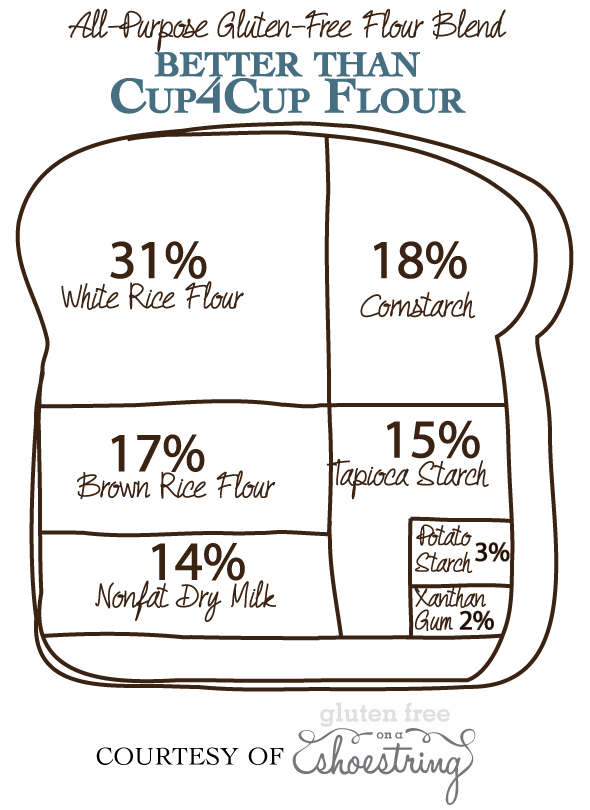 Starches
There are 3 different starches in this recipe: cornstarch, potato starch, and tapioca starch/flour. I have never found a difference between brands of cornstarch and potato starch.
Buy those starches wherever you like, as long as you're not buying them from bulk bins which have a very high incidence of cross-contamination. I often buy Argo brand cornstarch from the grocery store.
If you can't have corn, you can try replacing the cornstarch in this recipe with more potato starch. It should work alright (although it's not an exact match).
If you can't have nightshades, this it the right blend for you. Unlike our mock Better Batter, it doesn't call for potato flour, which has no substitute. And there is only a very small amount of potato starch that you can replace with more cornstarch.
Tapioca starch/flour is a different story entirely. It varies significantly in quality from brand to brand. I can only recommend the tapioca starch/flour sold by Authentic Foods and that sold by Nuts.com.
It also has no proper substitute, I'm afraid. It adds unique stretch to gluten free baked goods.
Milk powder
I typically use Carnation brand nonfat dry milk powder in this recipe, which I find in my regular grocery store. Most other milk powders, including the baker's milk powder sold by King Arthur Flour, are not reliably gluten free.
I have also find whole milk powder that is certified gluten free at Amazon.com. That works fine, too. The added fat is welcome.
If you're dairy-free, this blend along with Cup4Cup and our mock Cup4Cup blends are a challenge. They rely heavily on milk powder.
I have successfully replaced milk powder in baking with coconut milk powder. I think it might work in this blend as well. The brand I typically use is Native Forest, but there are others.
Xanthan gum
I have used a number of different brands of xanthan gum, and I've never had a problem with any of them. Bob's Red Mill brand xanthan gum is often sold in regular grocery stores. You won't have to buy xanthan gum very frequently, as a little goes a long way.
Xanthan gum can be replaced with the same amount of guar gum. Guar gum is better in cold applications, and xanthan gum in heated applications. So for a baking blend, it's best to use xanthan gum.
If you can't have "gums," I'm afraid there is no viable substitute. Some people like to use psyllium husk, a soluble fiber.
I've baked using ground psyllium husk, and it does work quite well, especially in gluten free bread. However, no matter how small the amount of psyllium husk I've used in baking, I find that it has a very unpleasant flavor once baked.